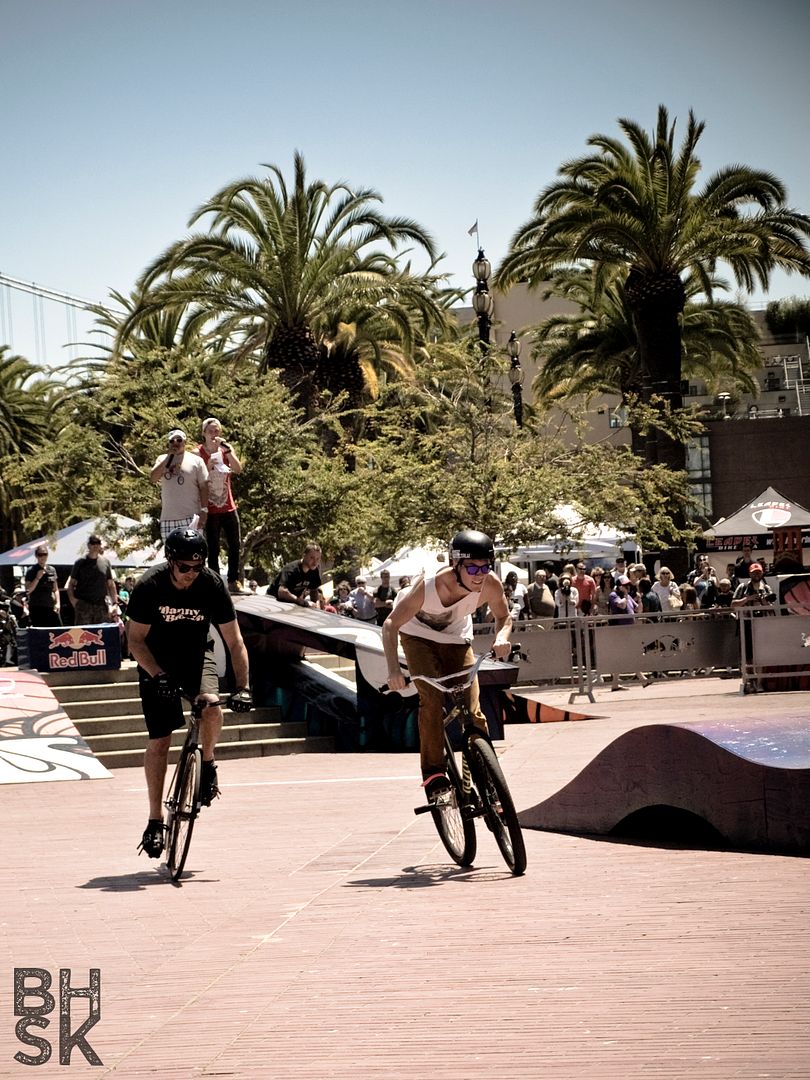 i'm still irked about how the whole qualification for this portion went down, but regardless of how i feel, the competition was too nuts that i probably wouldn't have had a chance anyway if i wanted to try. the competition was too solid and and so many things went down. get more after the jump!
we have to start somewhere so we'll start with qualification. there were a metric ton of people who were in qualifying which involves doing a lap around the course. 32 goes to 16 then to 8 then to 4 then to 2 and a winner comes out. simple.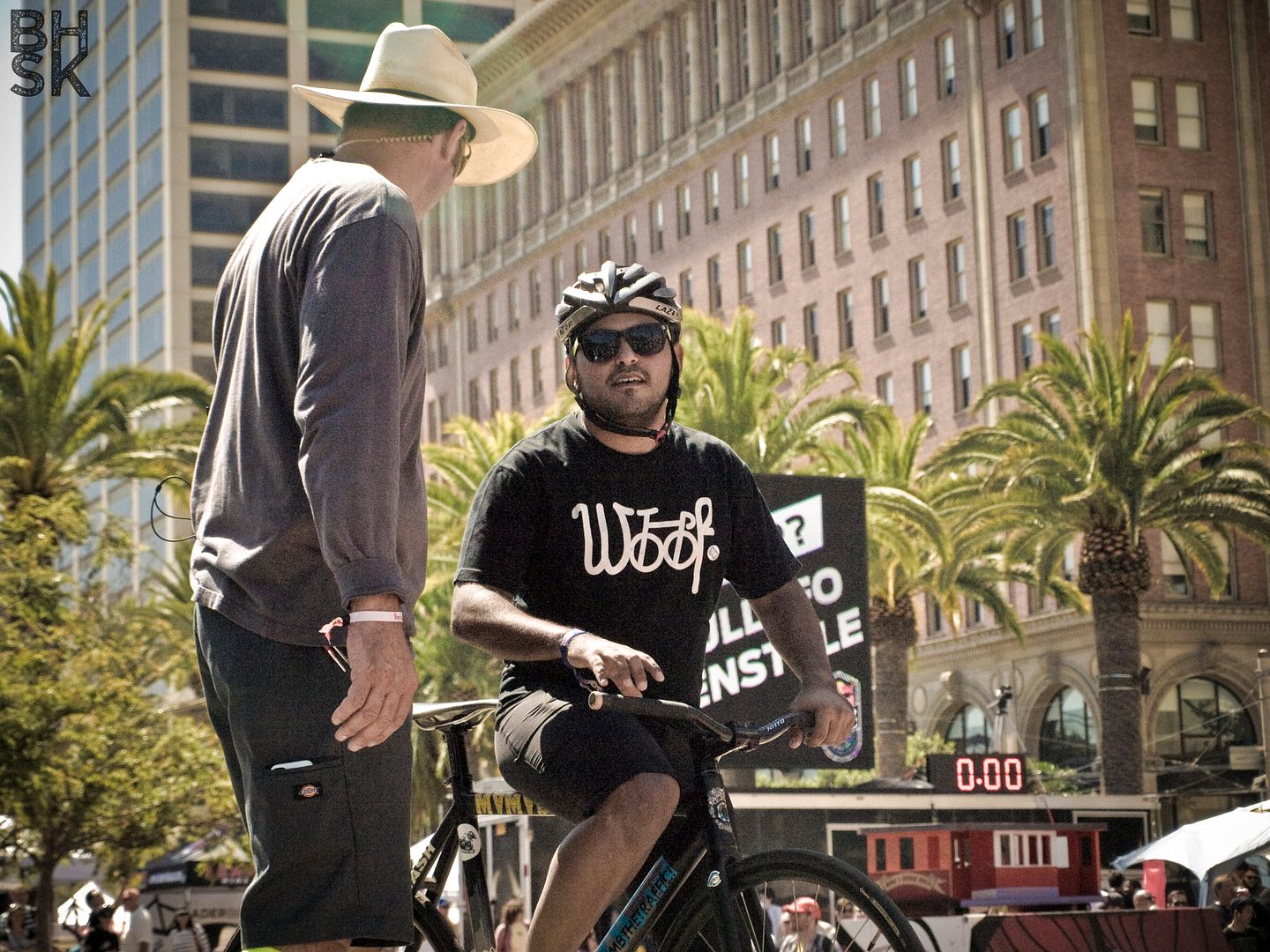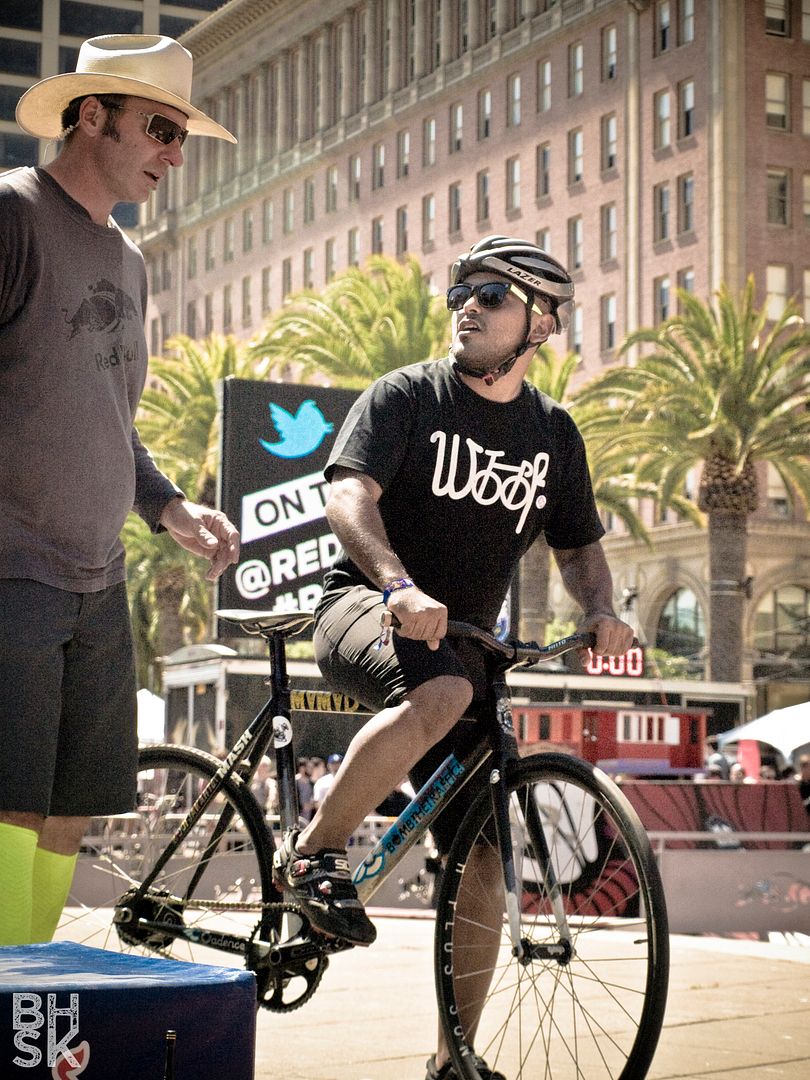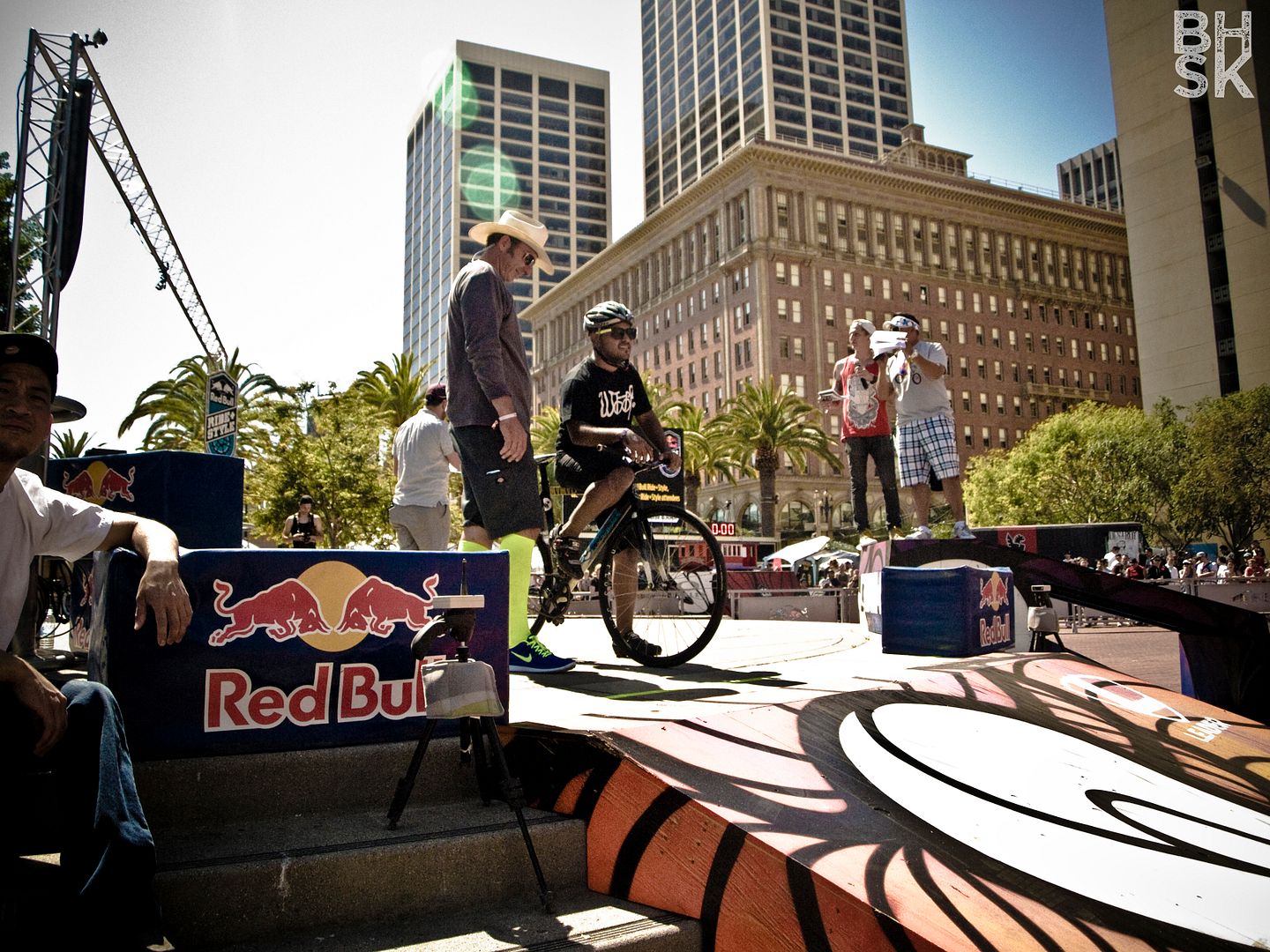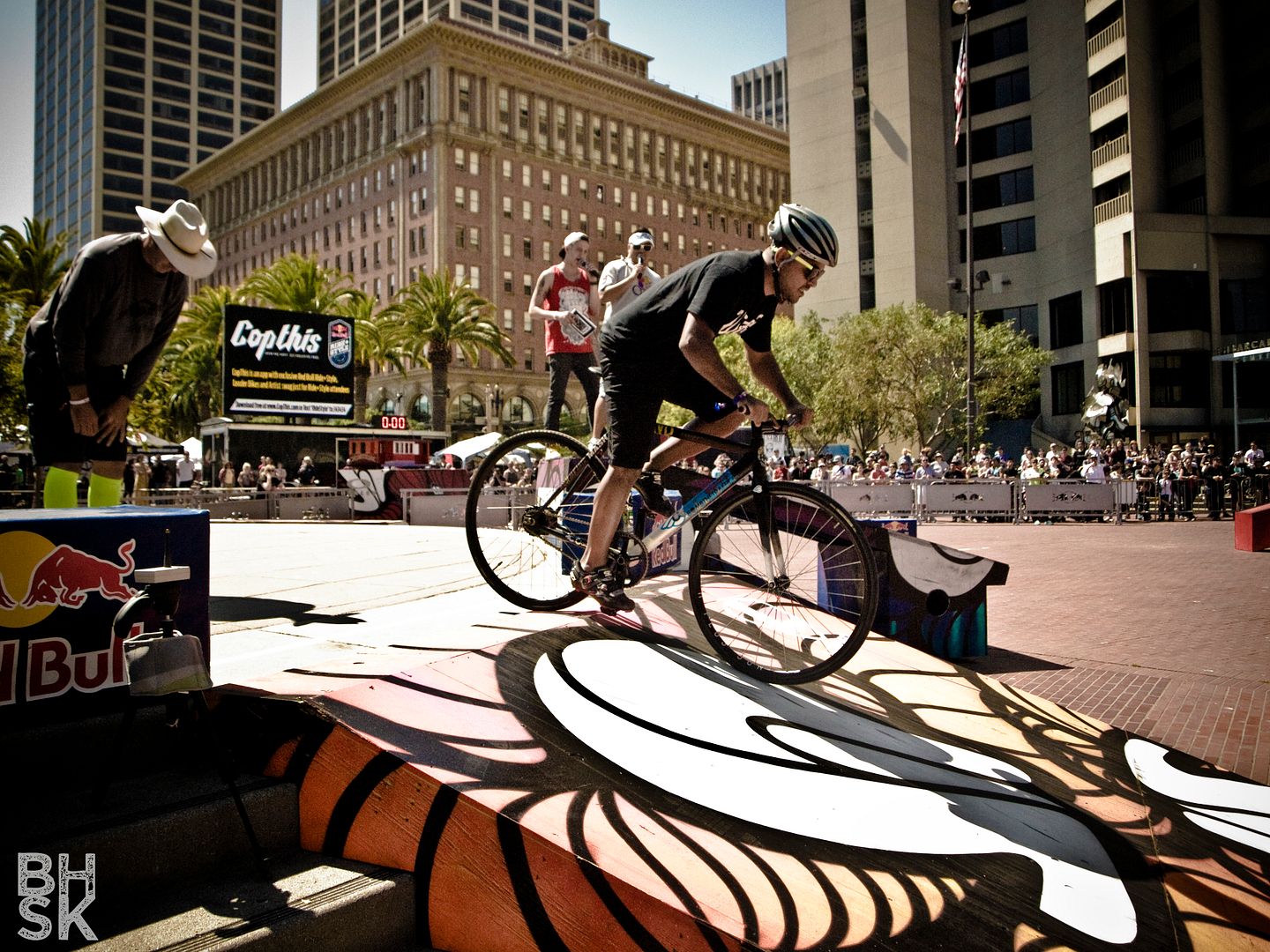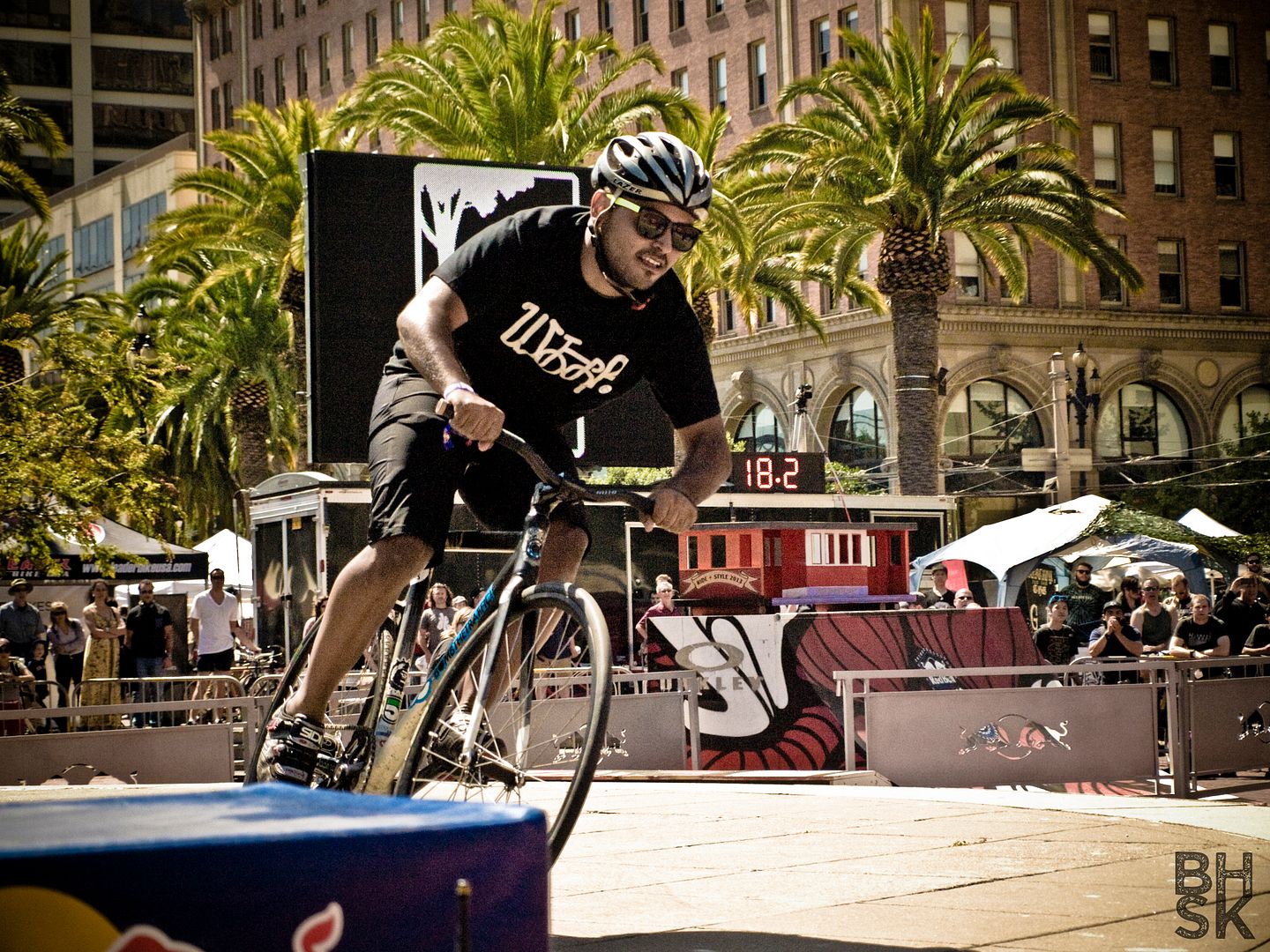 this is muhammad. if he looks familiar, he's a good part of jakarta's fixed gear scene and was super stoked to be there. he did the first run.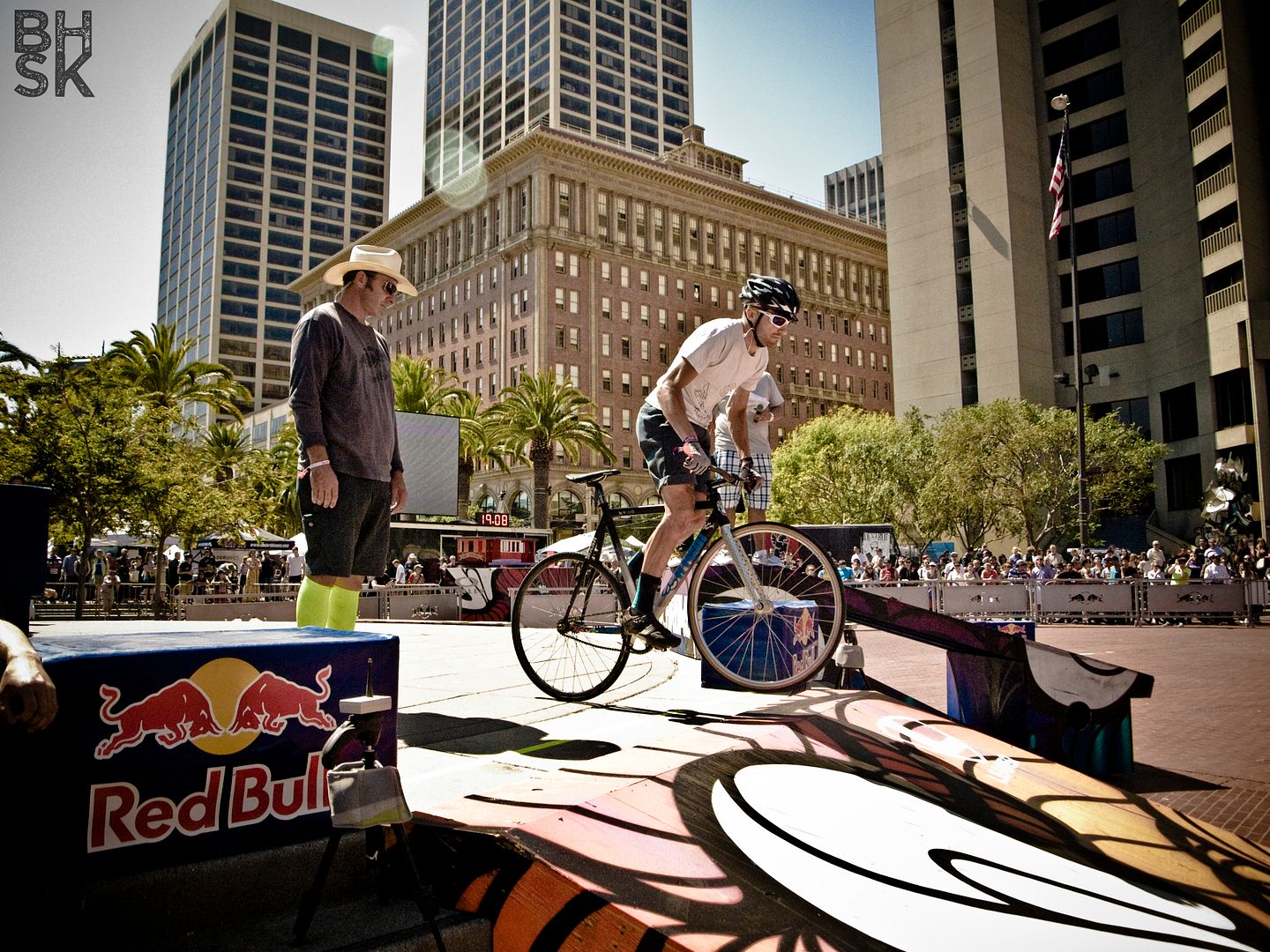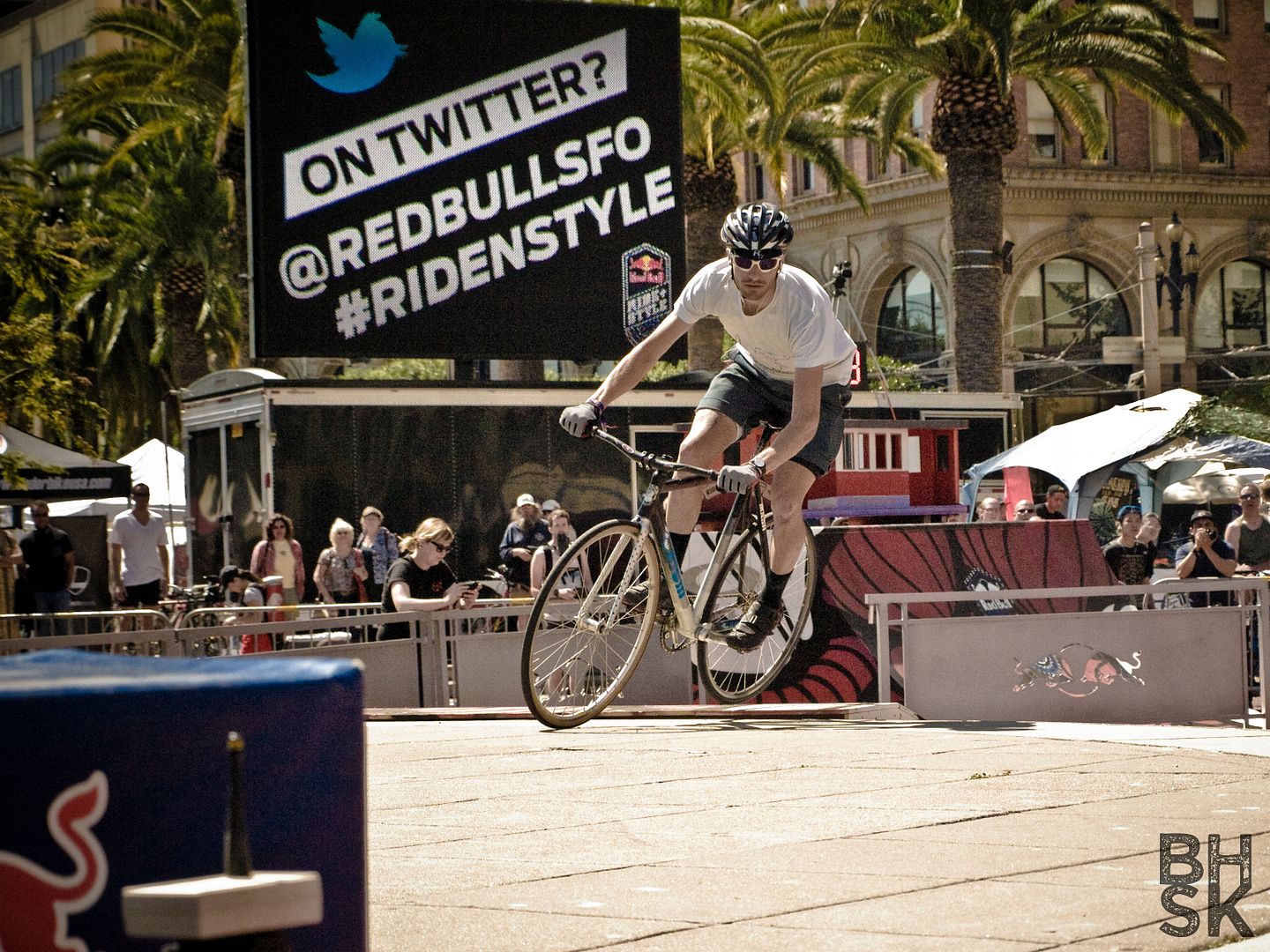 walton brush getting airy. i love this corner because it shoots you up and once you come down, you have to lean in HARD or scrub speed... or eat it.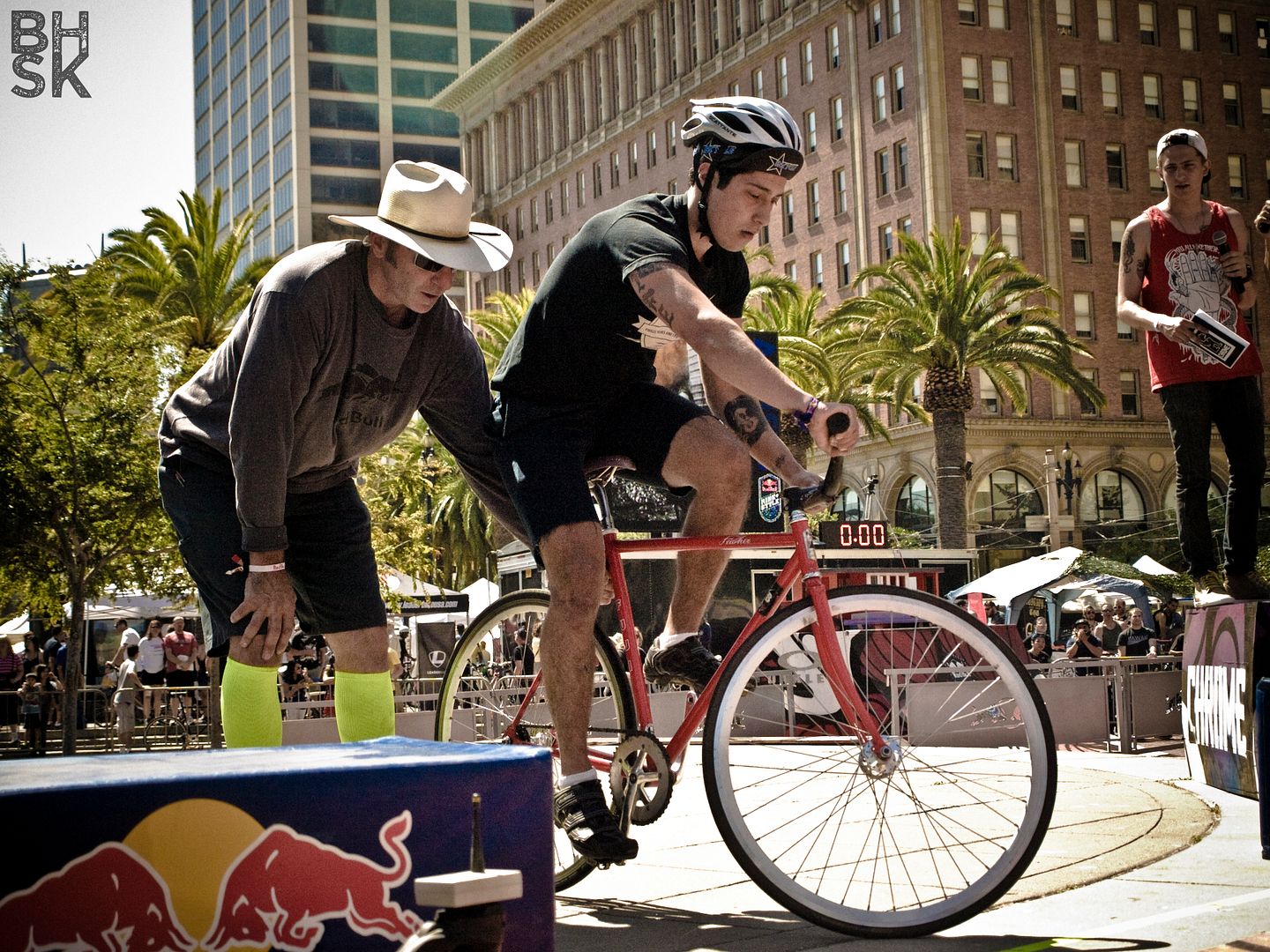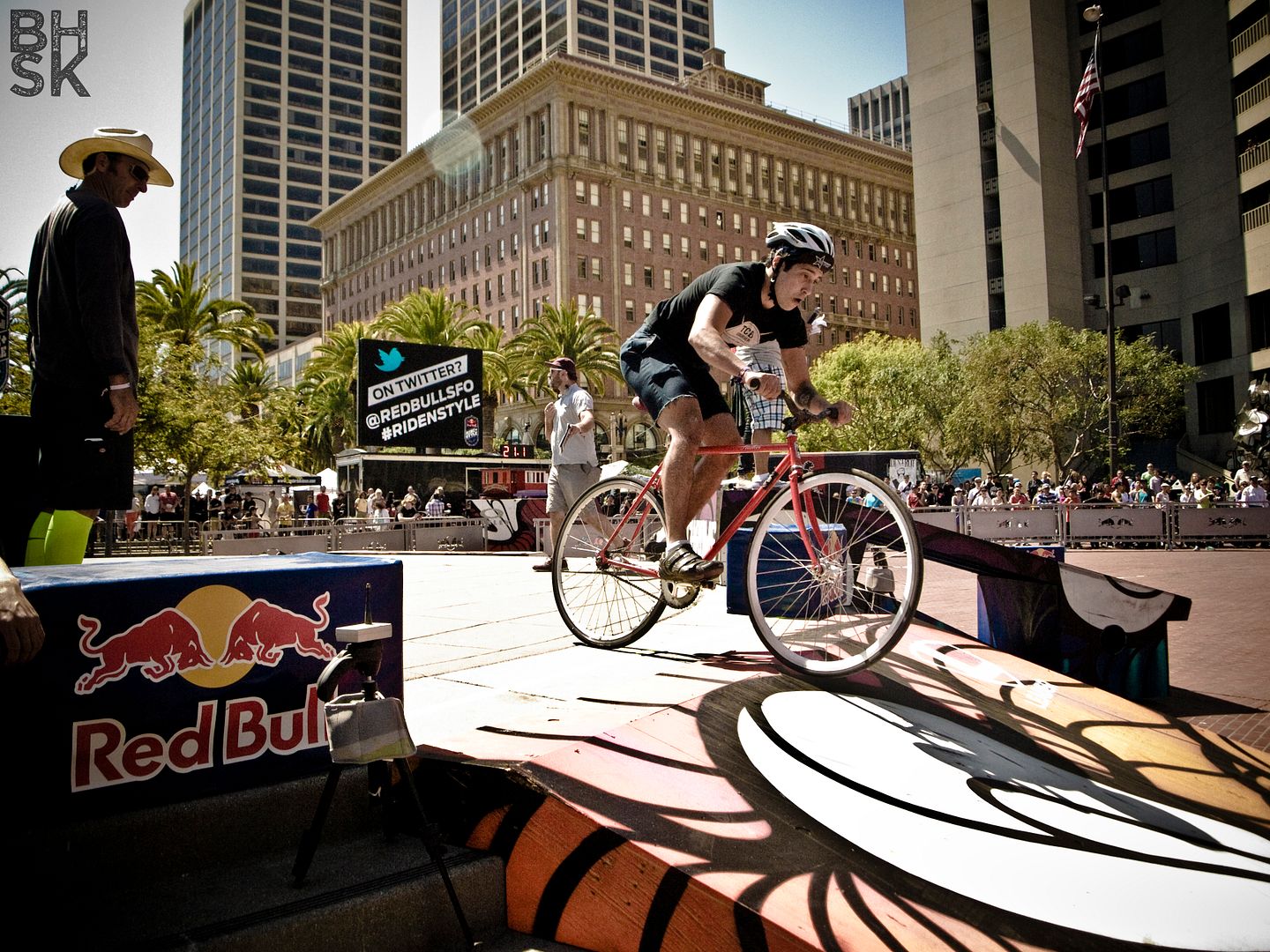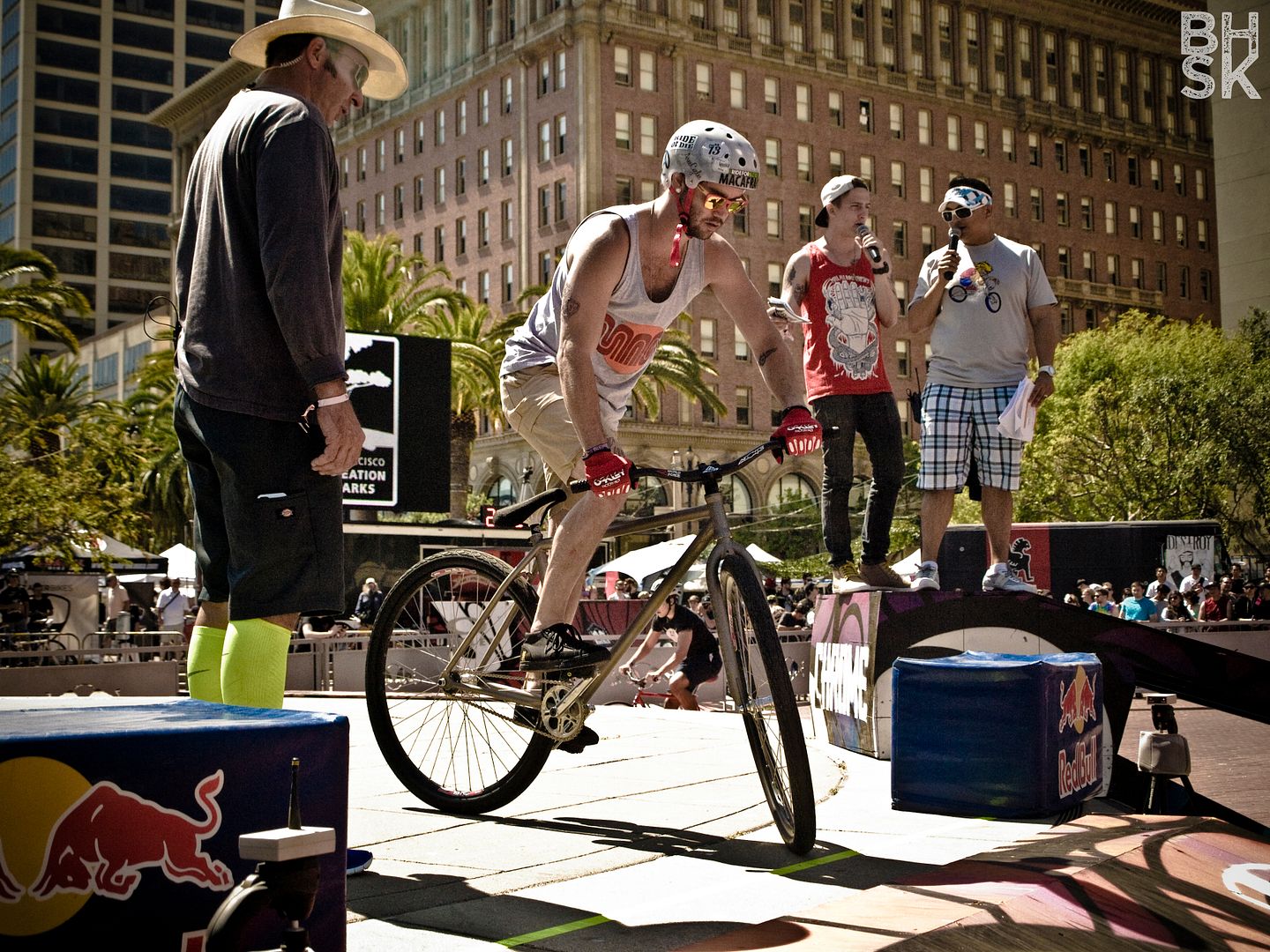 jason clary knows the formula and knows it well. he came in it with the right bike.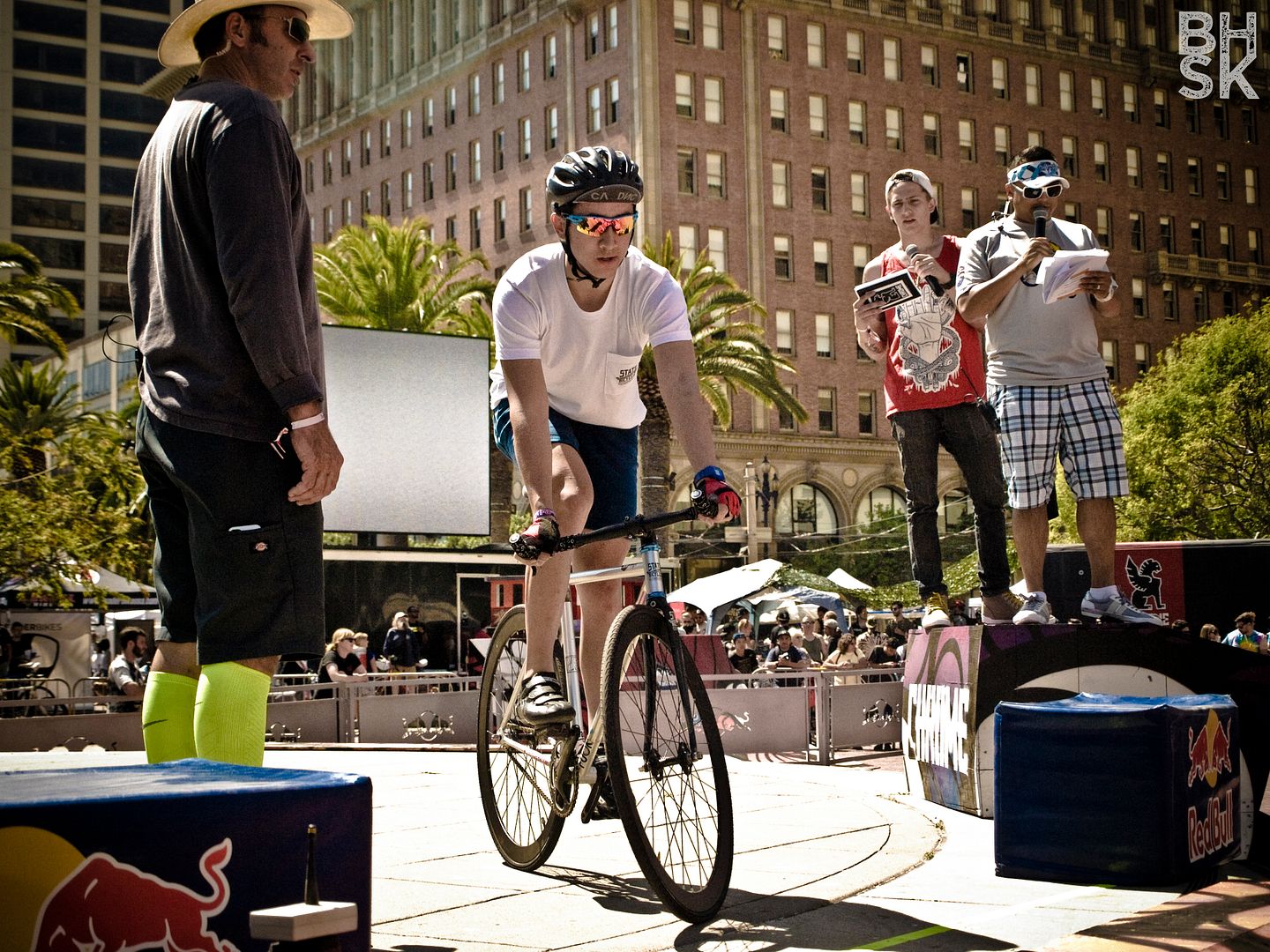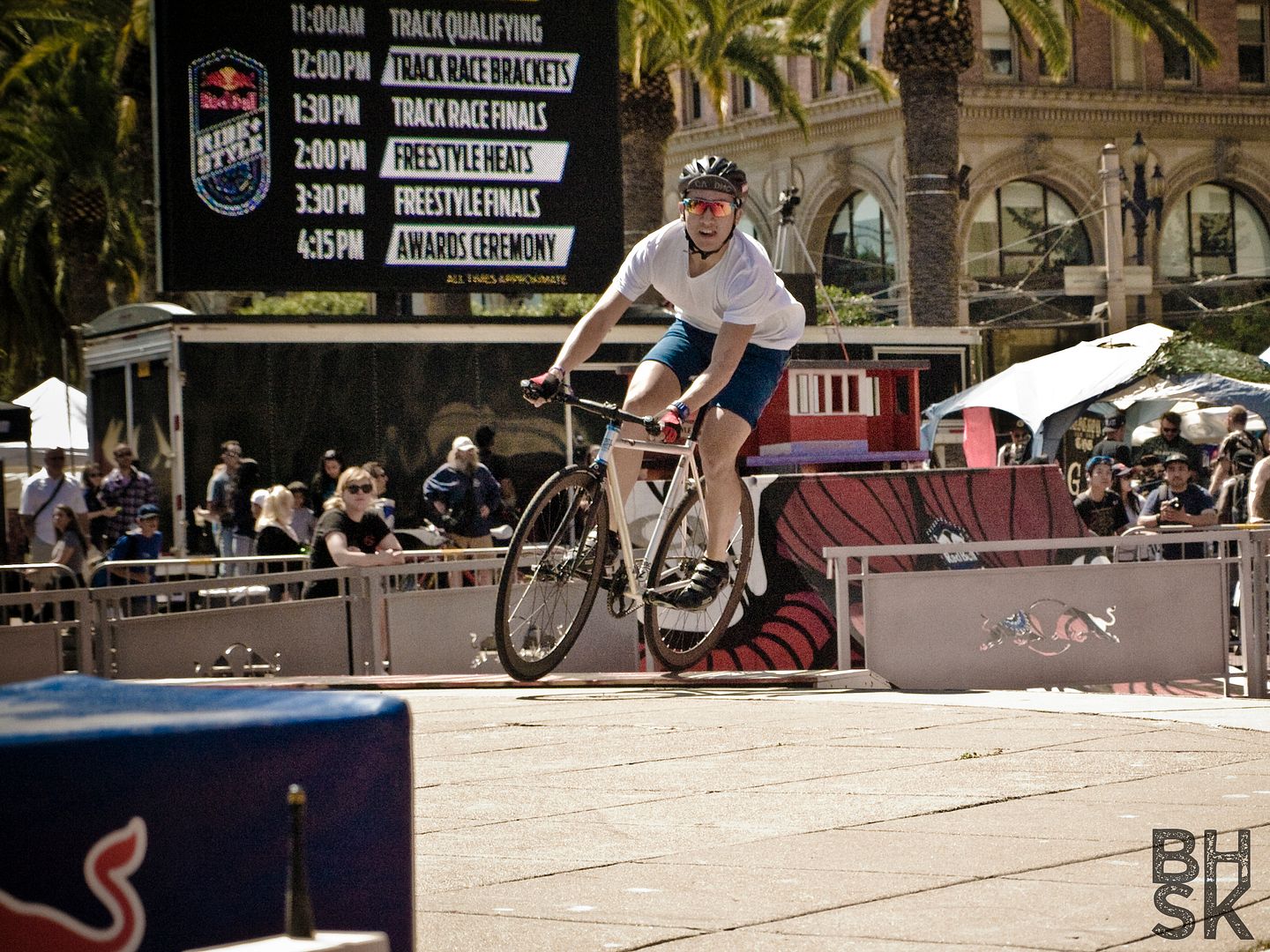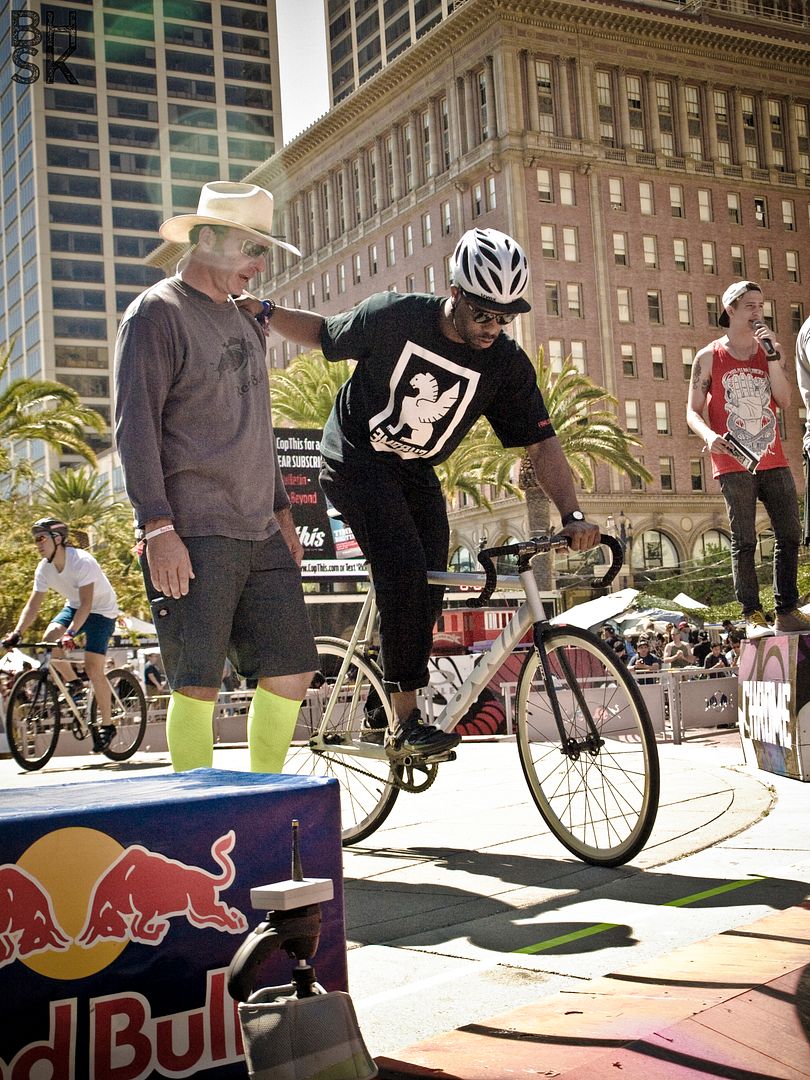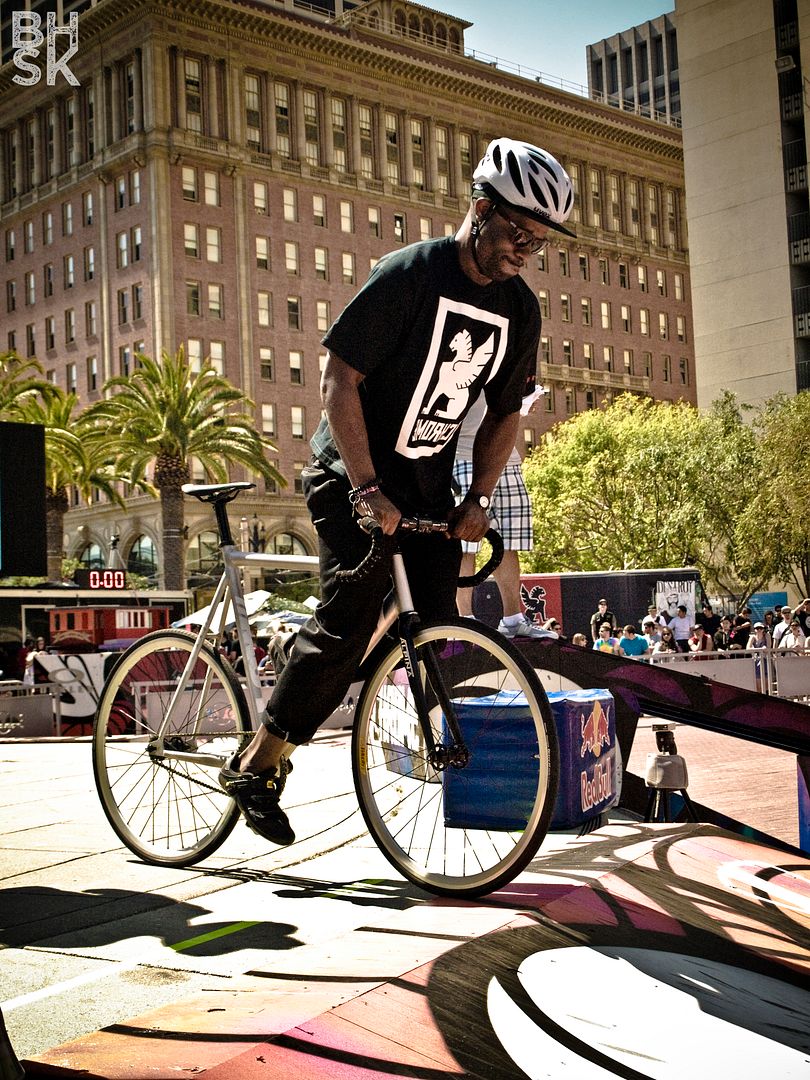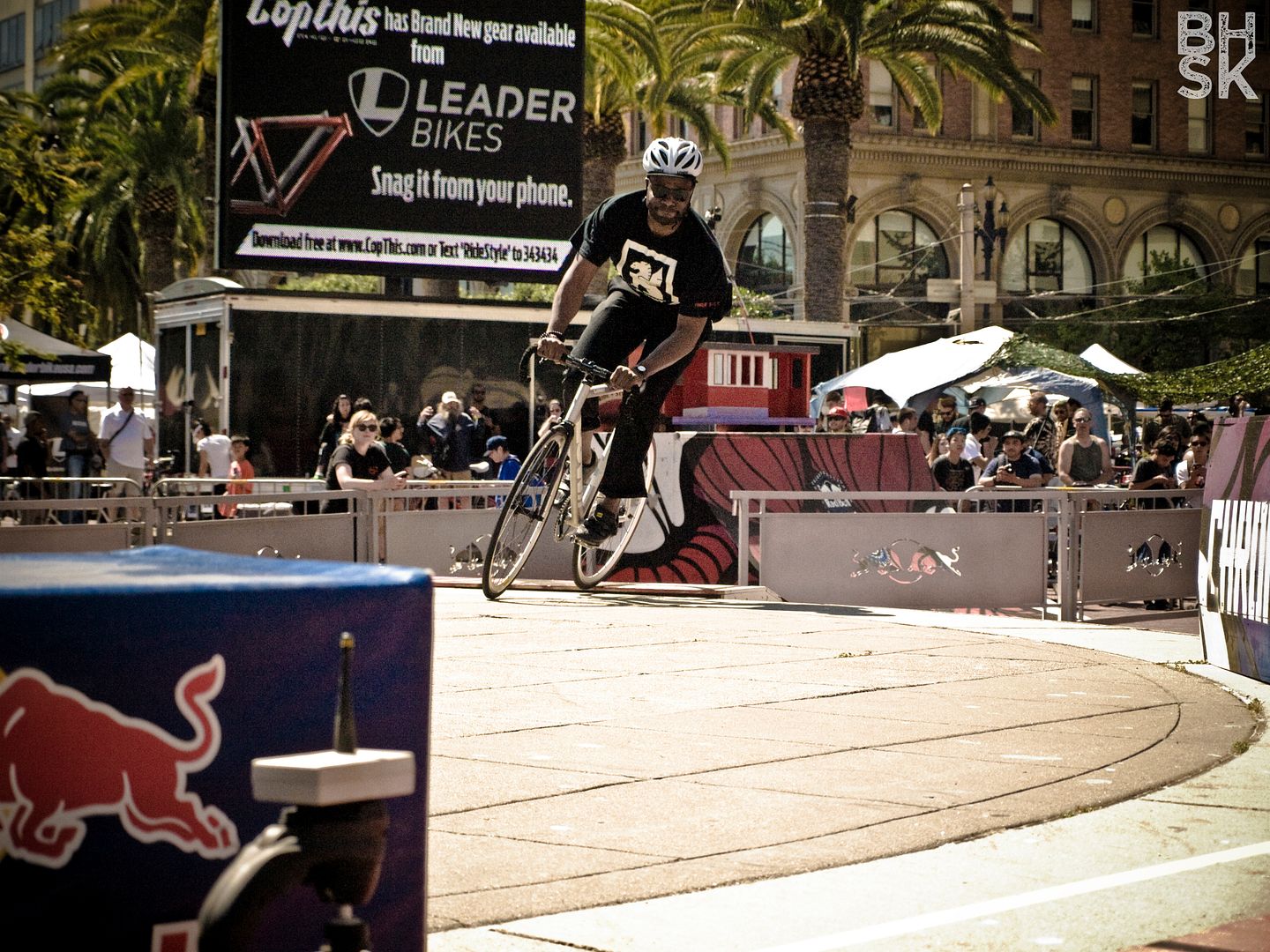 massan is too gnarly yet he's super nice. dude is a train.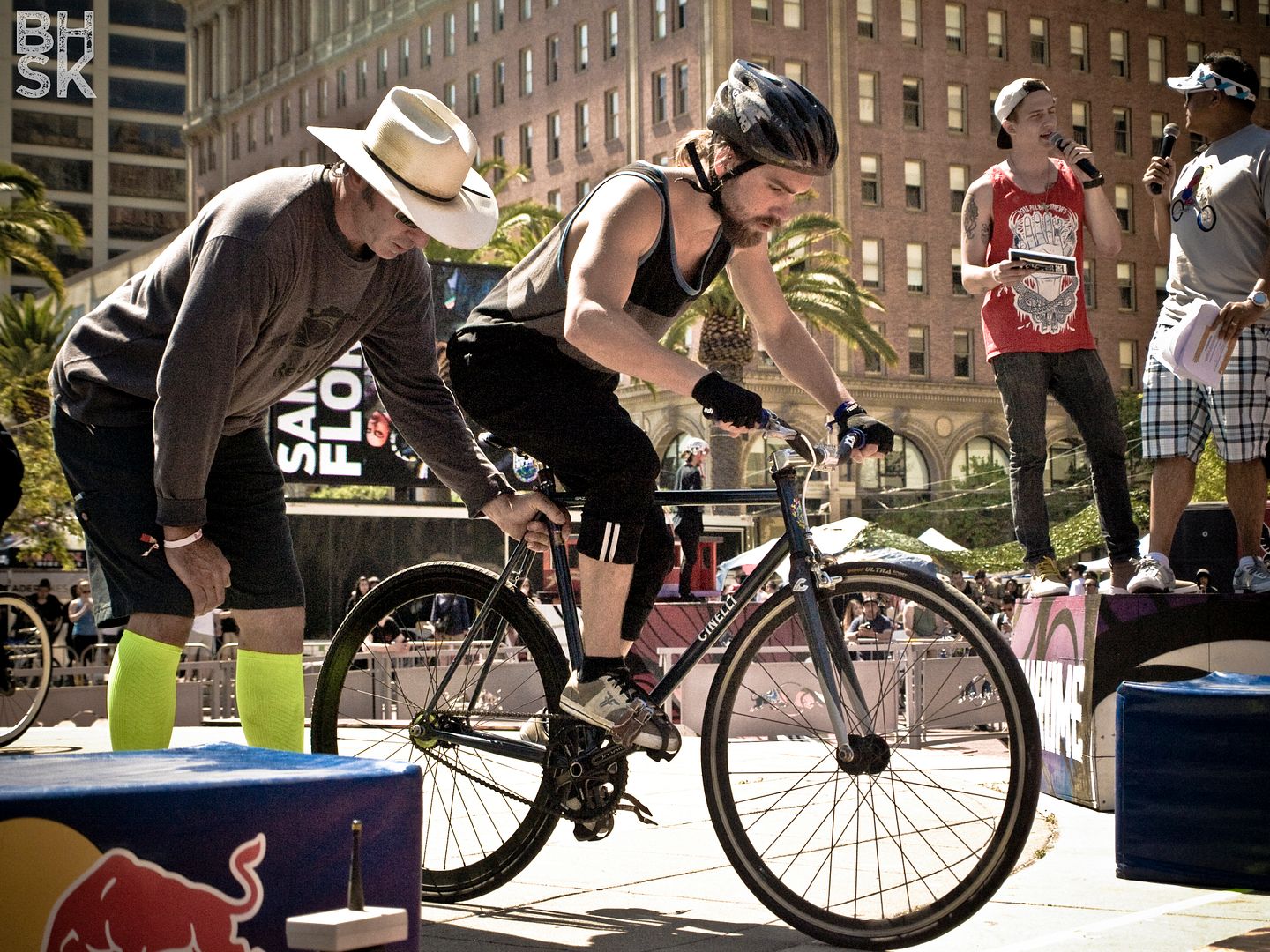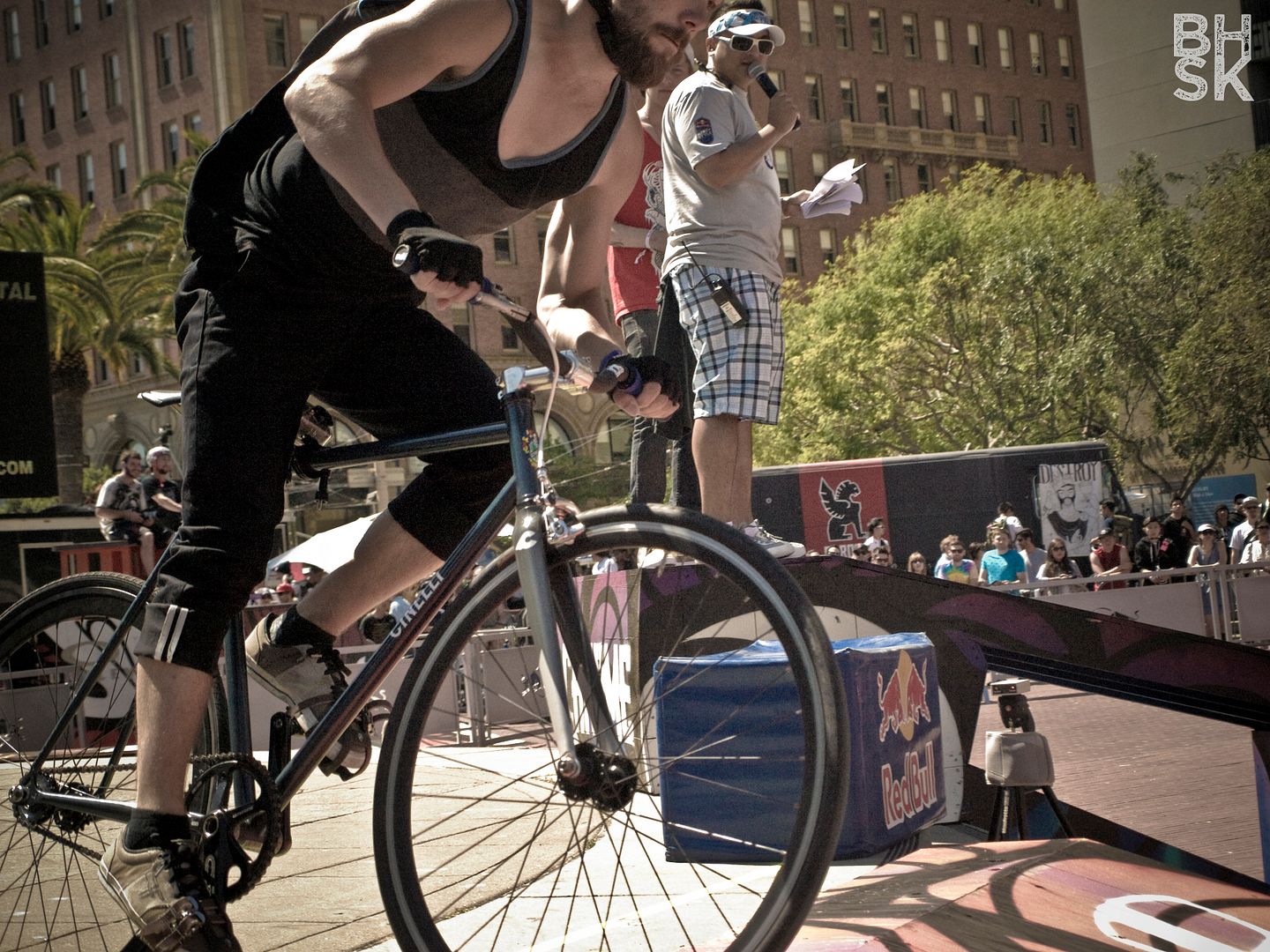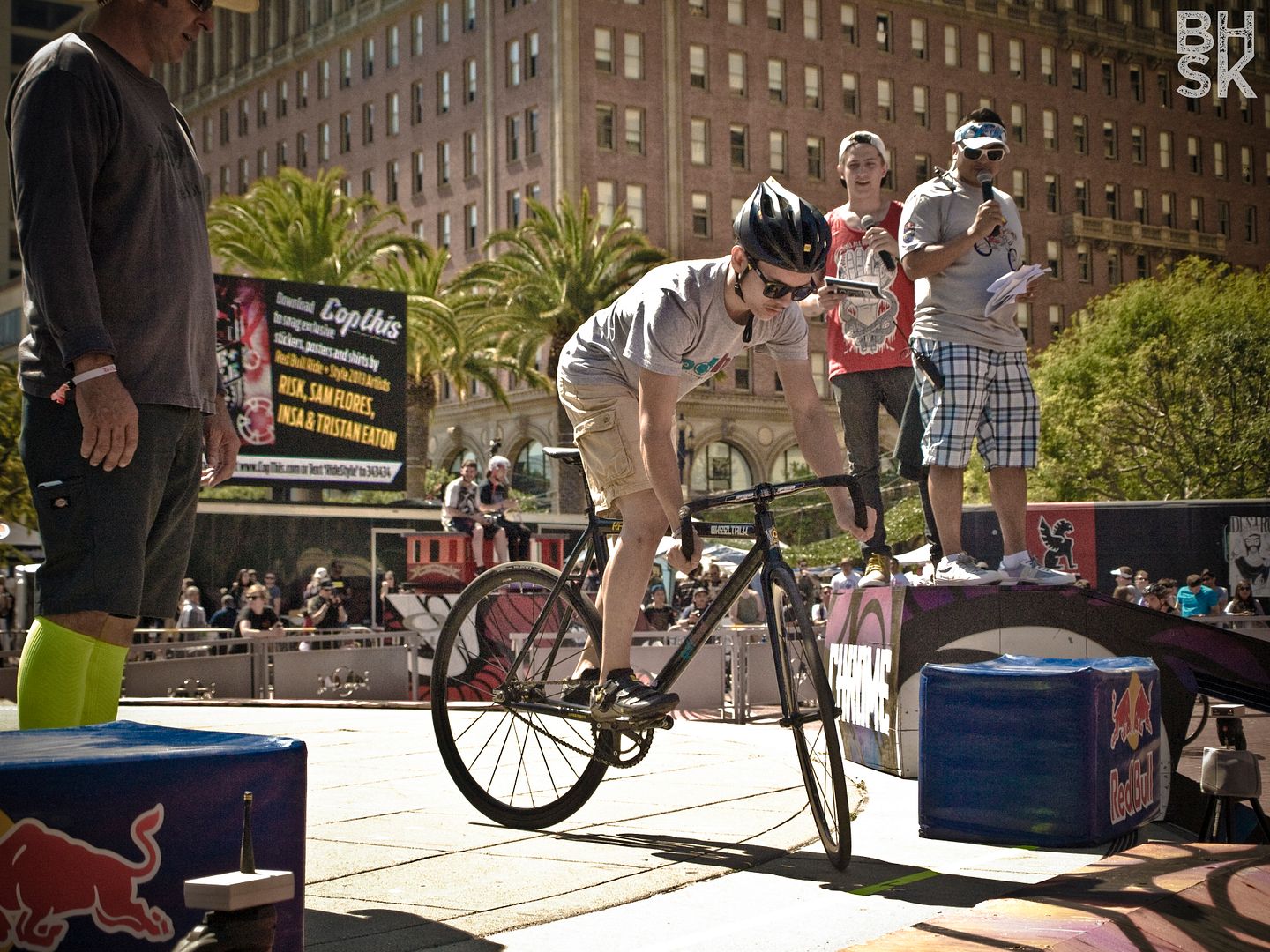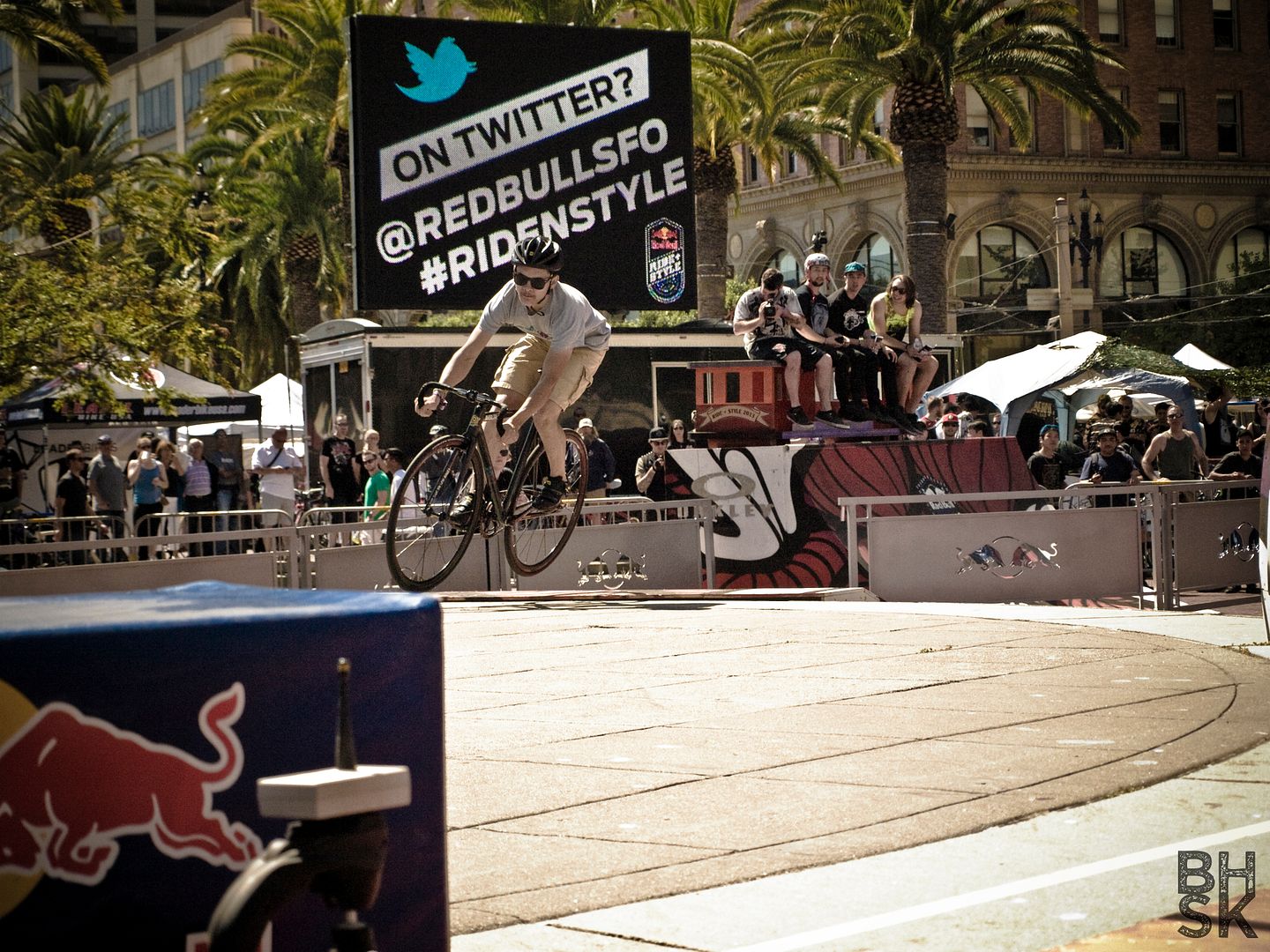 this is alex gonzalez. he's familia, and he's fucking crazy. why? here's a rundown:
-you should run risers, you'll be able to pump and shit. dude said fuck that. went into the drops.
-you shouldn't do clipless, you'll be safer. dude said fuck that. CLICK CLICK BITCH.
-we can hold your setup so you'll have a better start off the line... dude said fuck that. clipped in trackstand in this bitch.
-you should scrub speed before you take that corner and pull the inside. dude said fuck that. went up hella high on the corner and slinghot out.
-well surely, you'll slow down for that ramp and keep the wheels grounded. dude said fuck that. flys up the damn ramp and goes into top 16.
some would say he's a dumb mother fucker. i say the kid is bad ass.
he's fucking bad ass.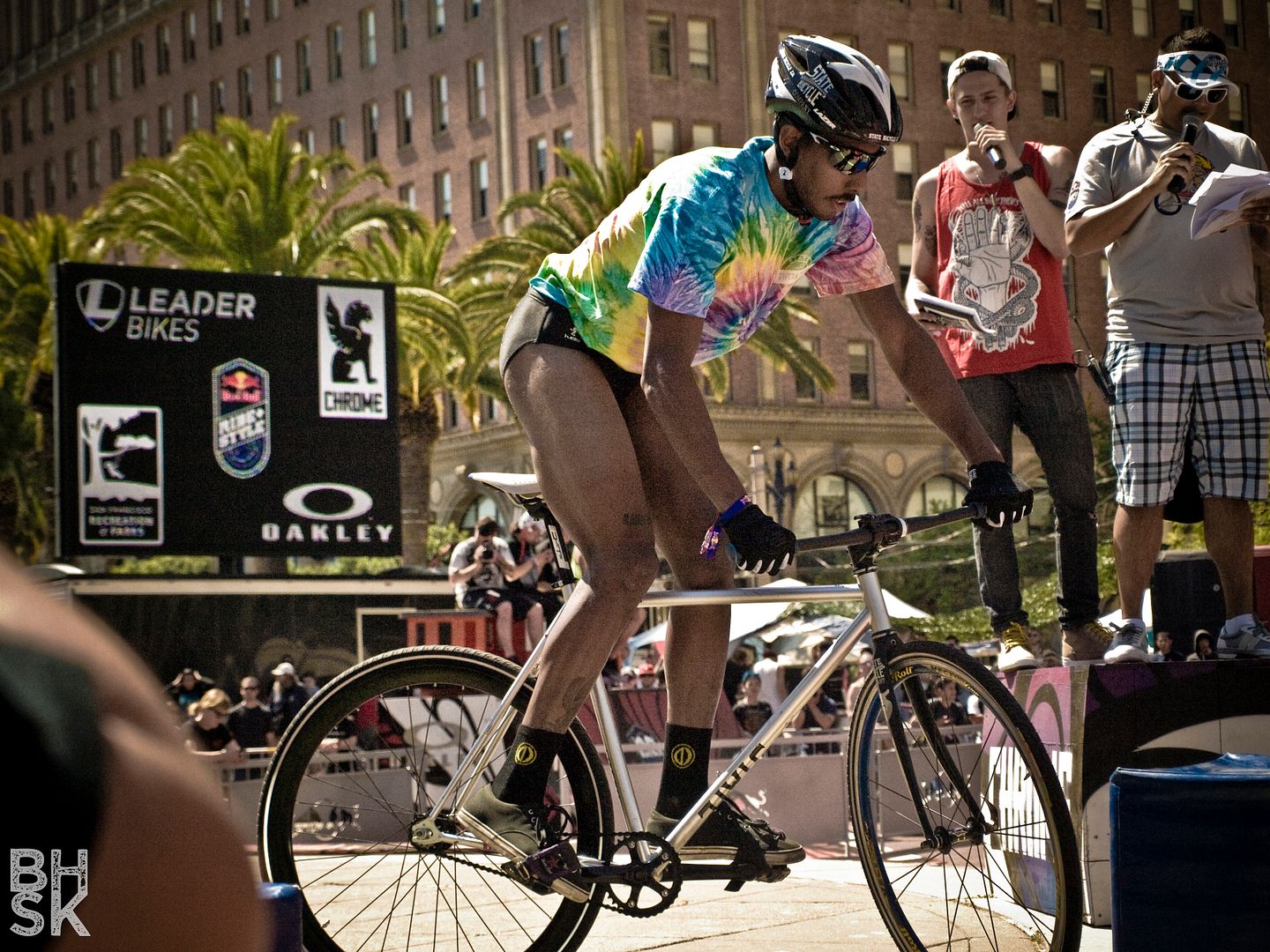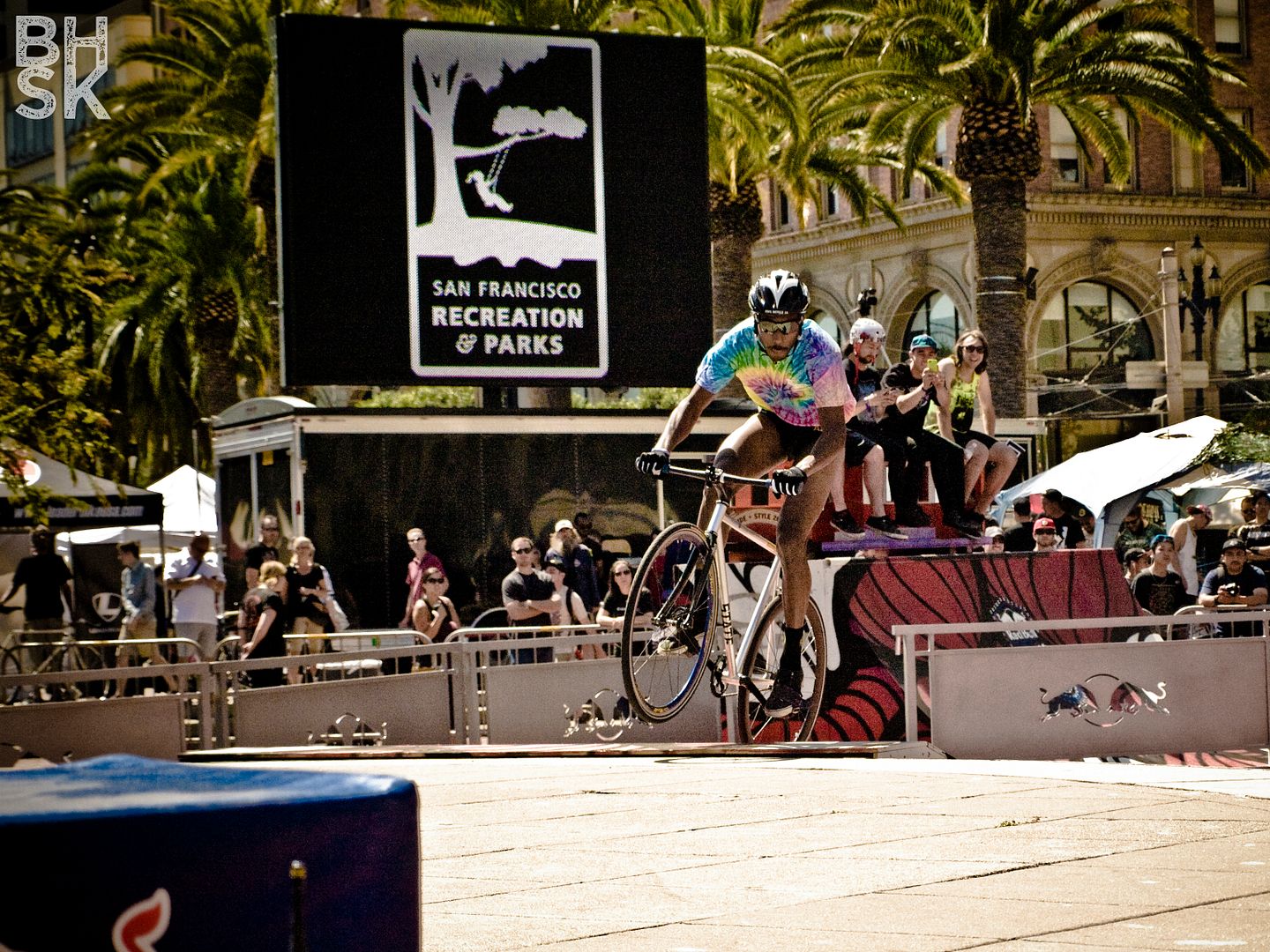 this is bryan harding. when bike shorts arent aero enough, roll with the tri swim briefs. stop laughing. they fuckin worked.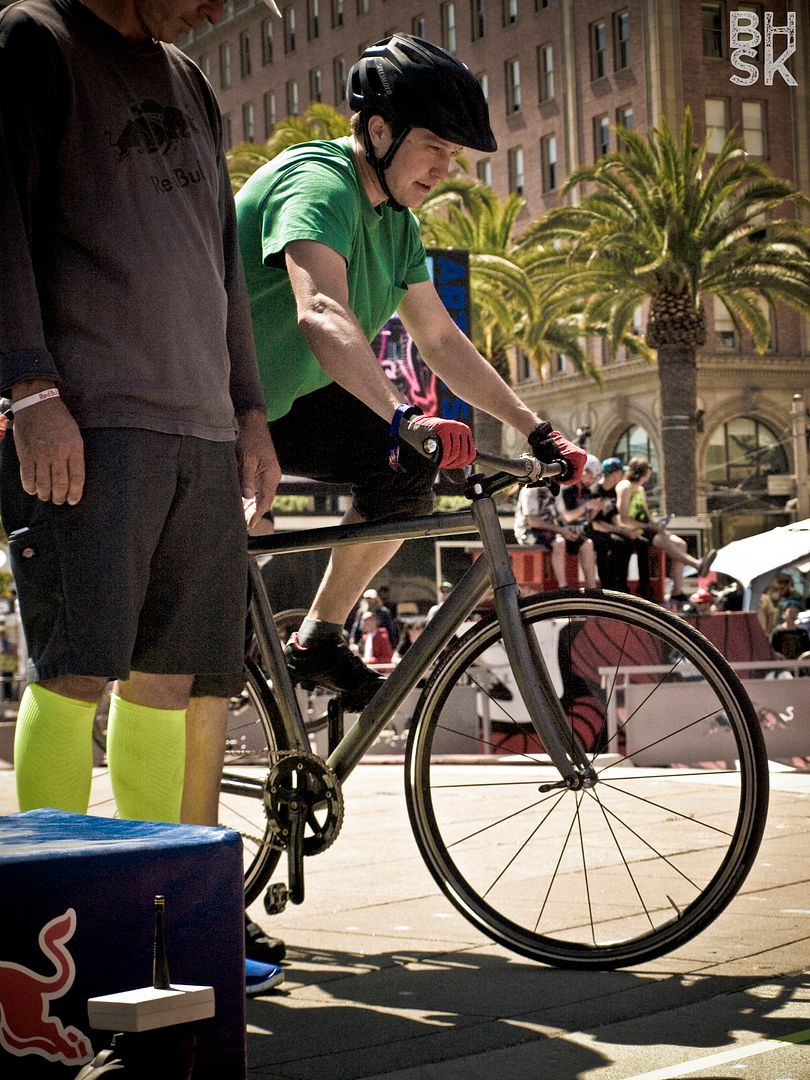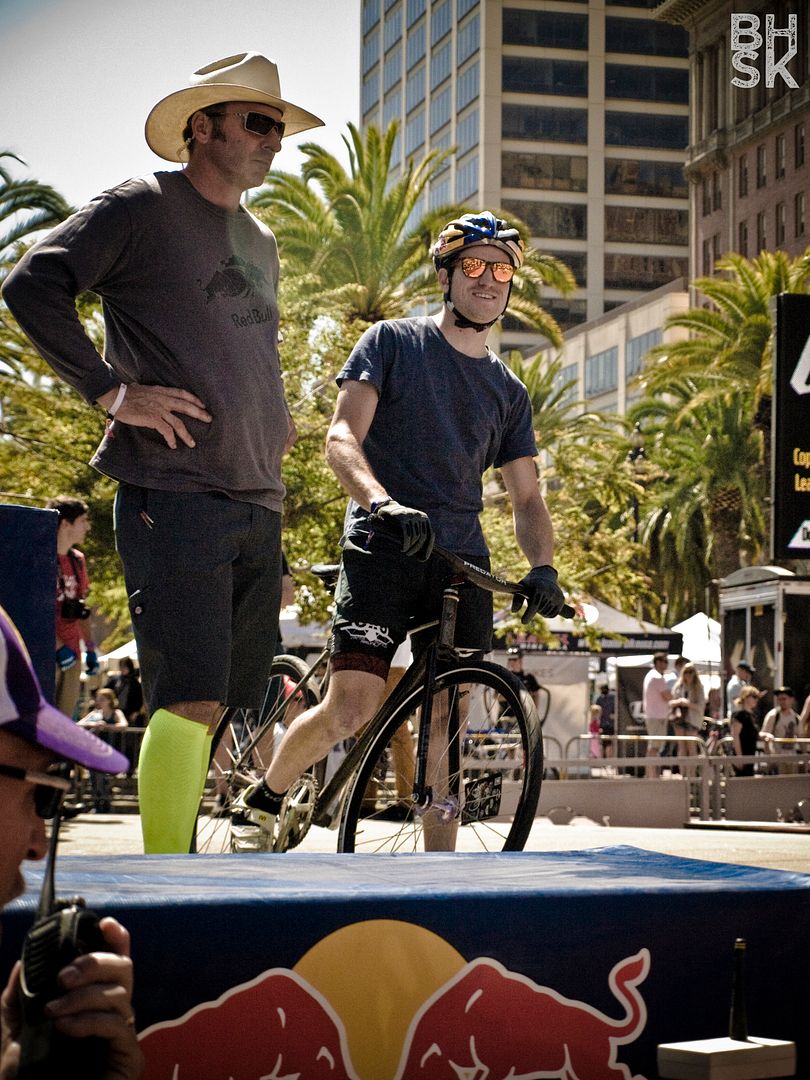 austin horse is my hero.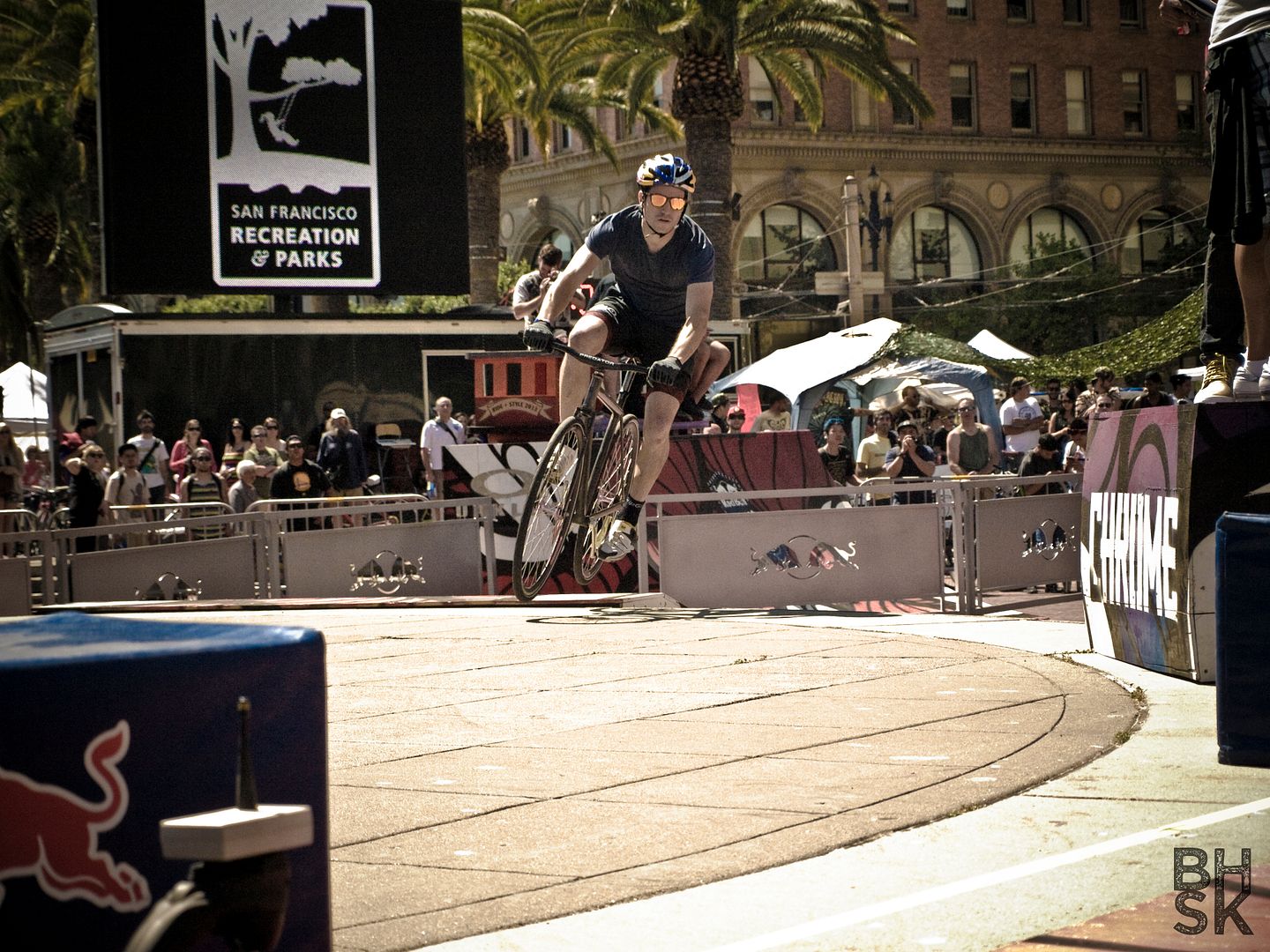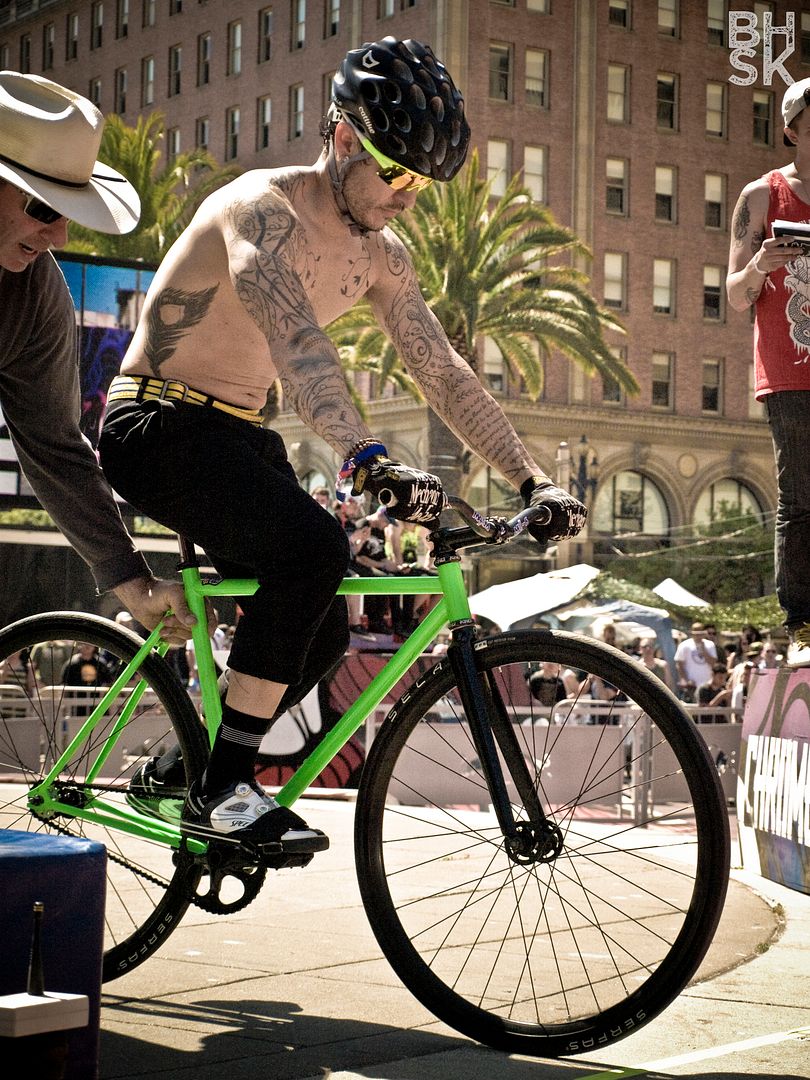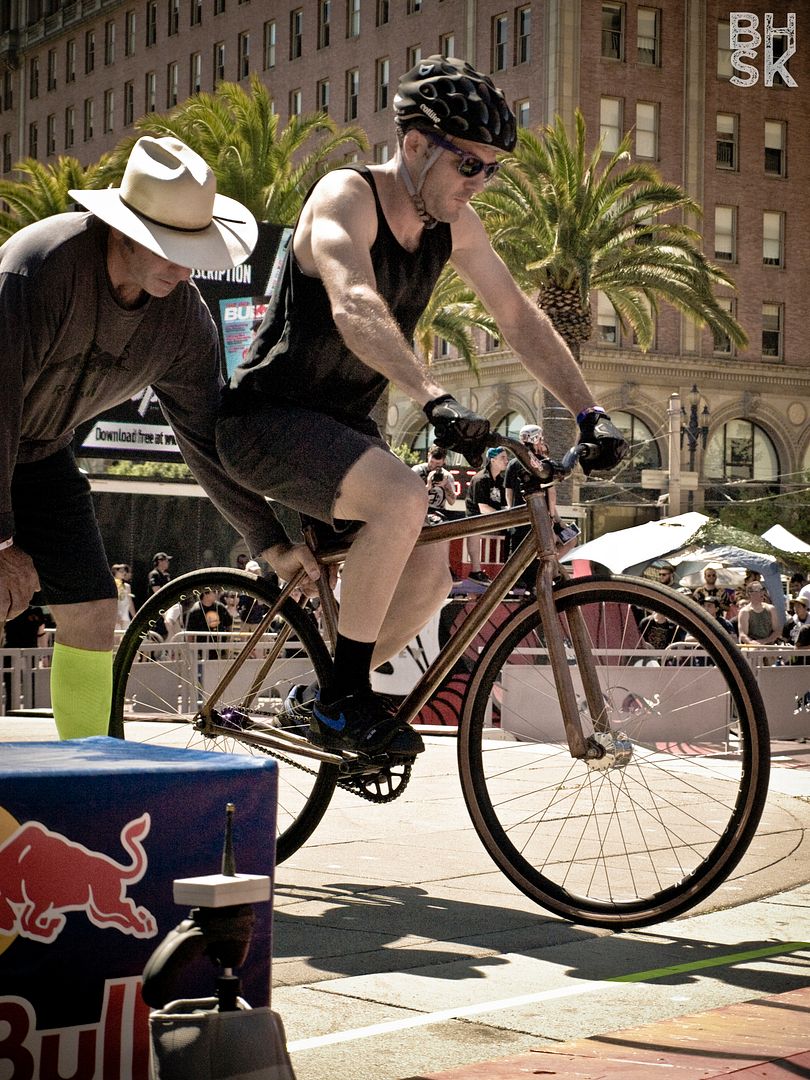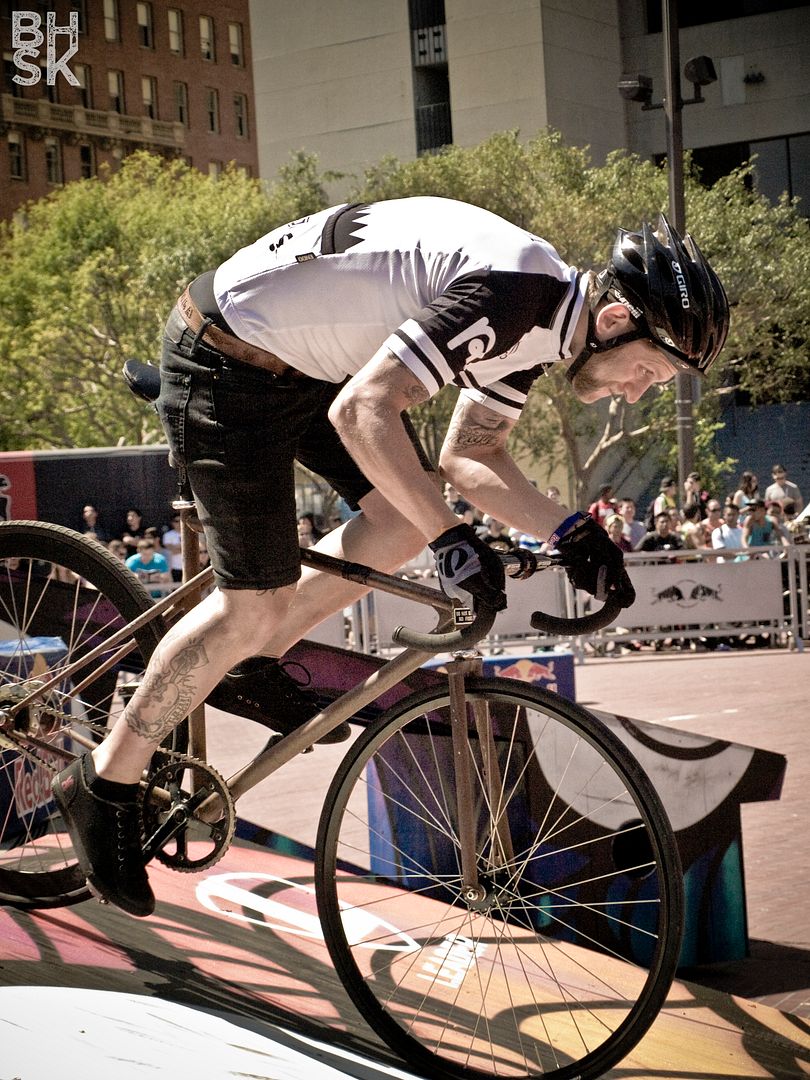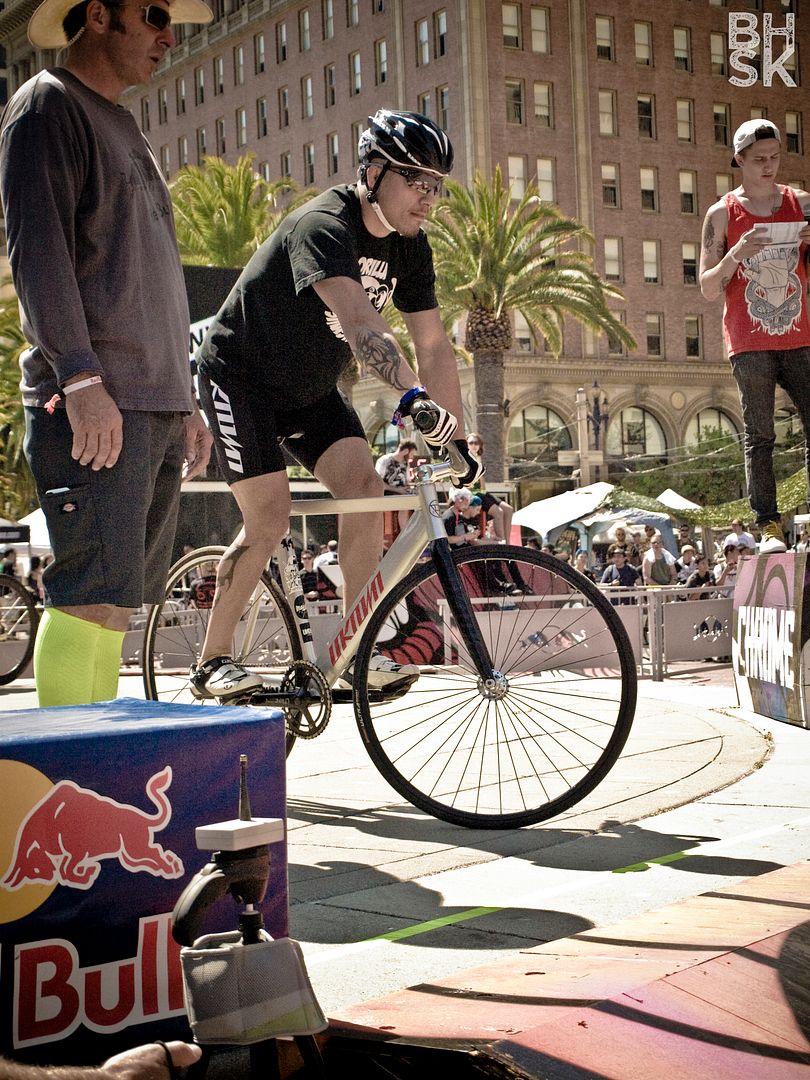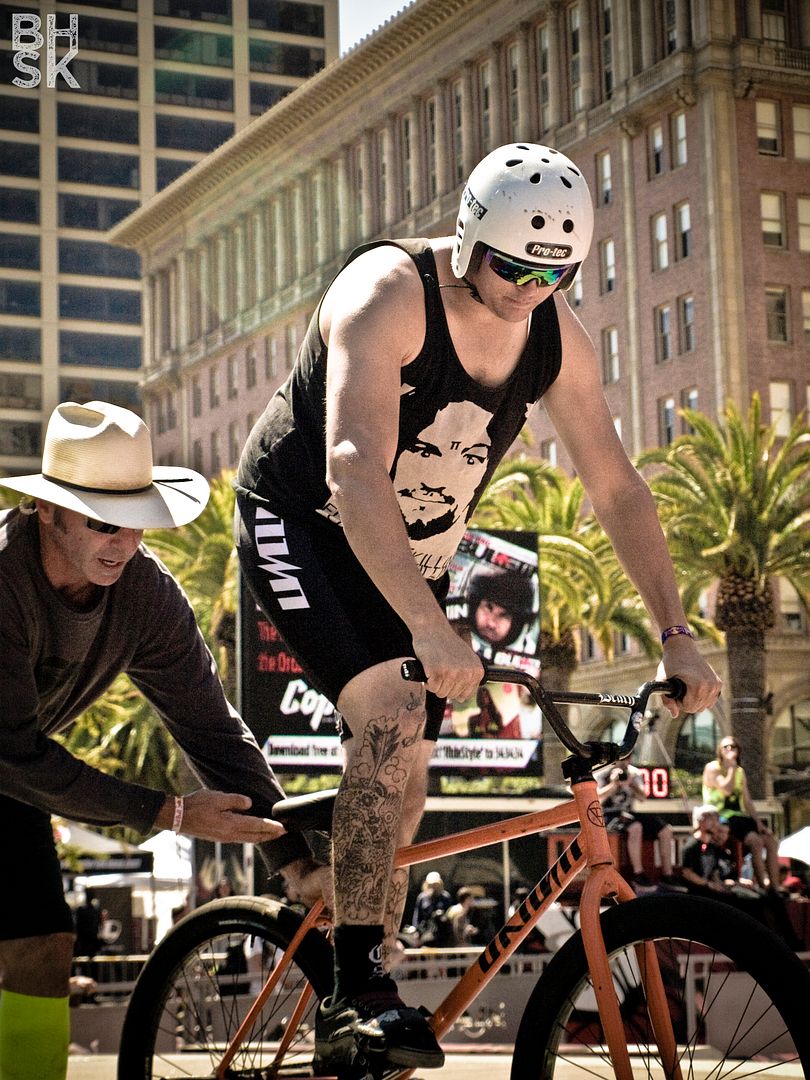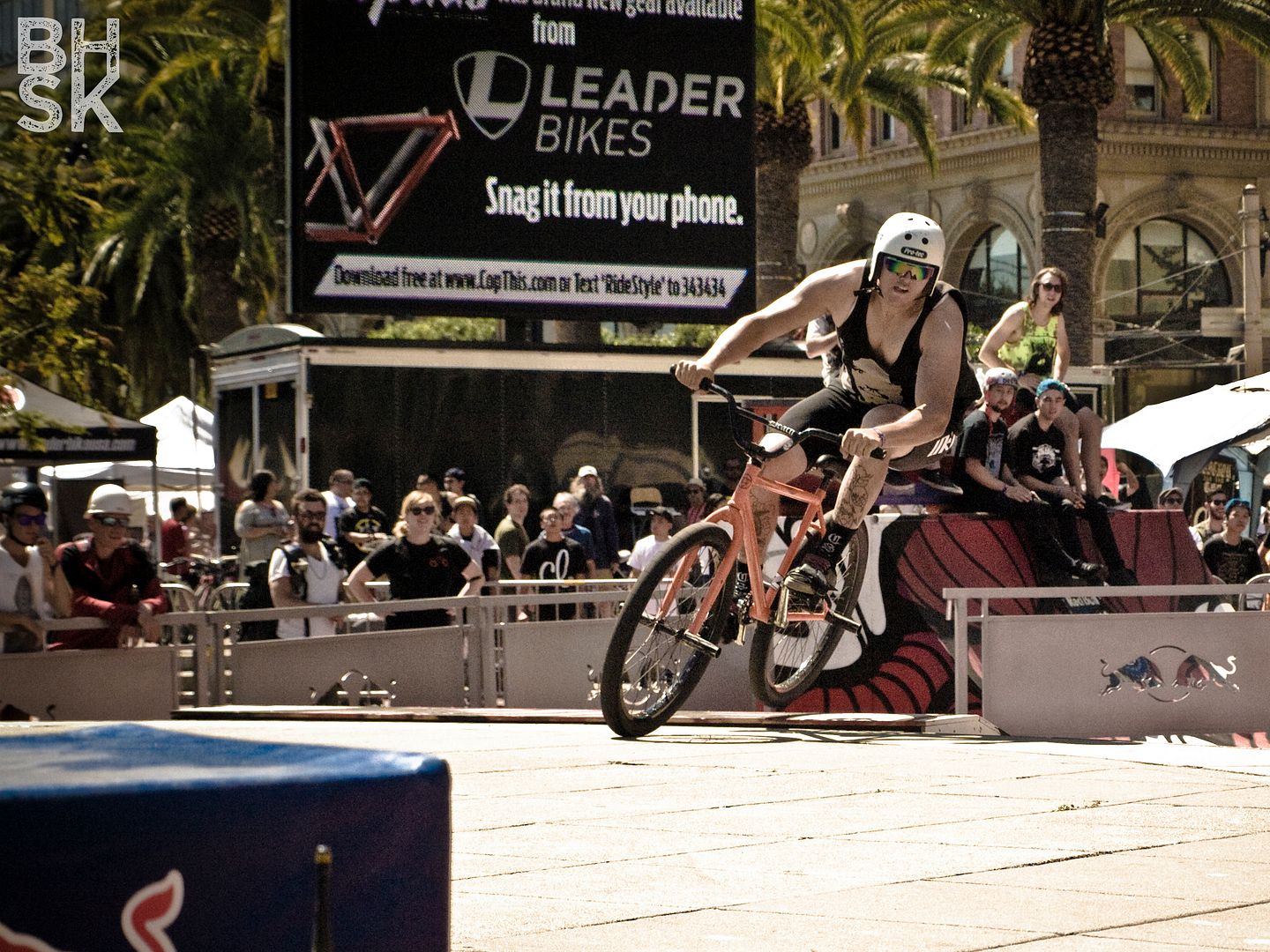 this is how you go far in redbull ride n style's track portion. you all know congo. you all remember what happened last year where he wrecked himself. well he came back running his fgfs bike and bike shorts. pegs weren't very aero but fuck it.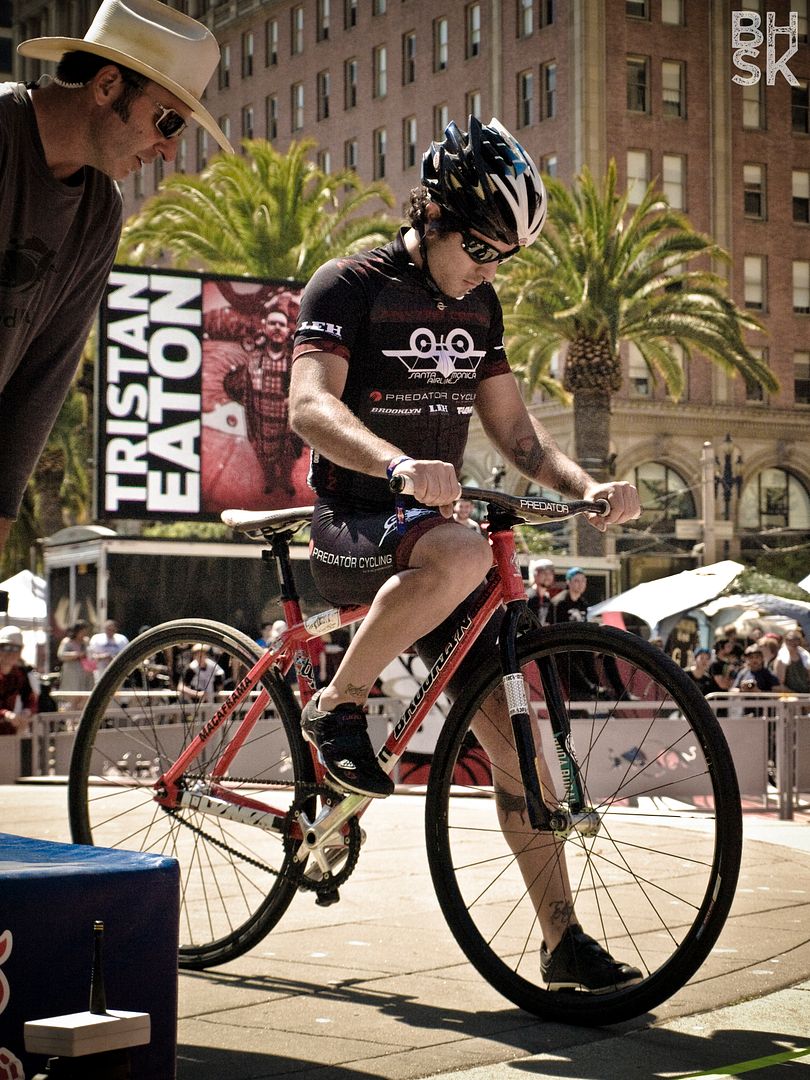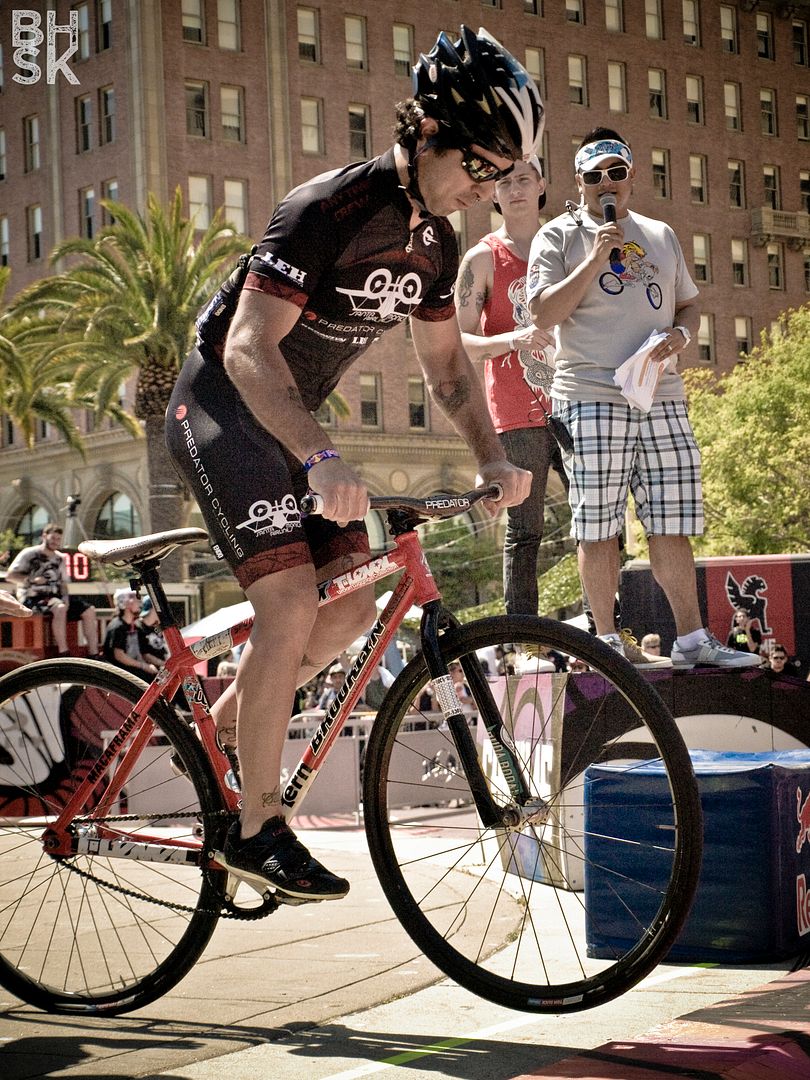 hernan is a rad dude. in between rund he blasted the ramps like it was a bmx bike under him.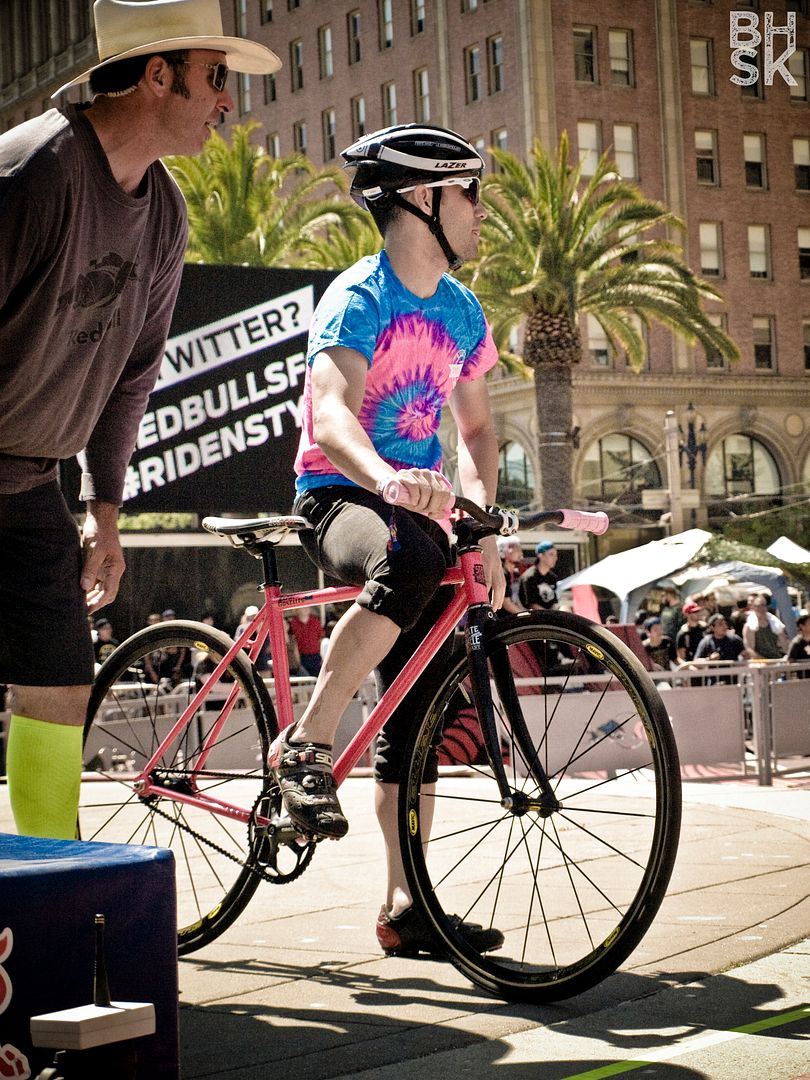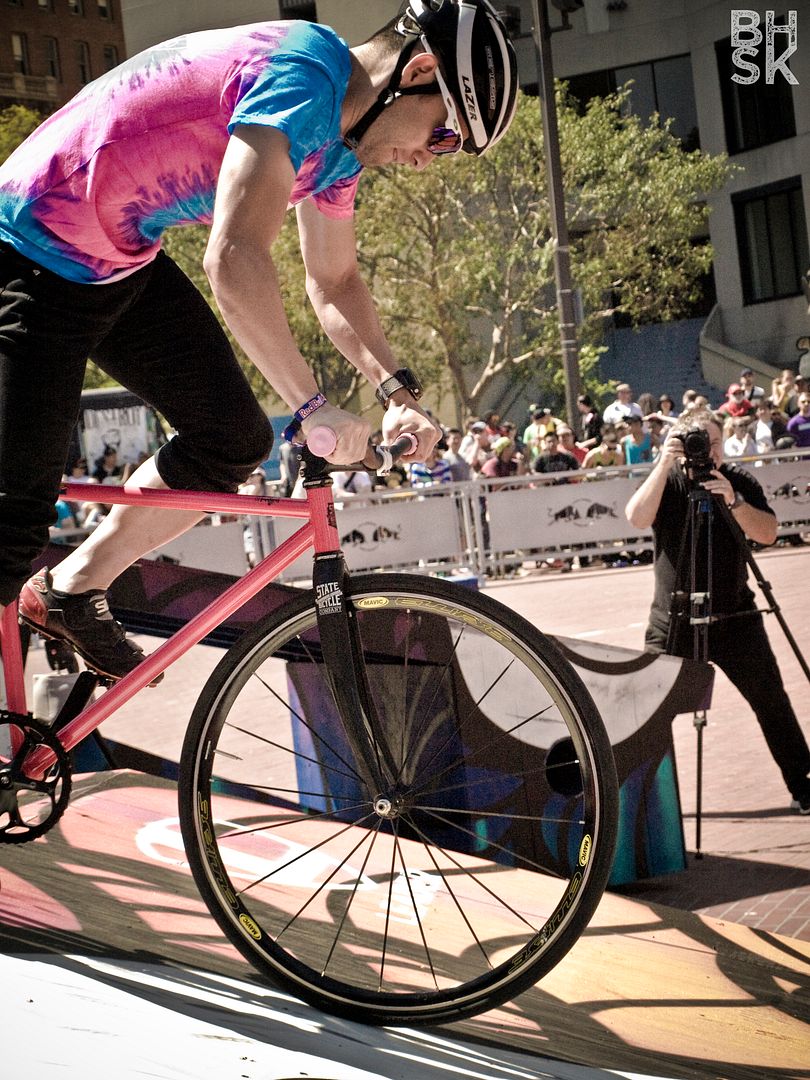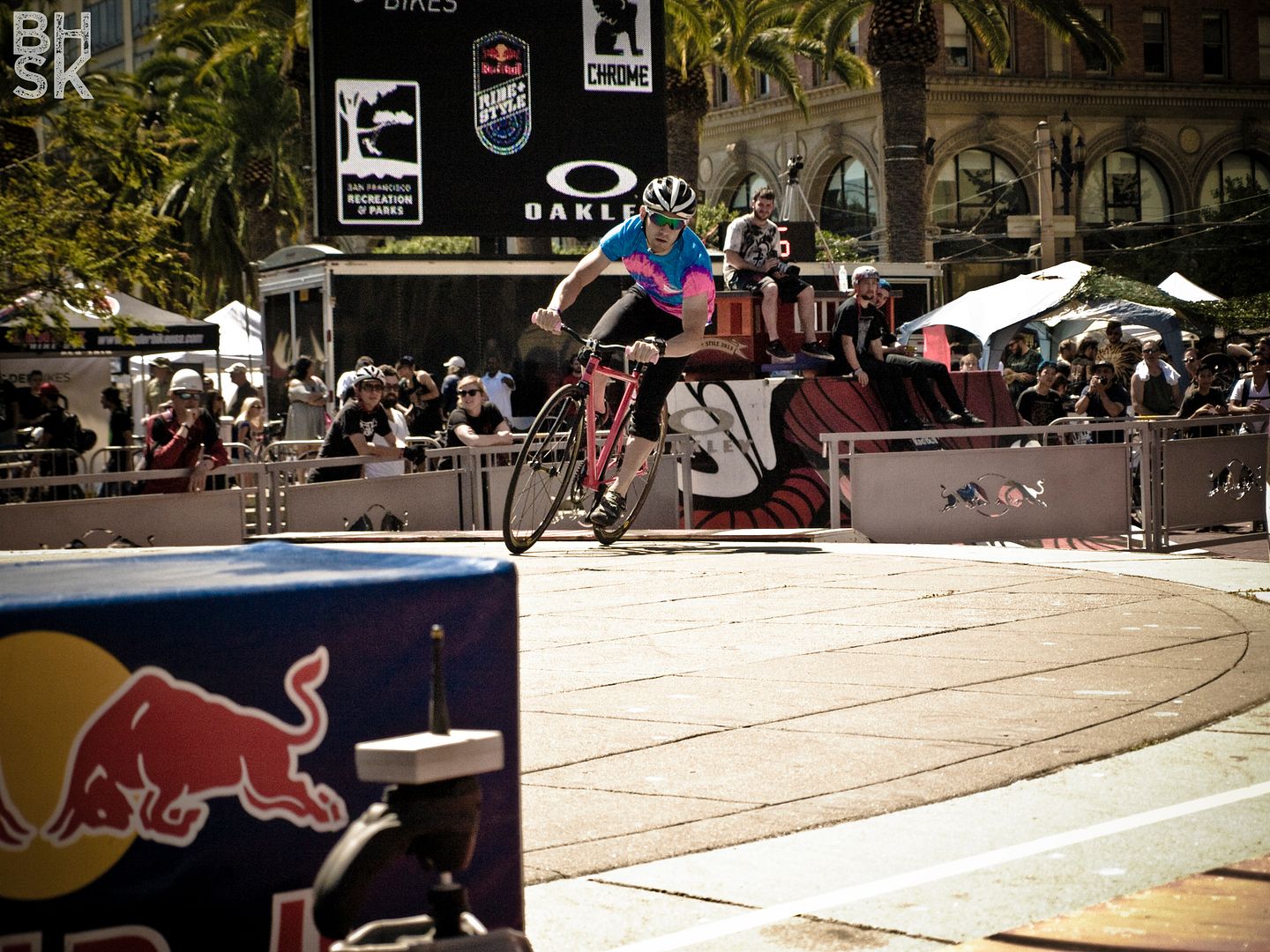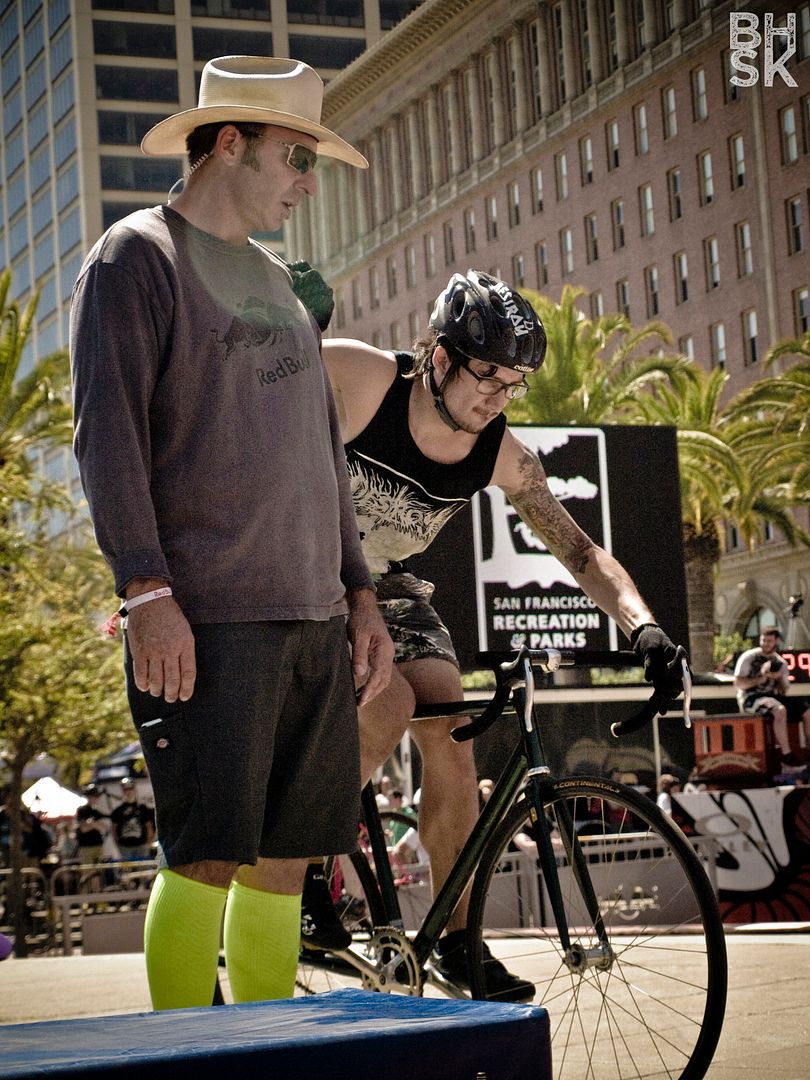 tony is a local dude who i met last year inadvertently through jakob santos' family. there's an amazing photo of me giving the dude a hi five while he rode last year.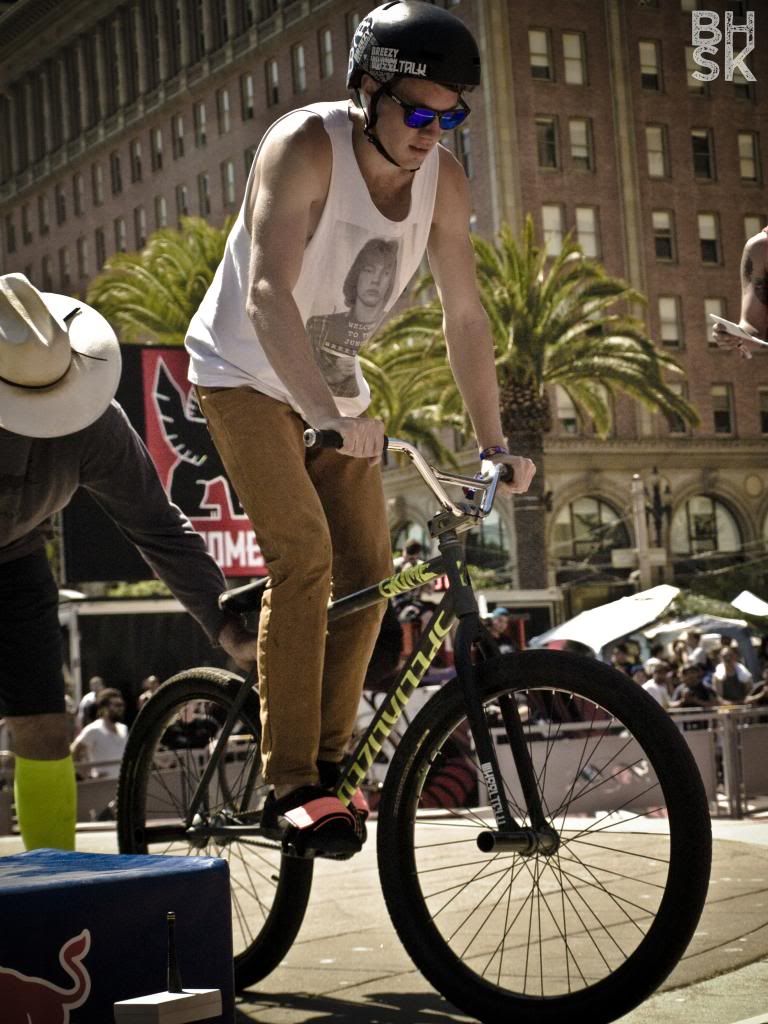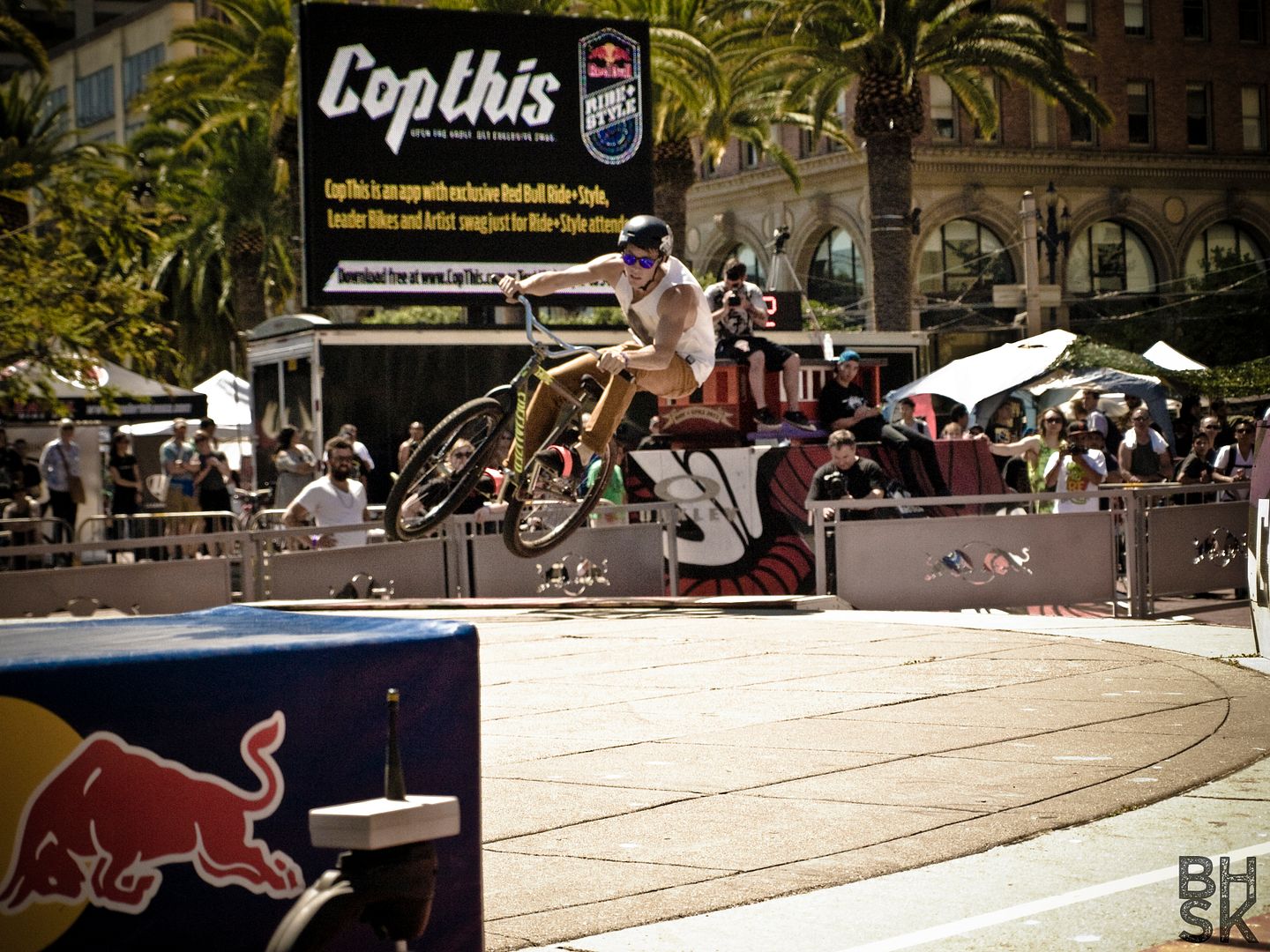 matt reyes gives no fucks. having problems with the ramp up on your track bike? slummy dont care- slum will blast it.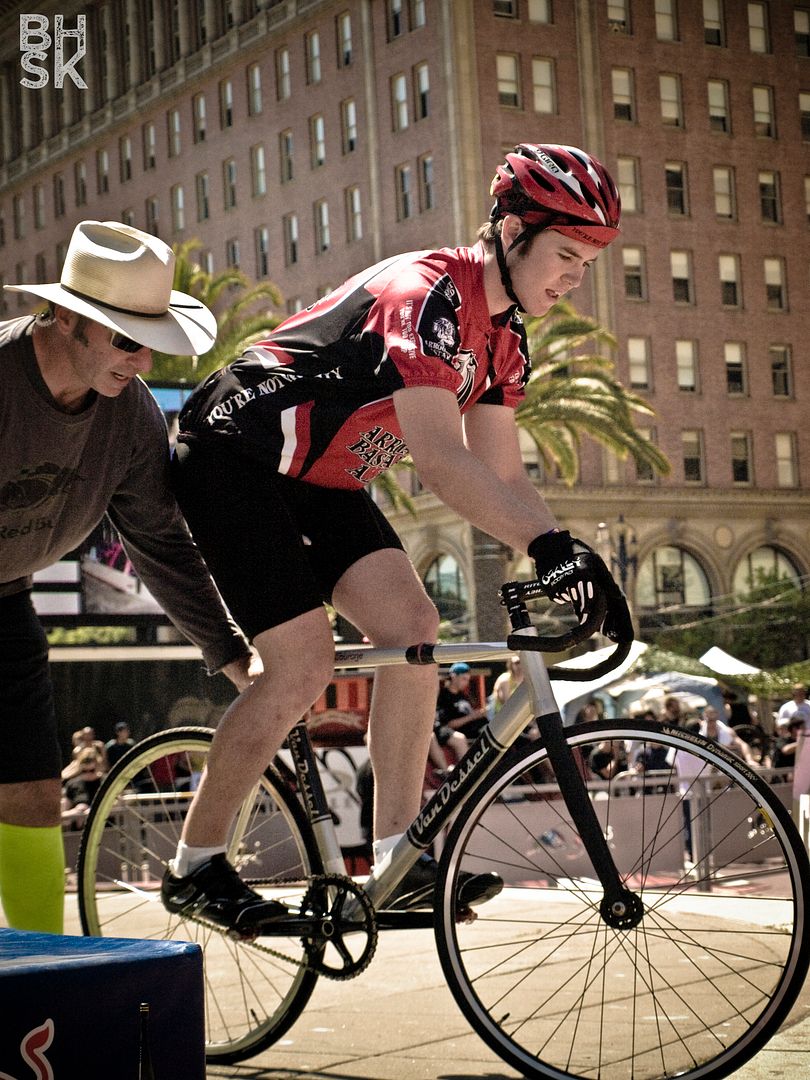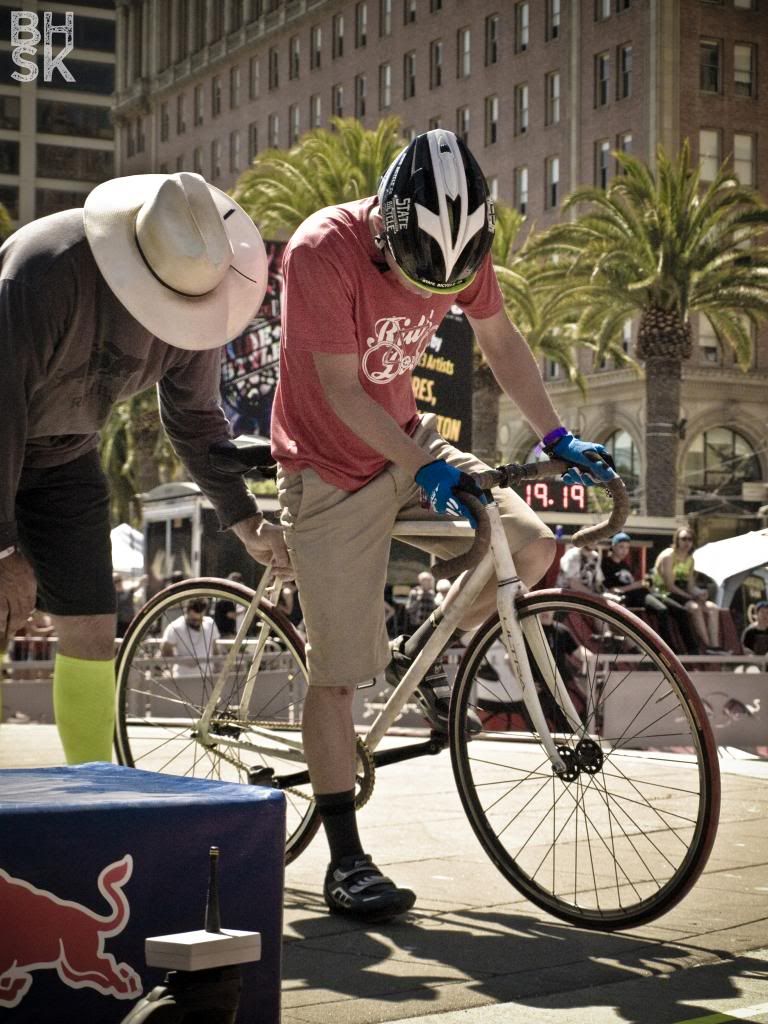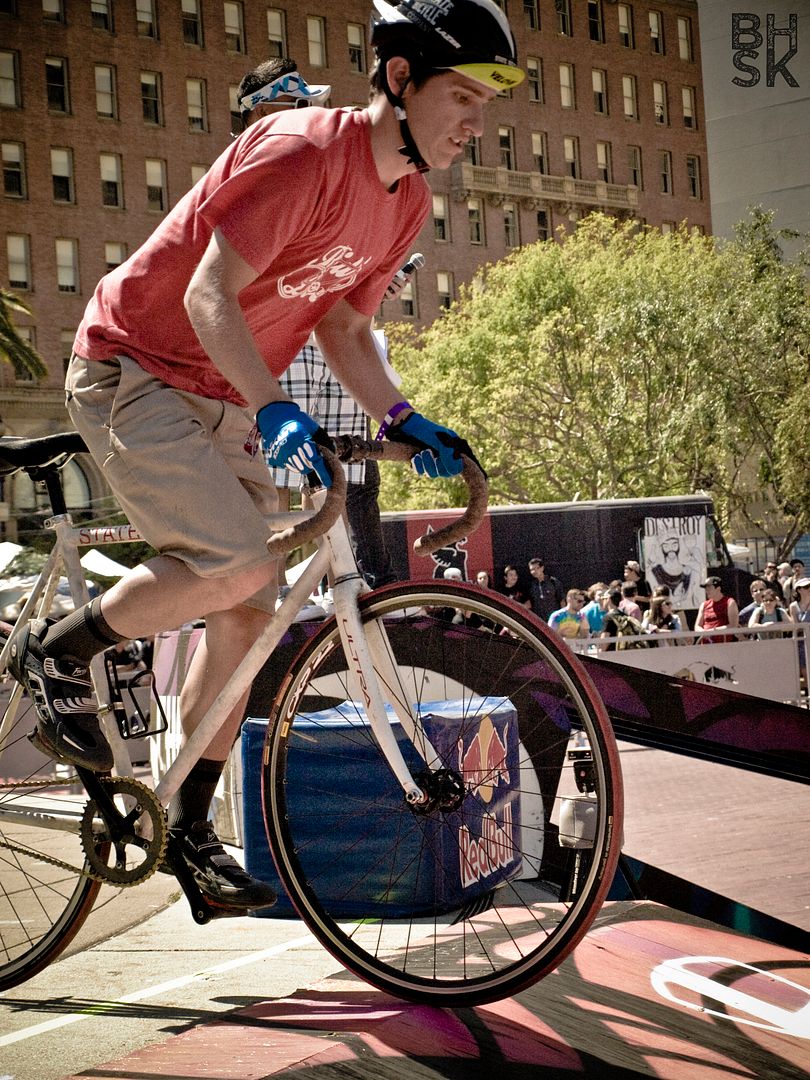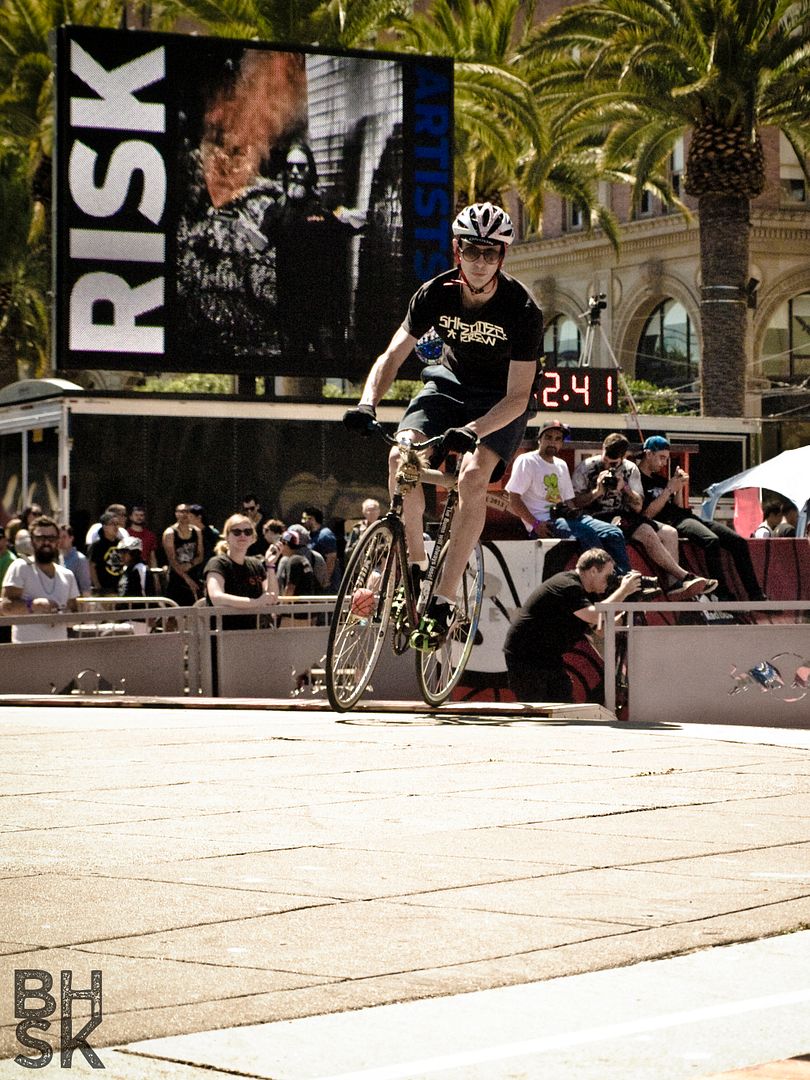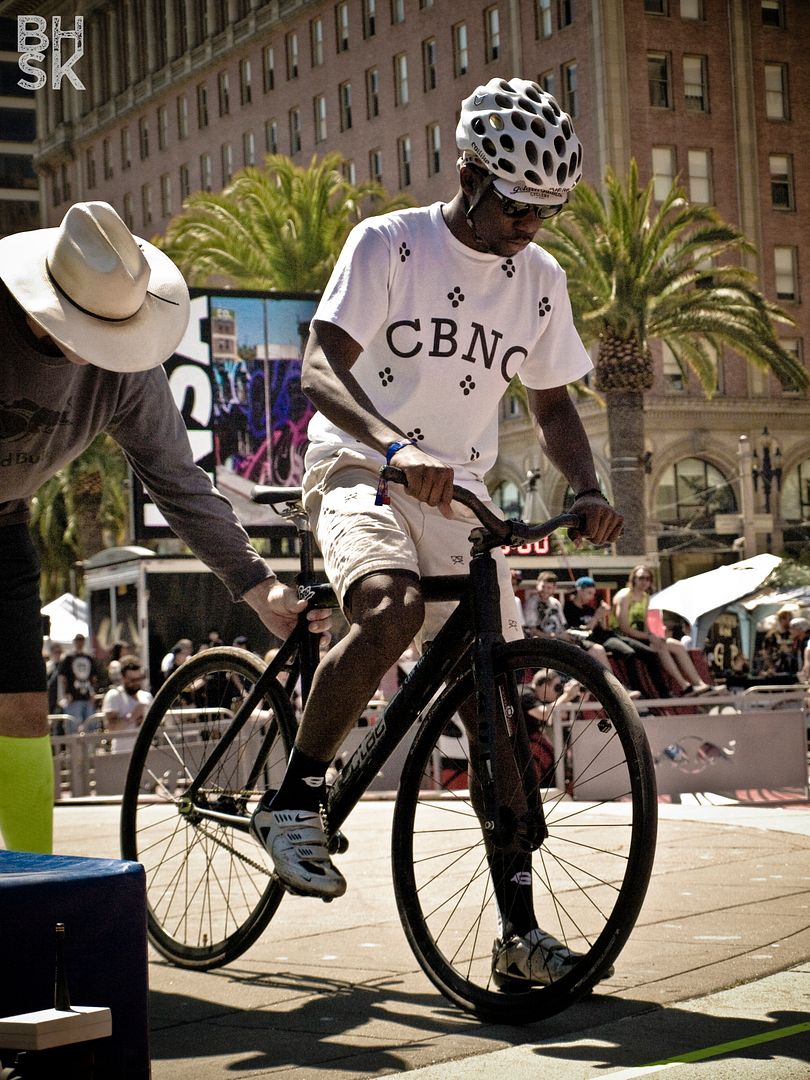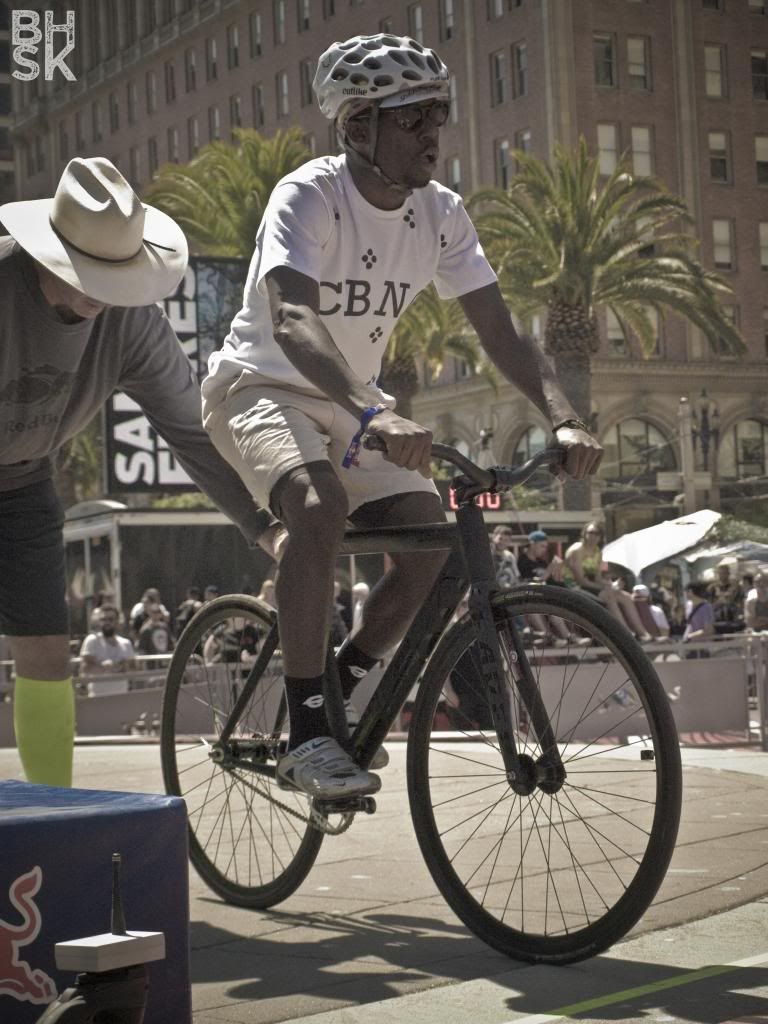 alonzo tal's got a mean setup. OG nike cycling shoes are based as fuck.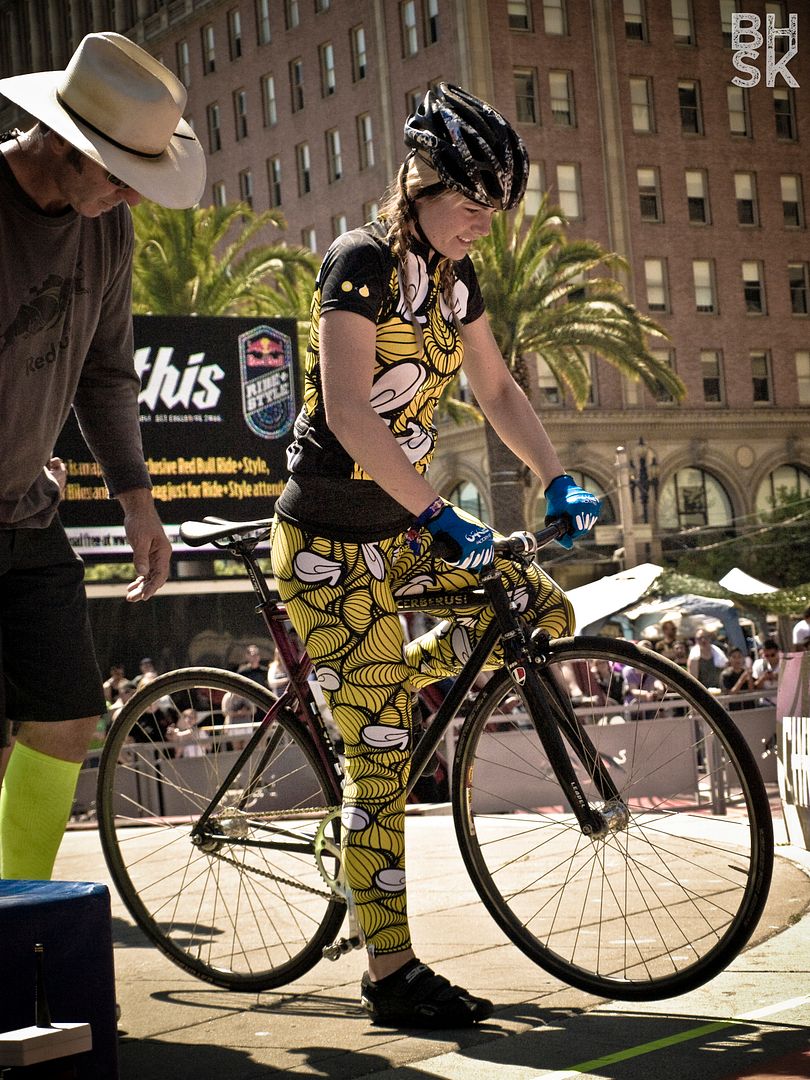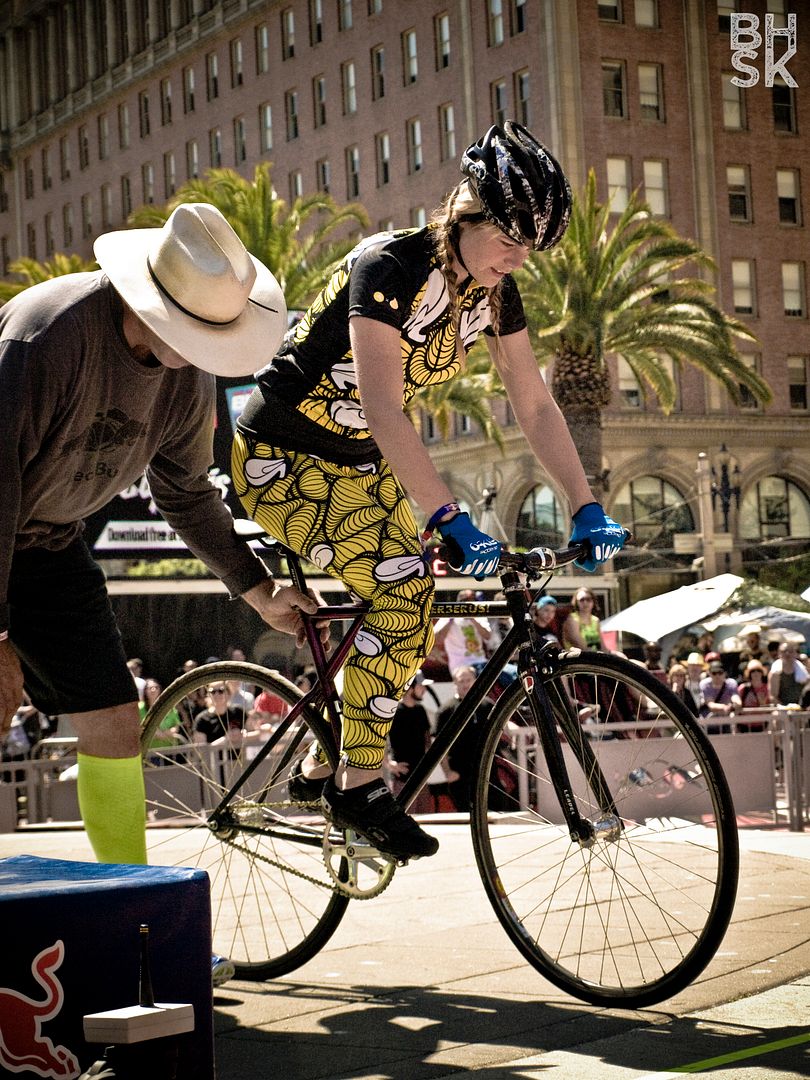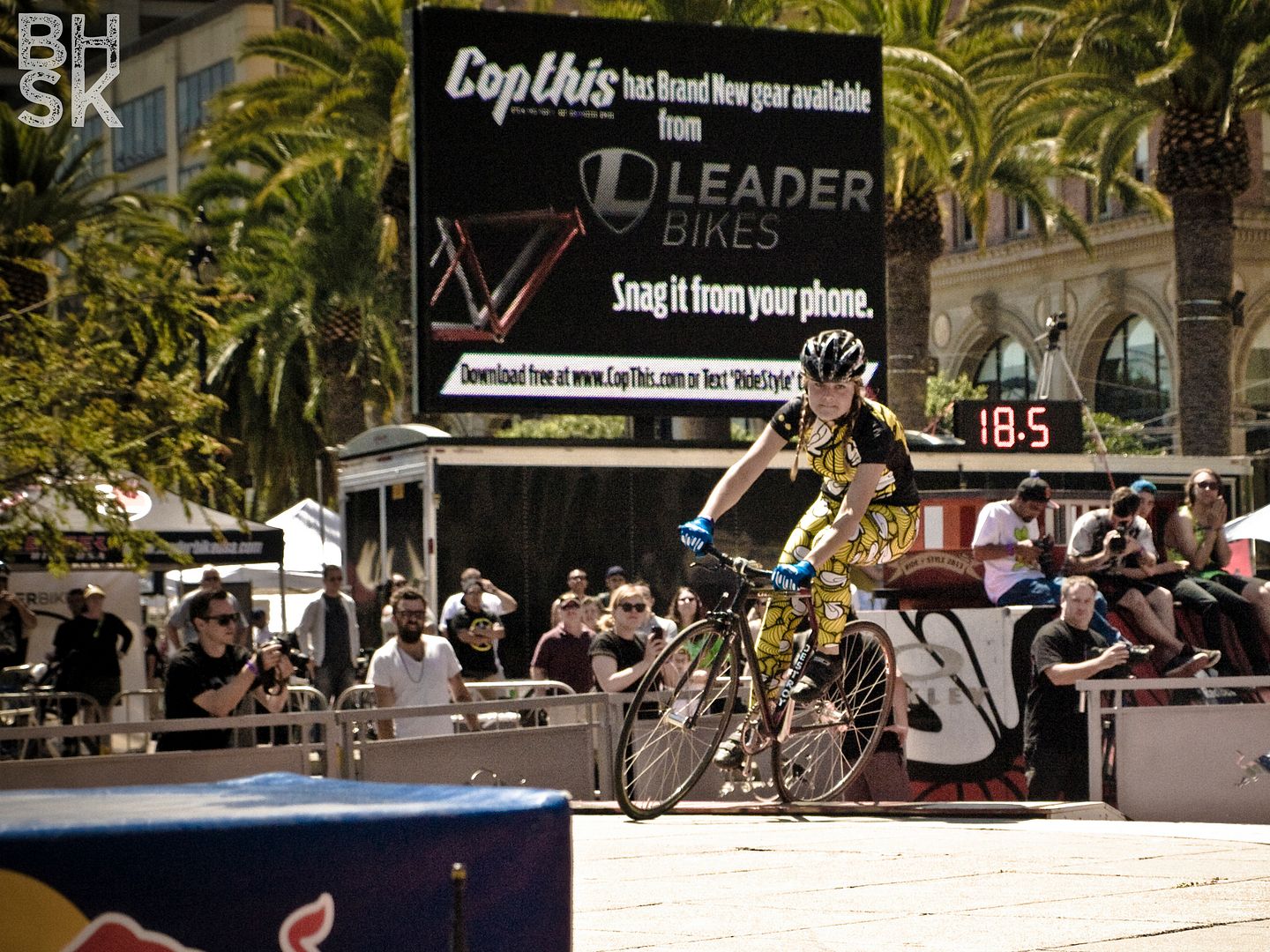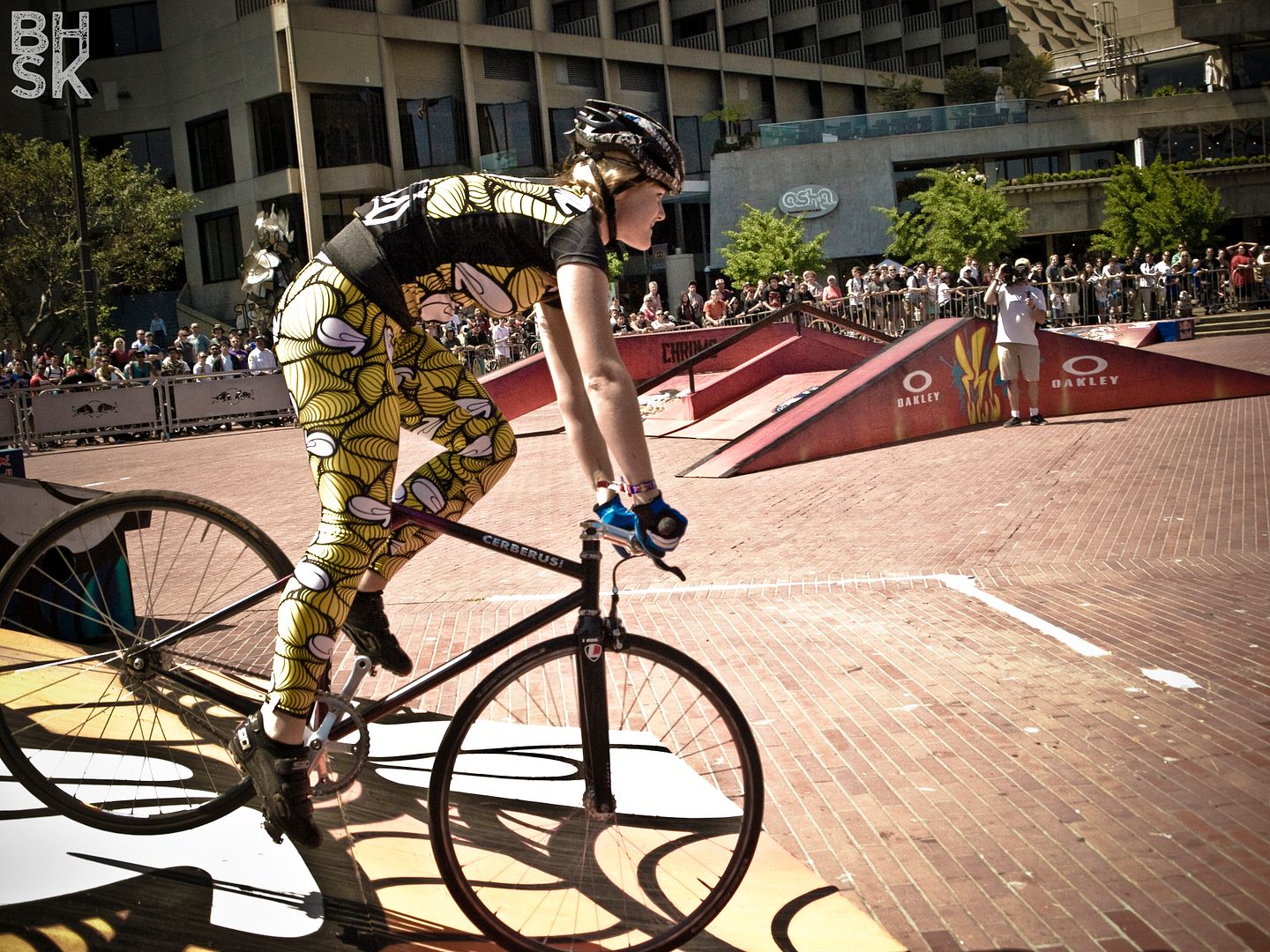 this is veronika volok. she's
destroy
fam. she is rad. she's fast as fuck. she can probably out party you.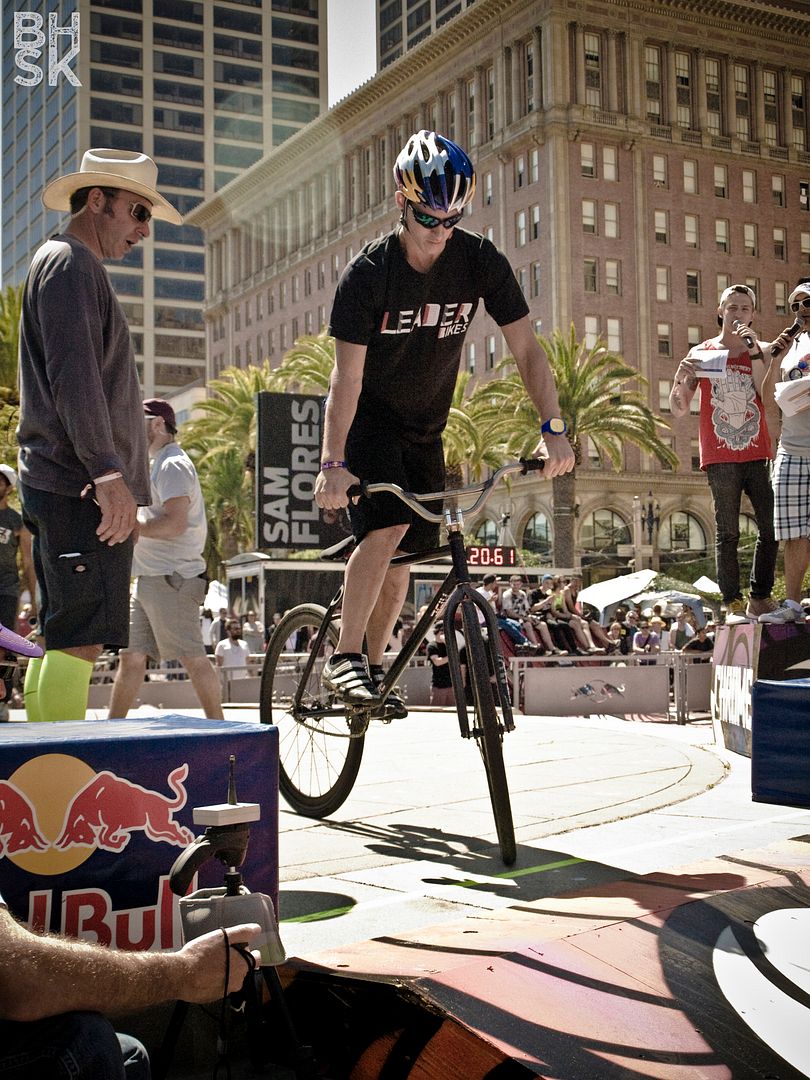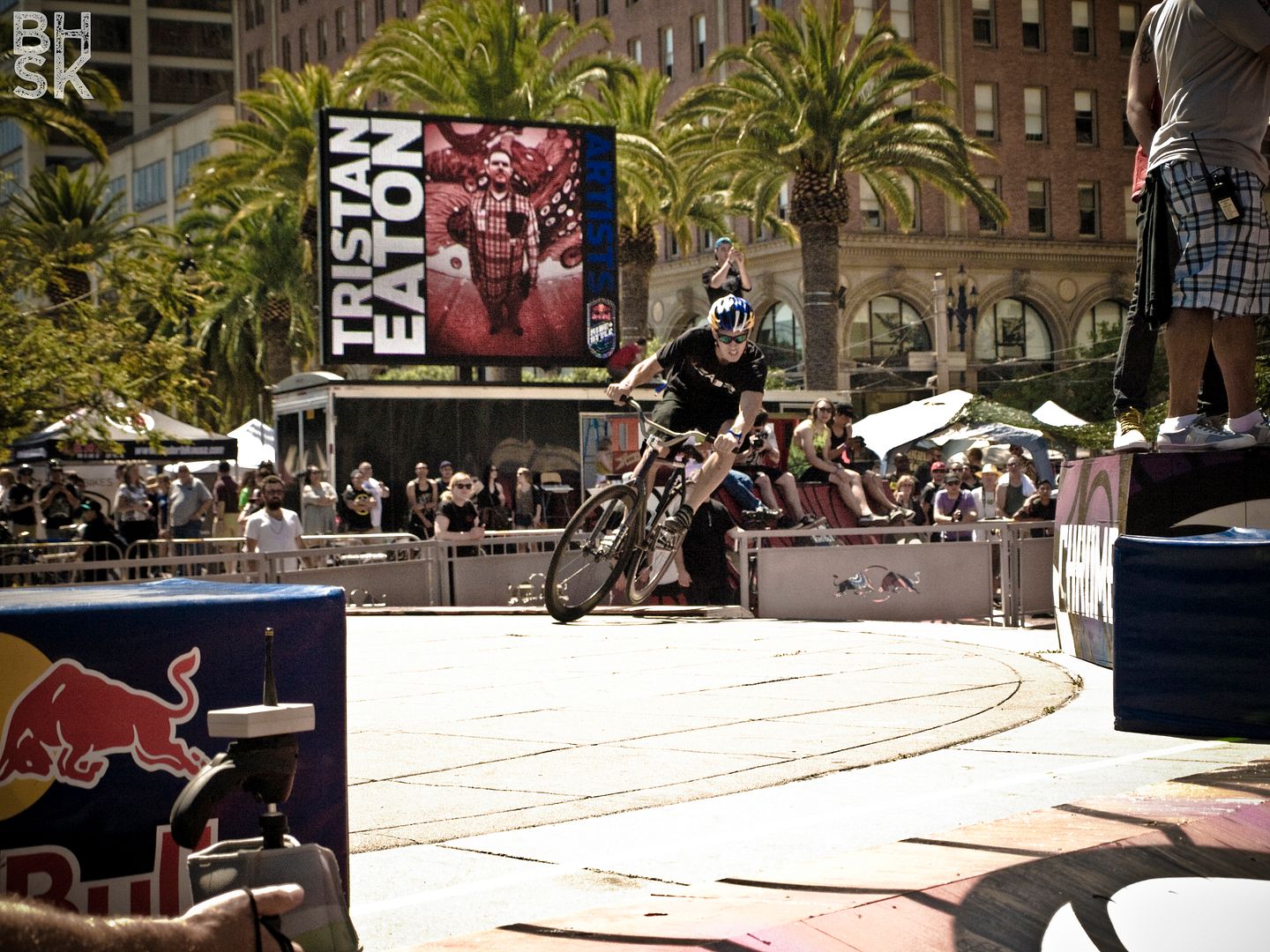 addison zawada stuck to the winning redbull blueprint. take an FGFS bike, throw skinny tires on that bitch, and run like hell. yup.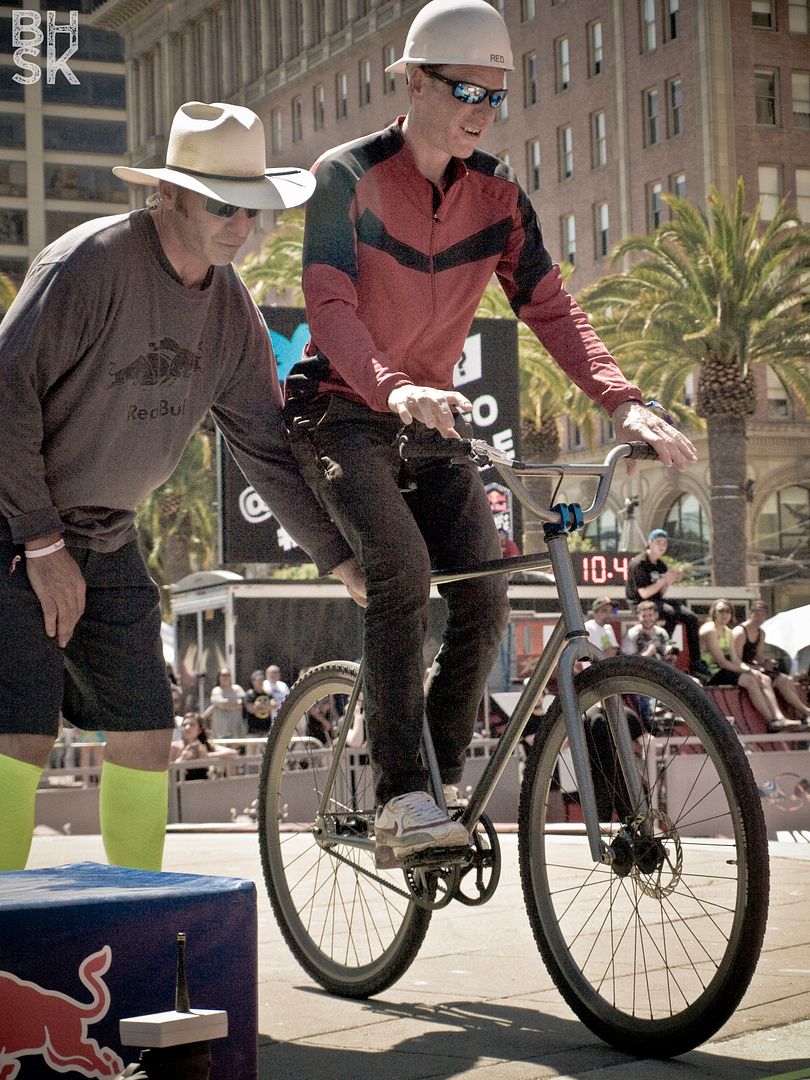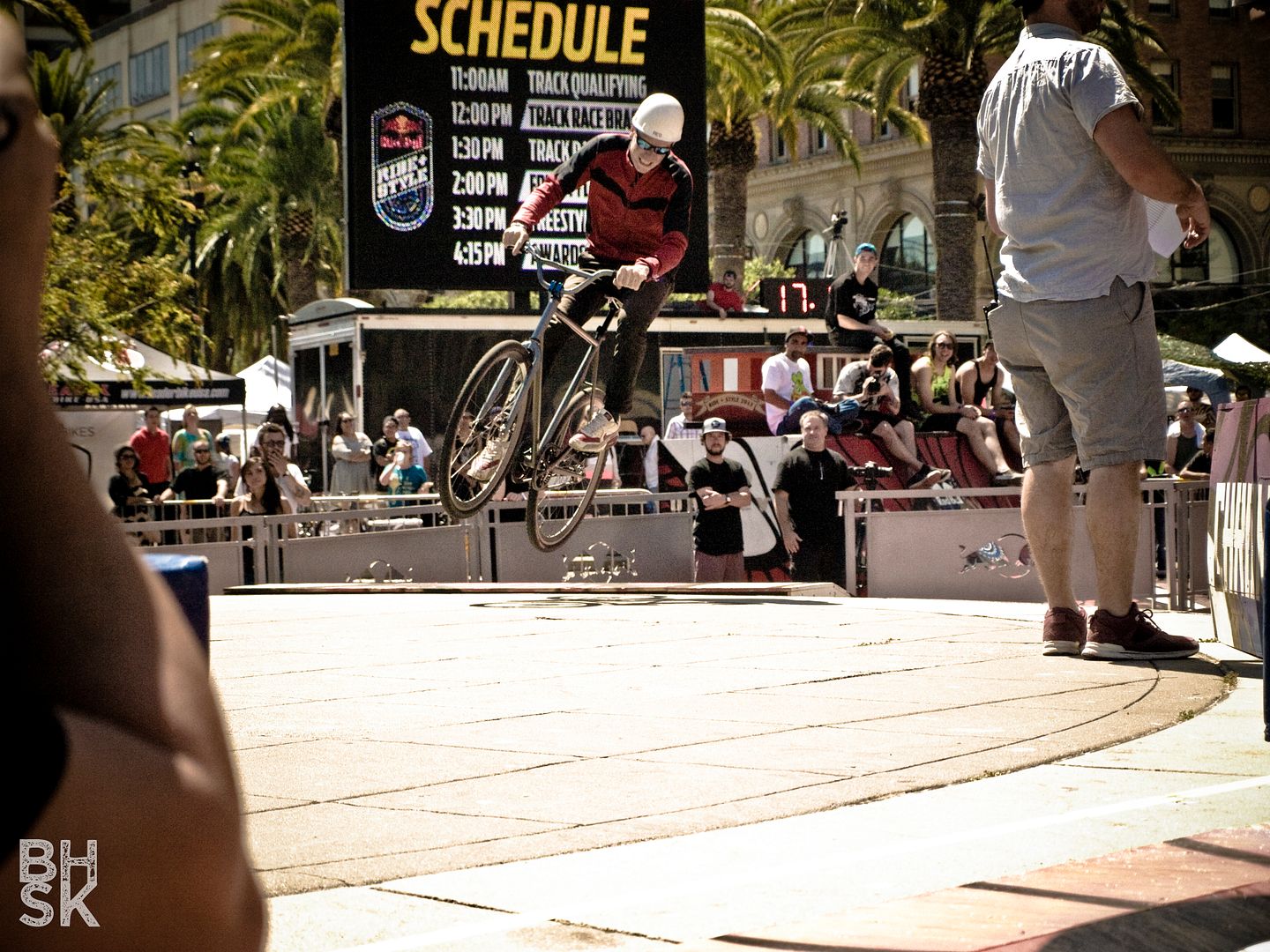 this is red. dude is borderline crazy but i fuckin love it. double belt drive, disc brake front, hard hat. no foot retention- no fucks given. party personified.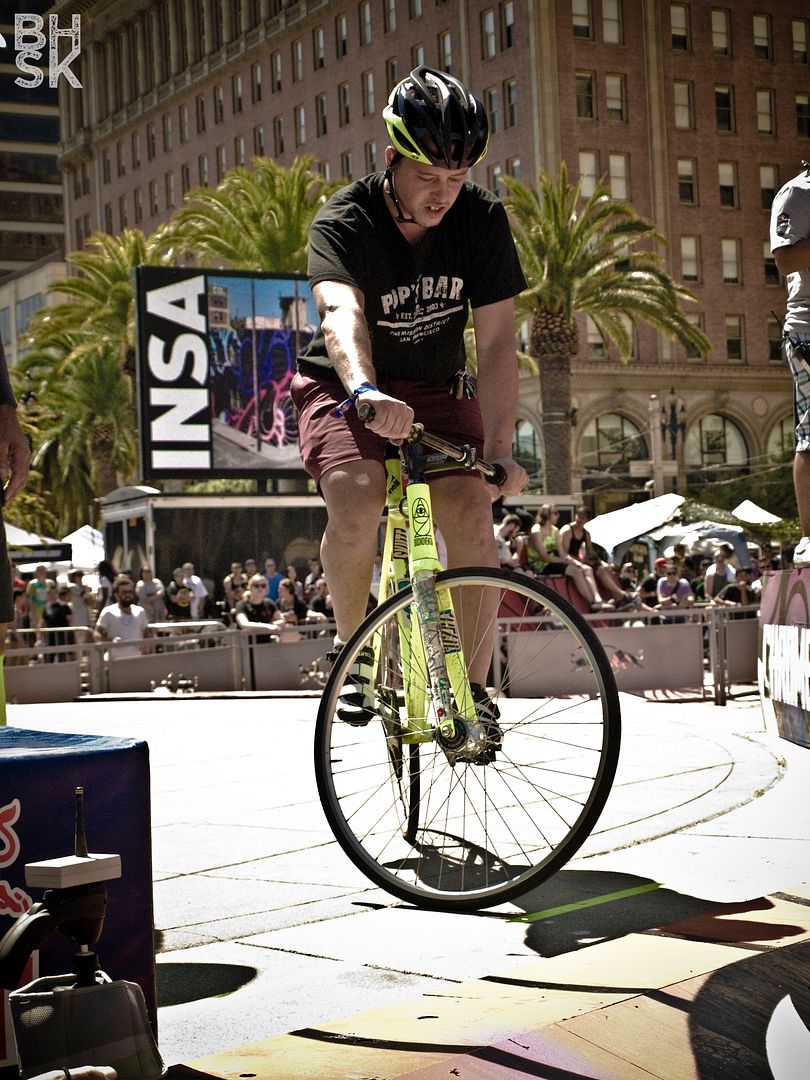 crihs' dosnoventa was arguably as bright as a slurpcult tank top.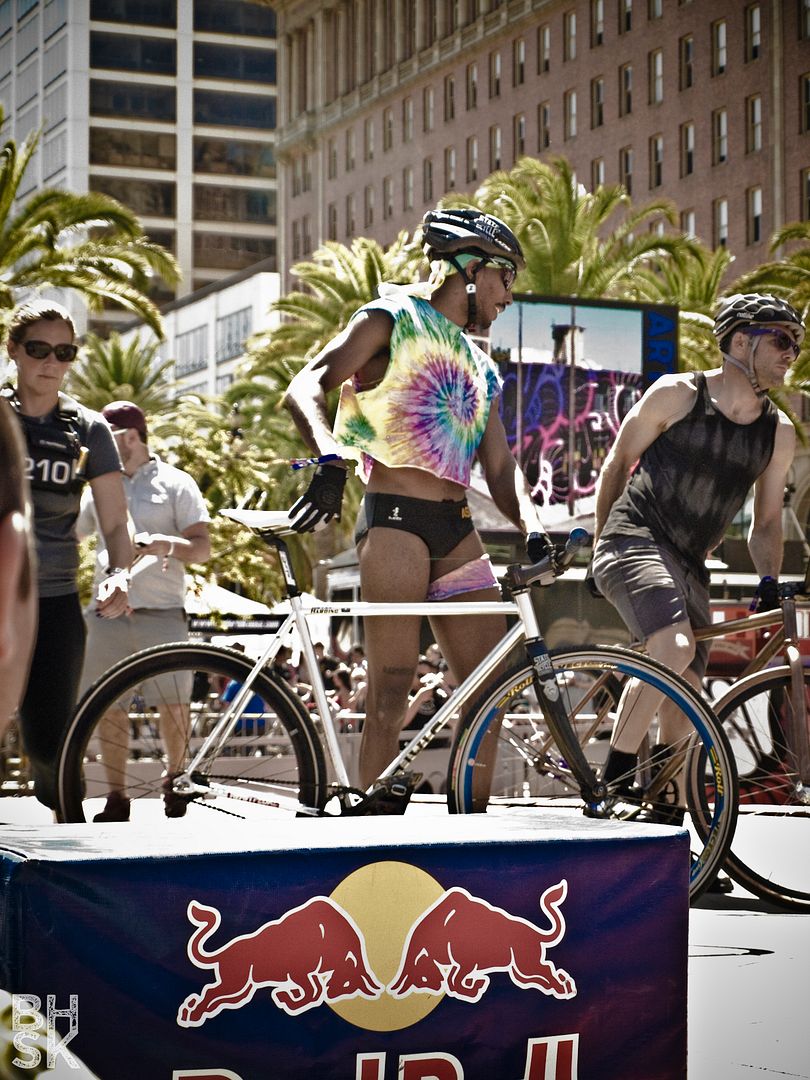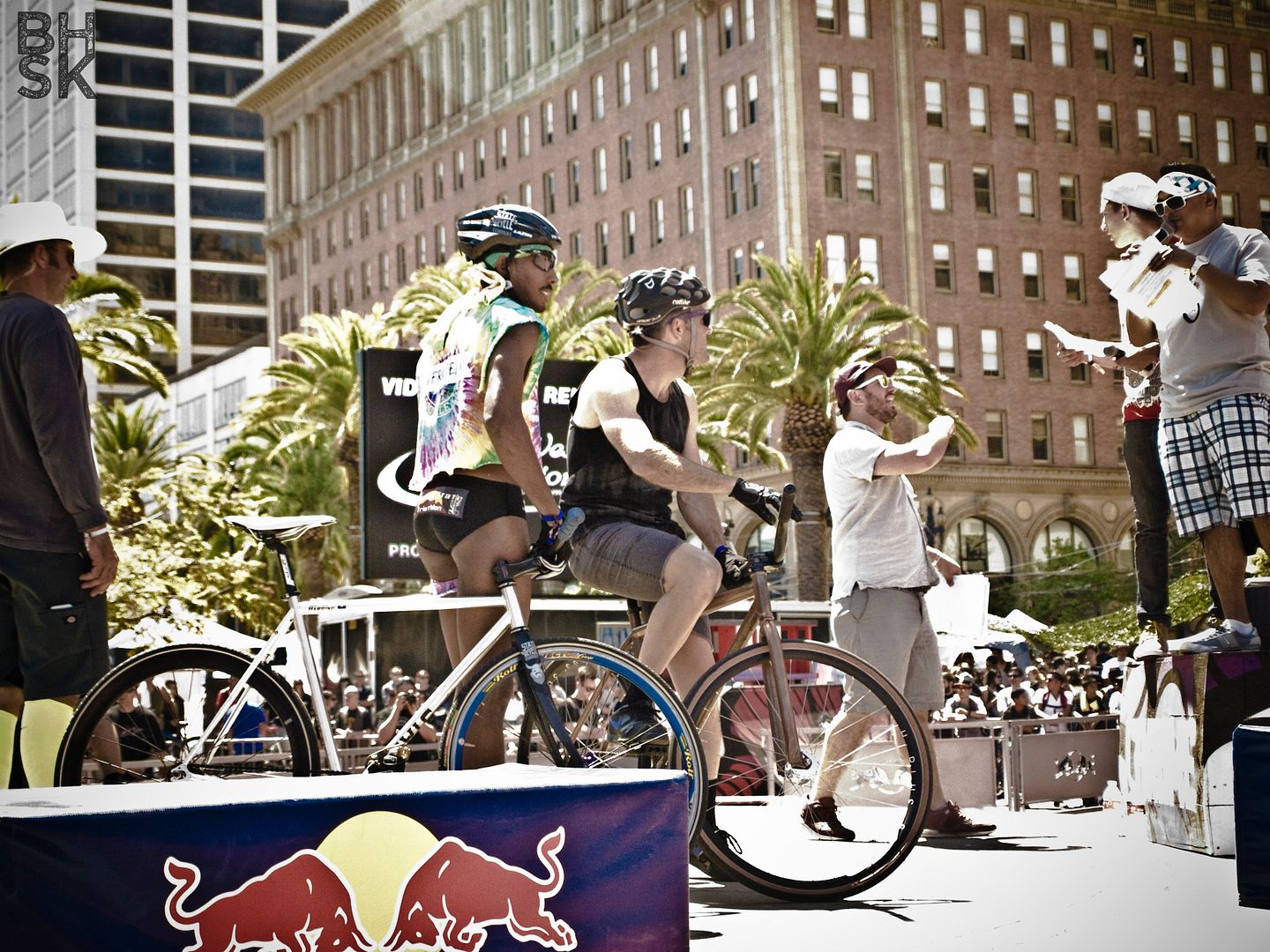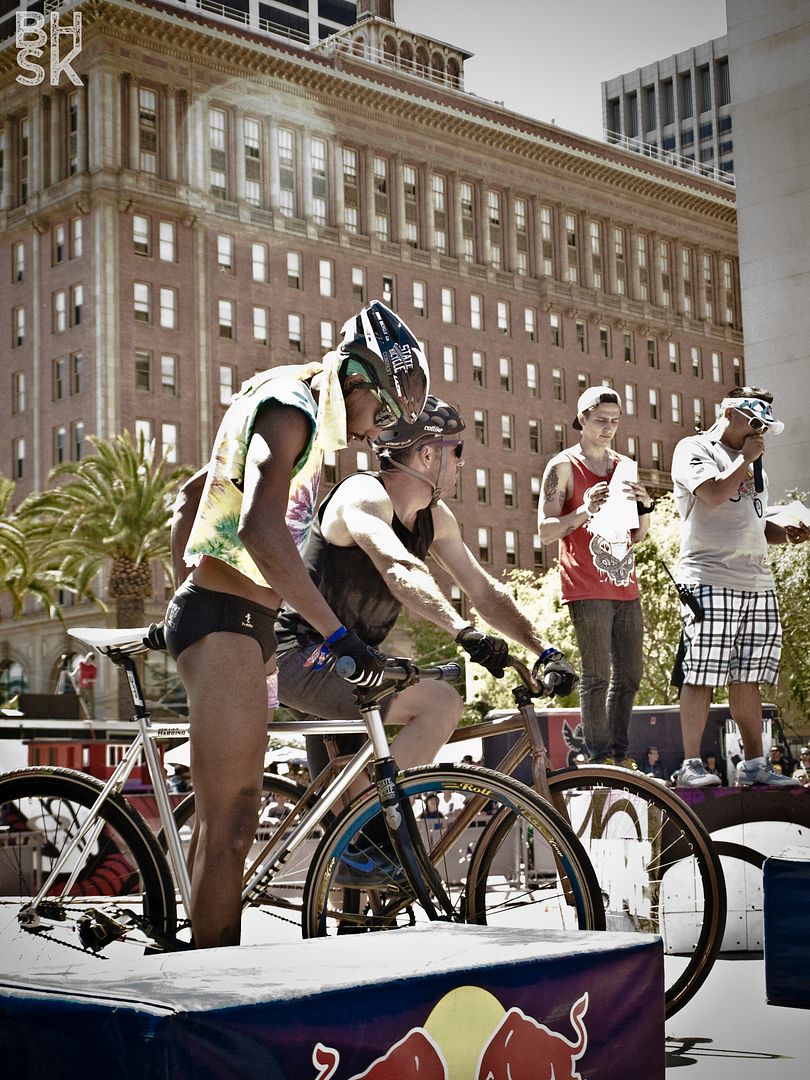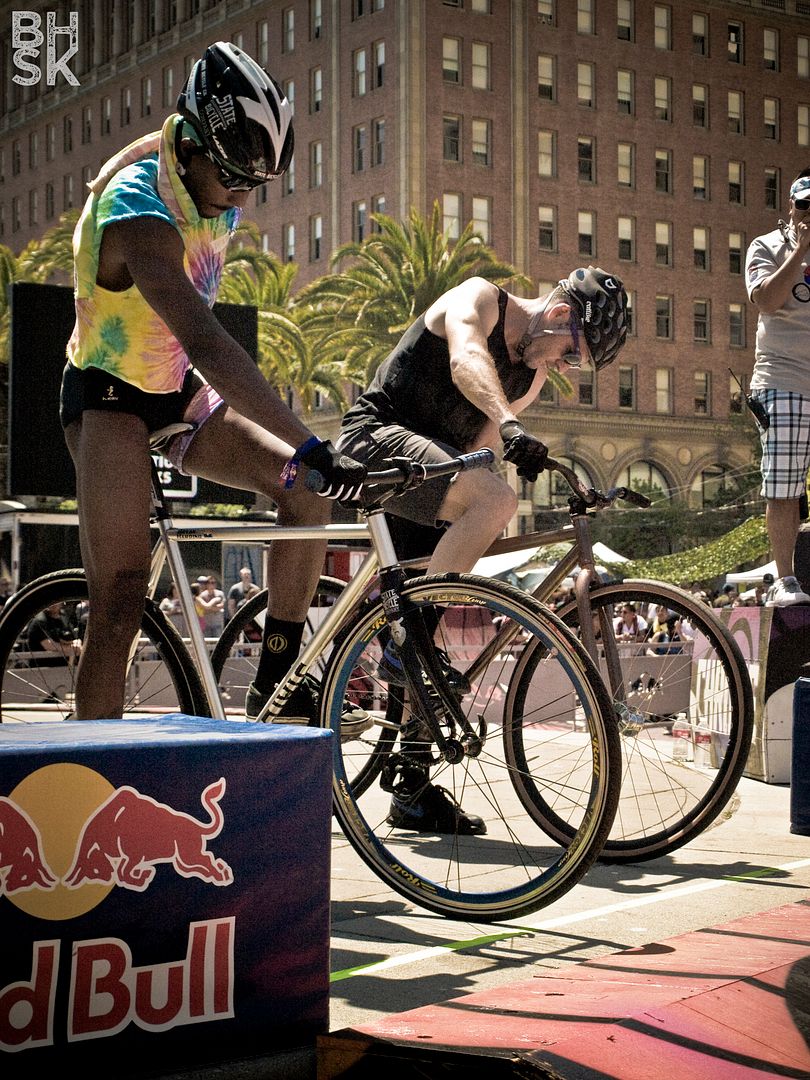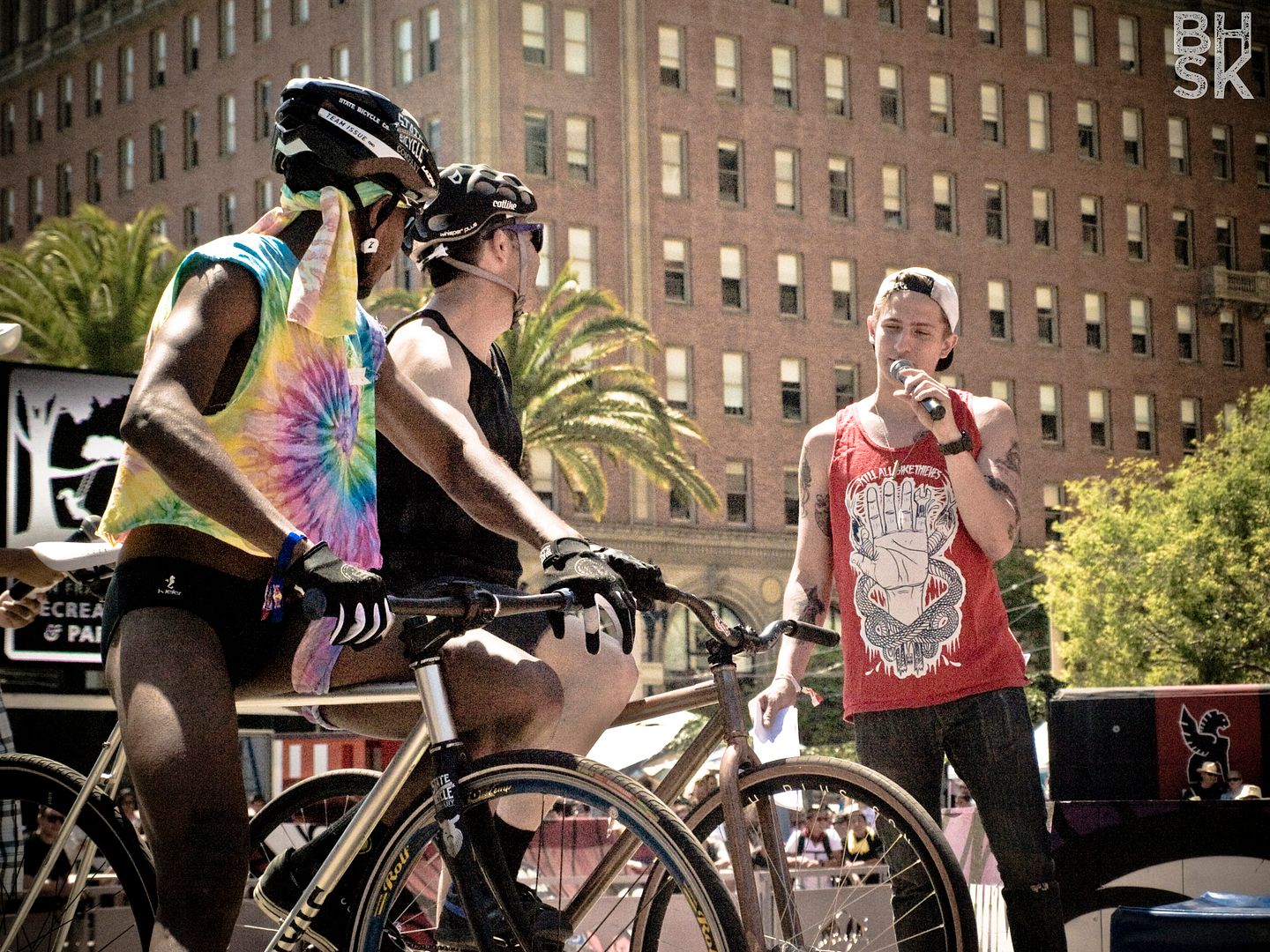 and so the hed to heads came up. as you can see, bryan cut more weight with the cropped tank. you can't argue with logic like that.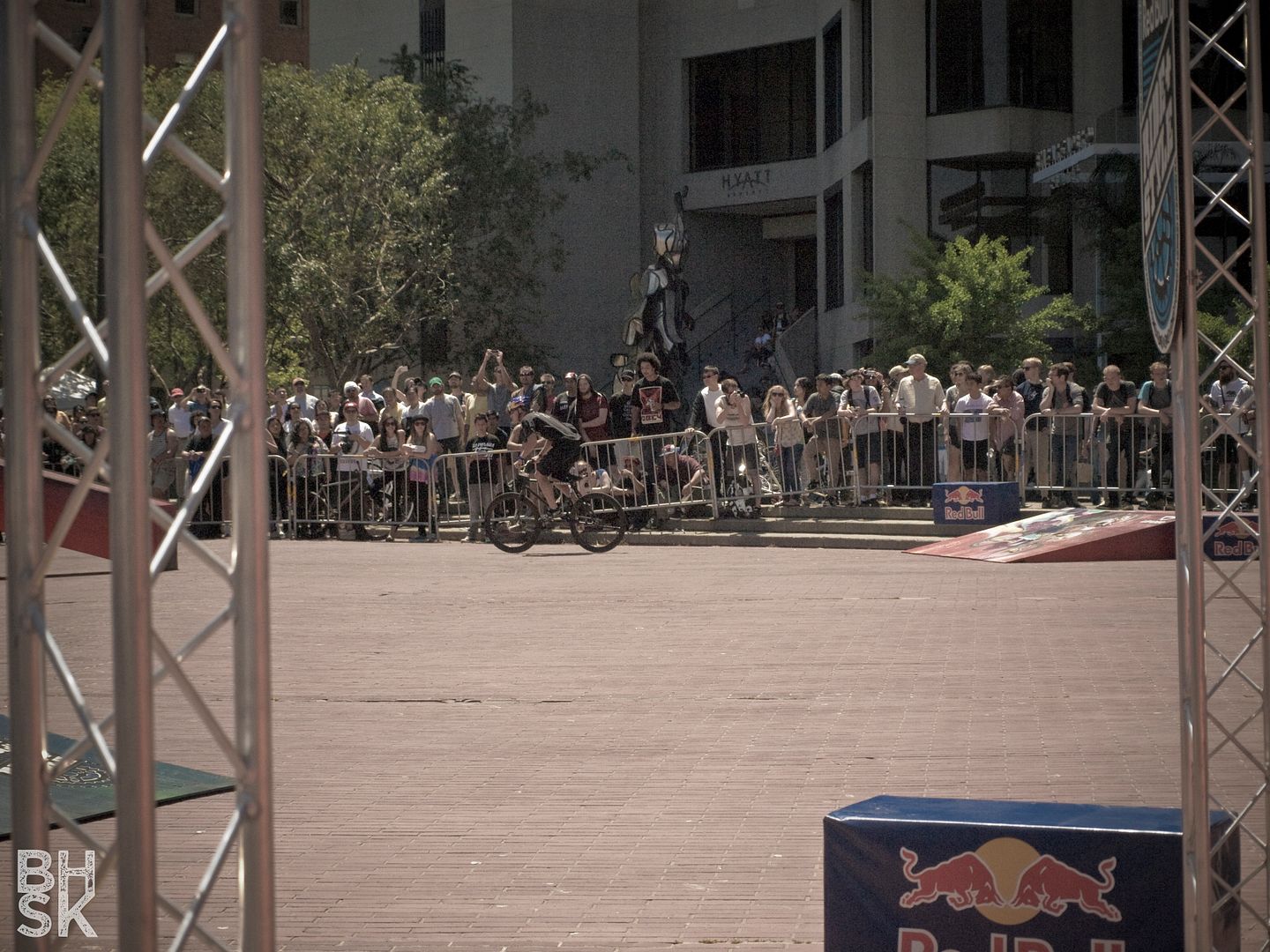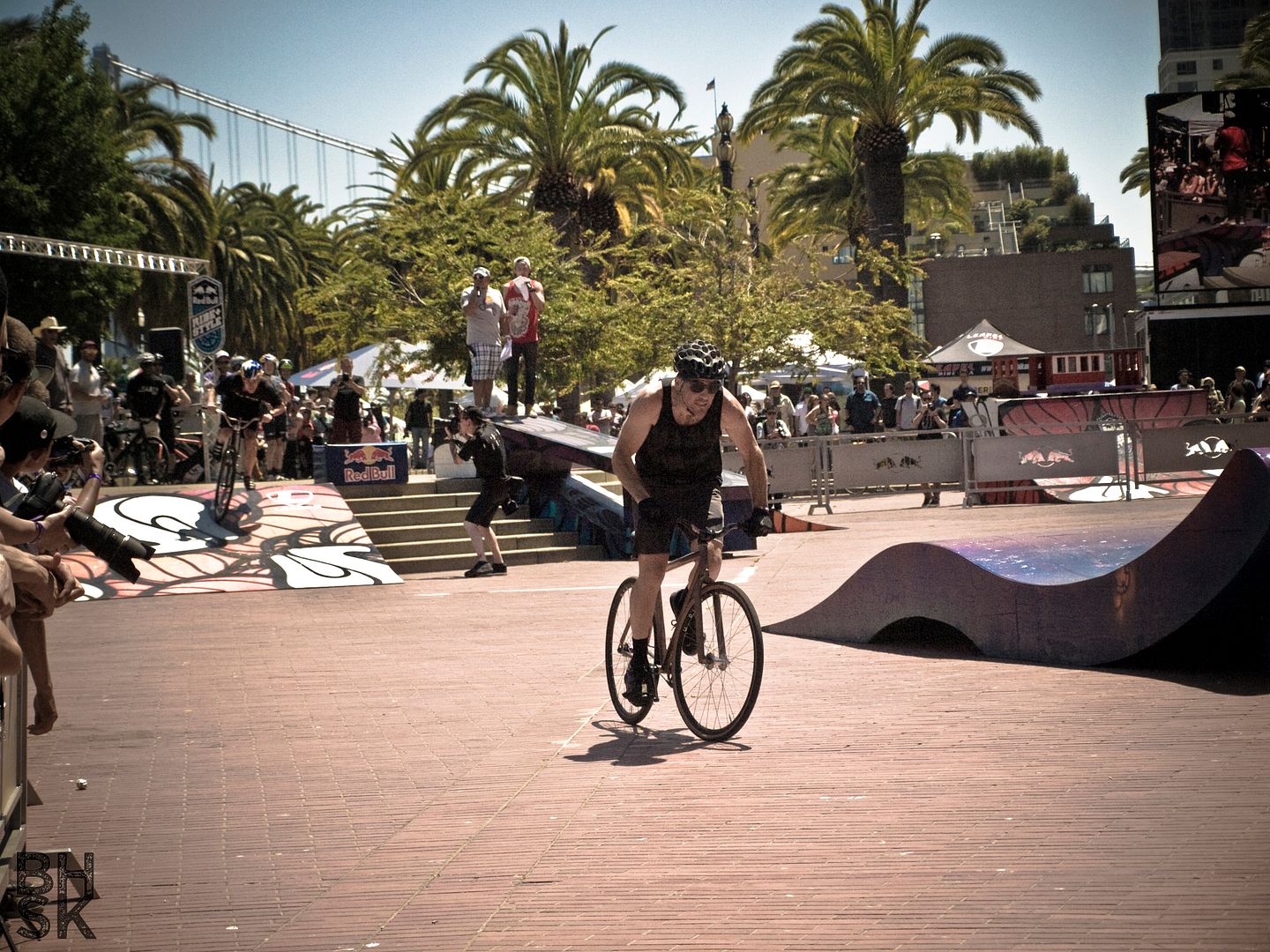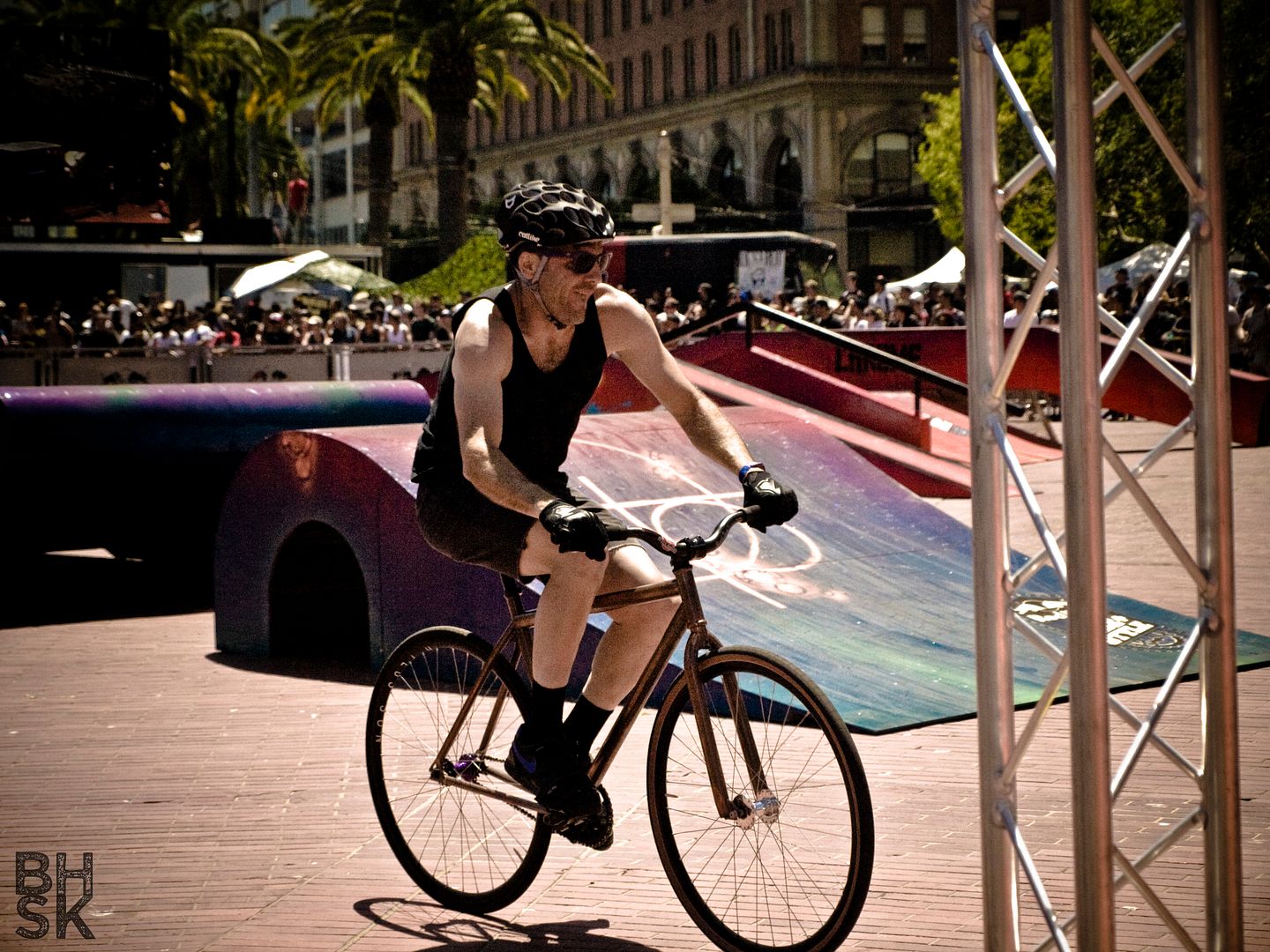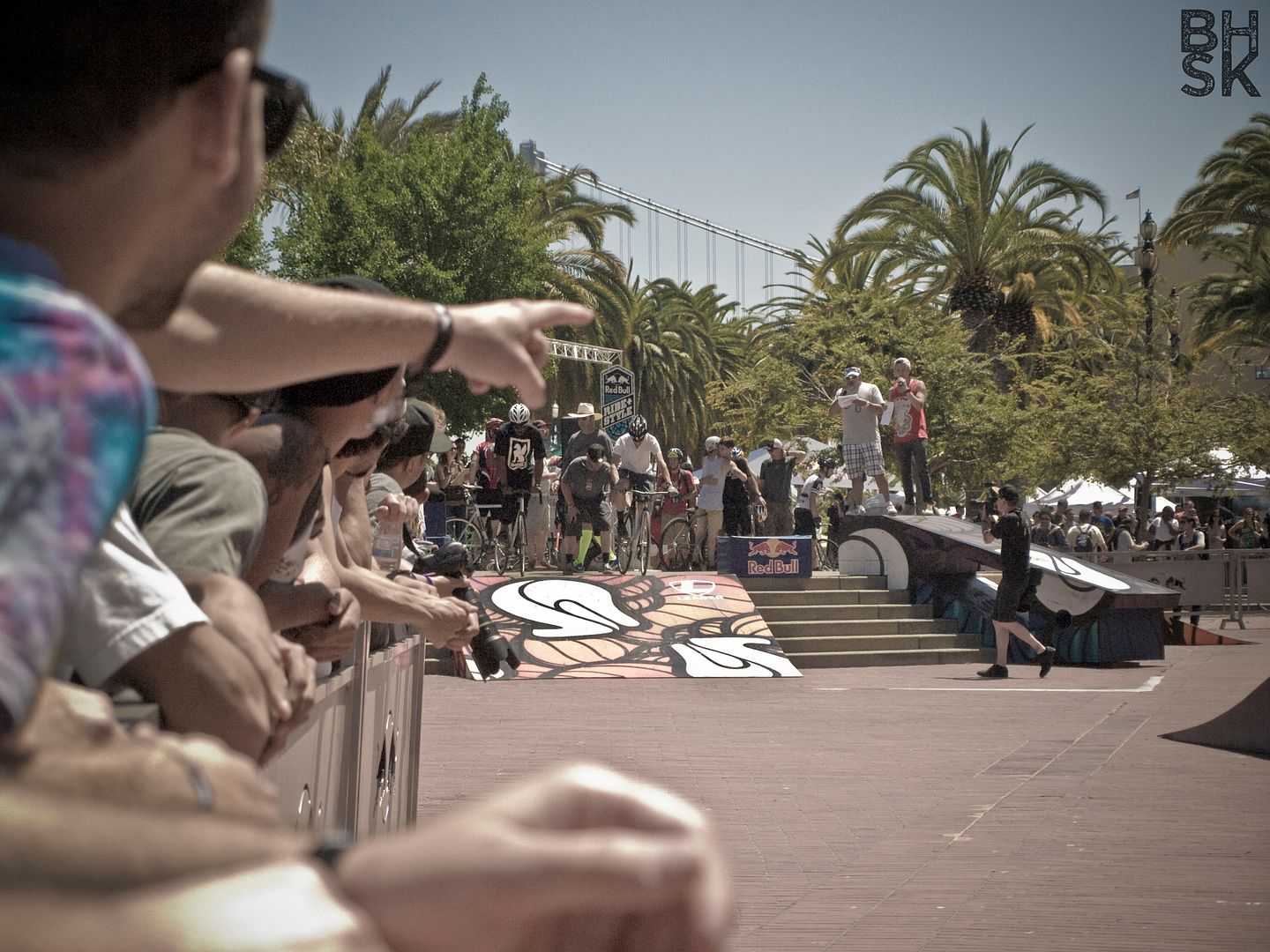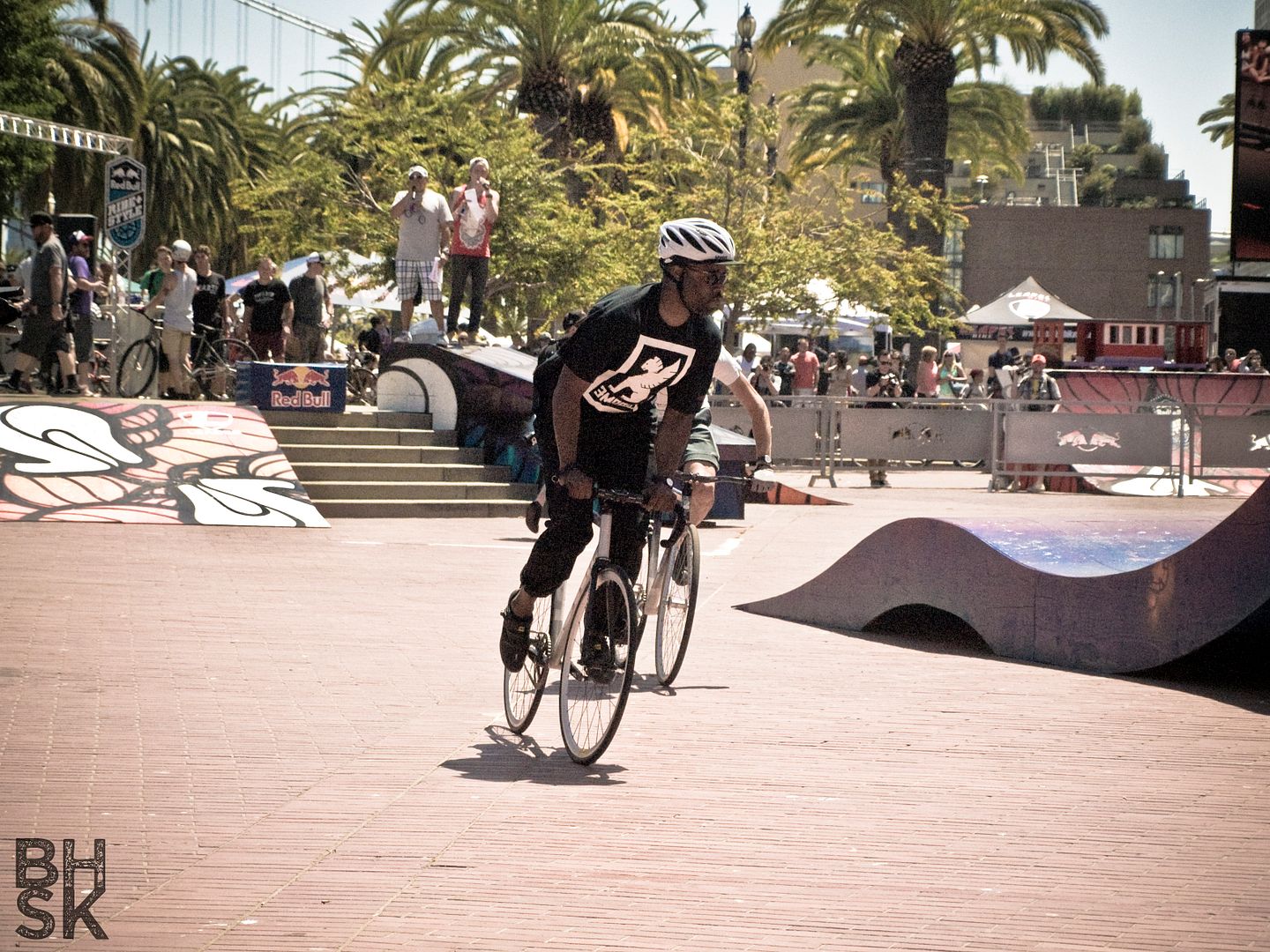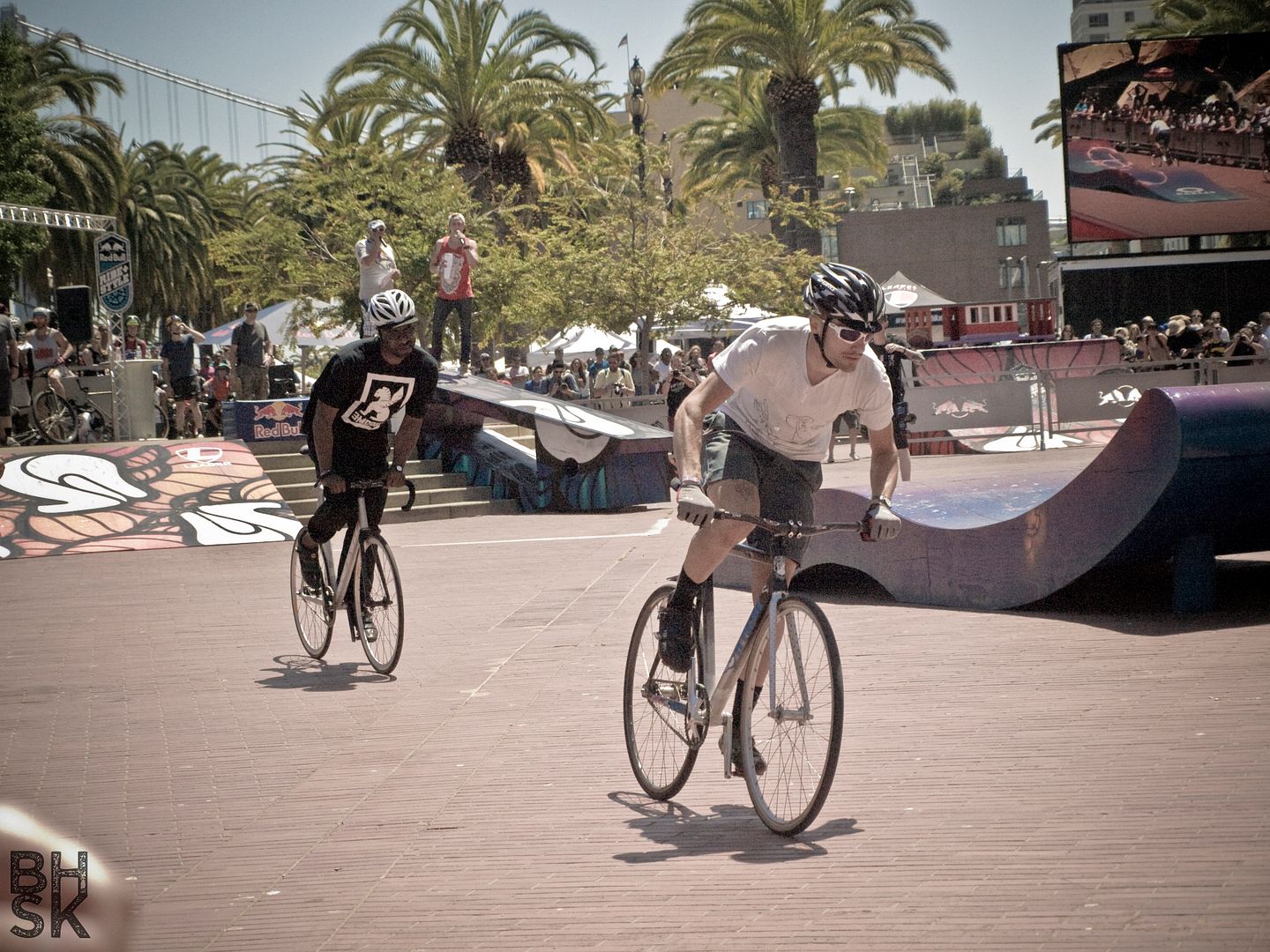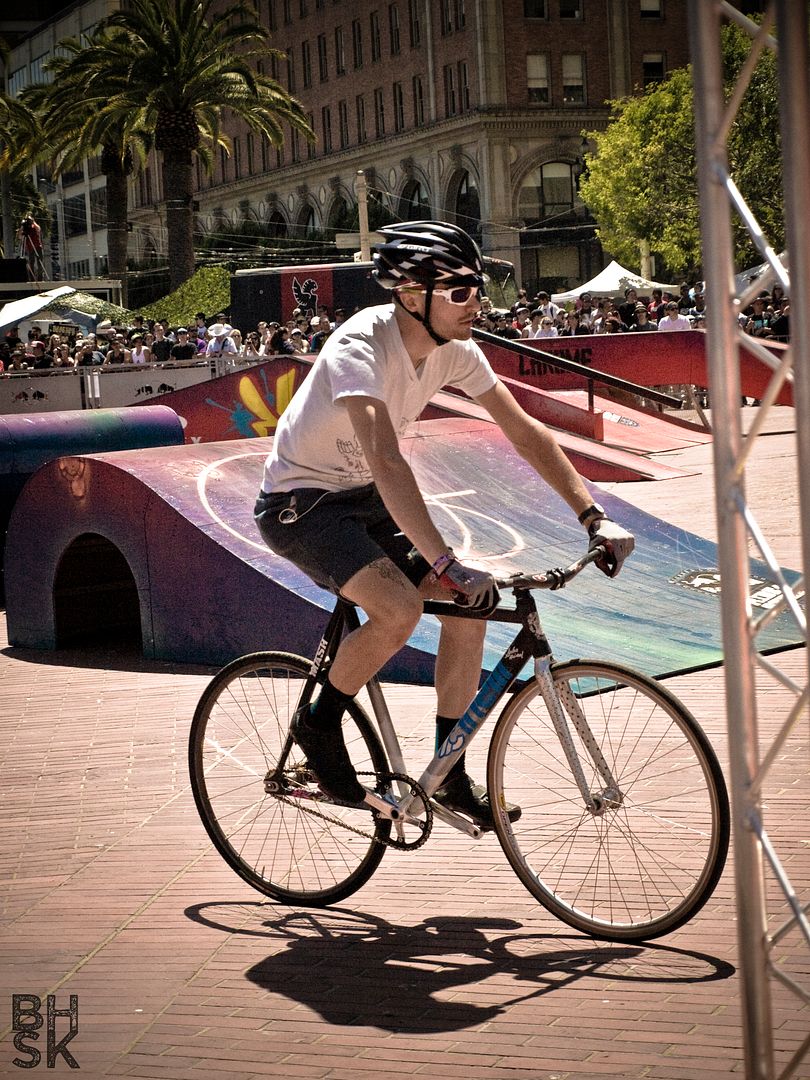 massan and walton's battle was epic.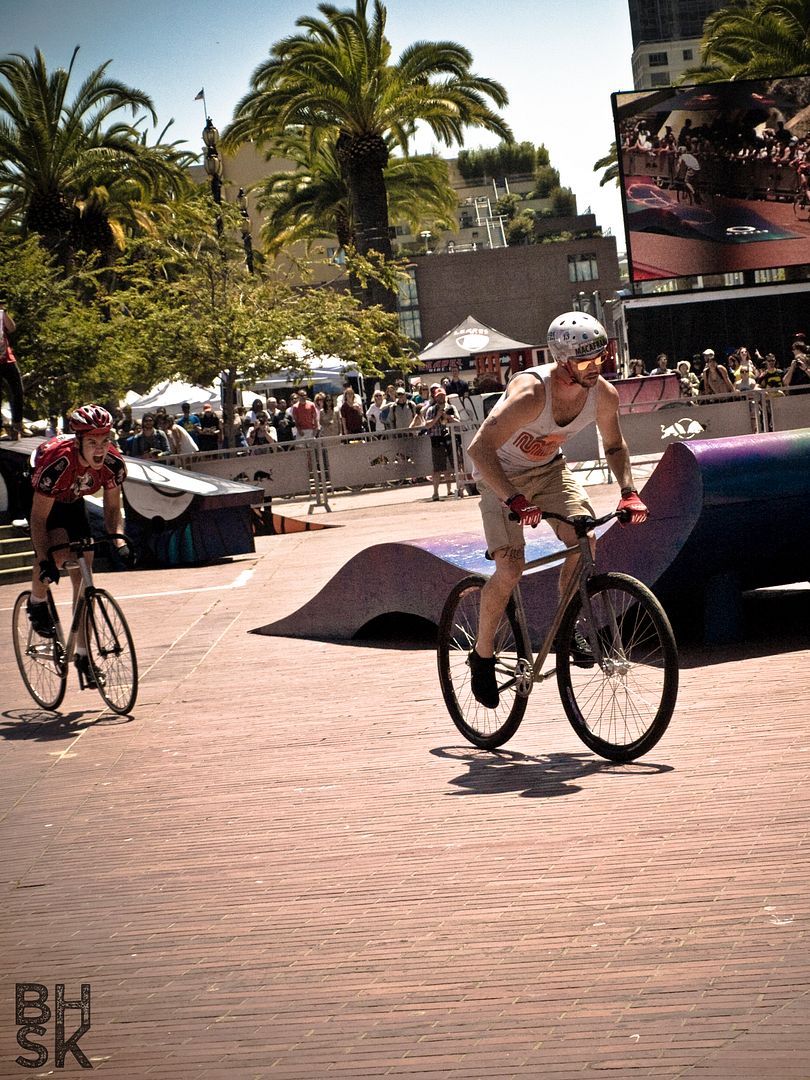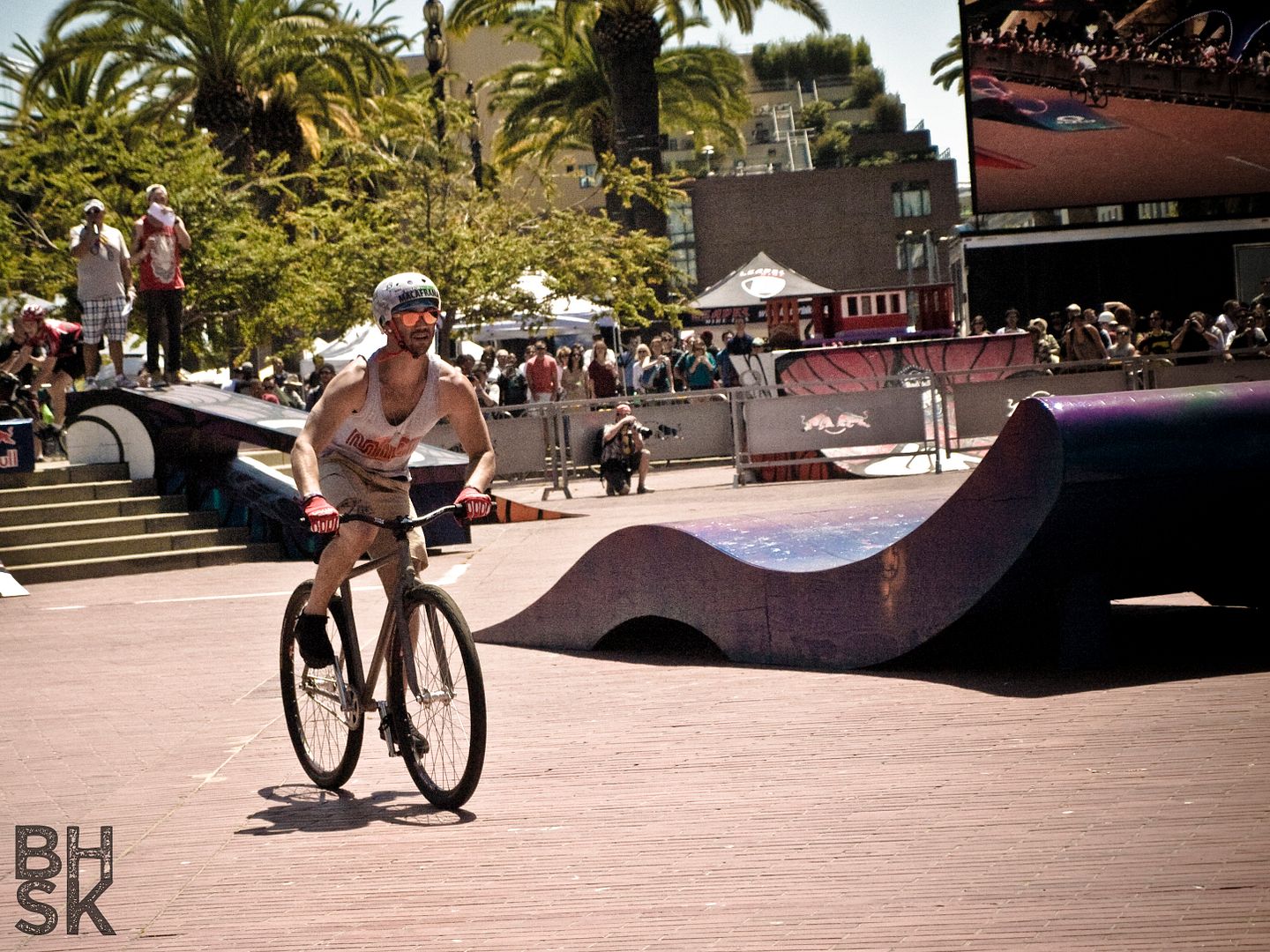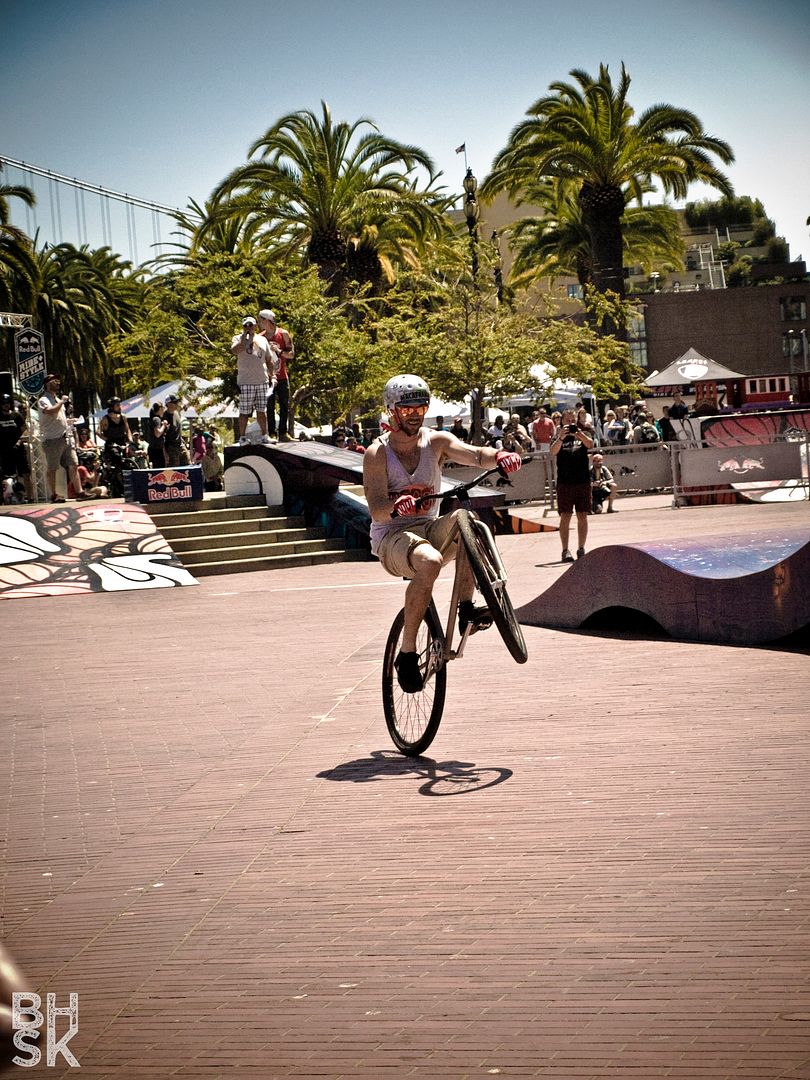 scott ridout vs clary. of course clary crossed the line with one wheel. classic.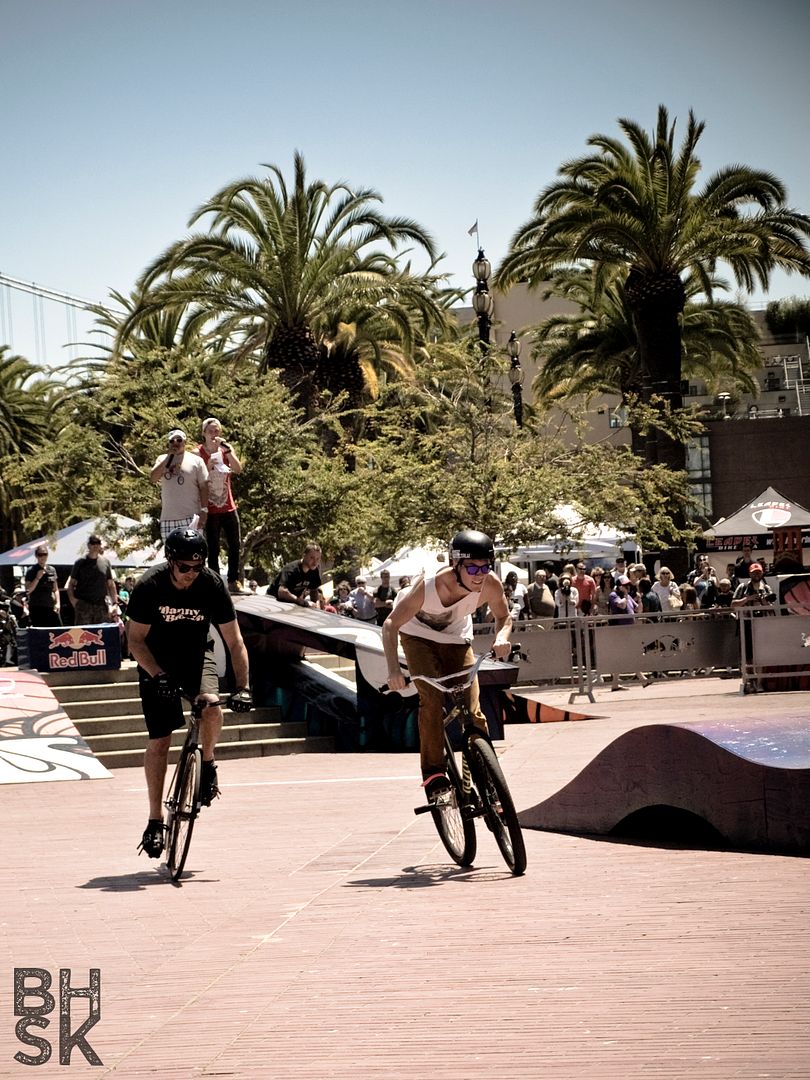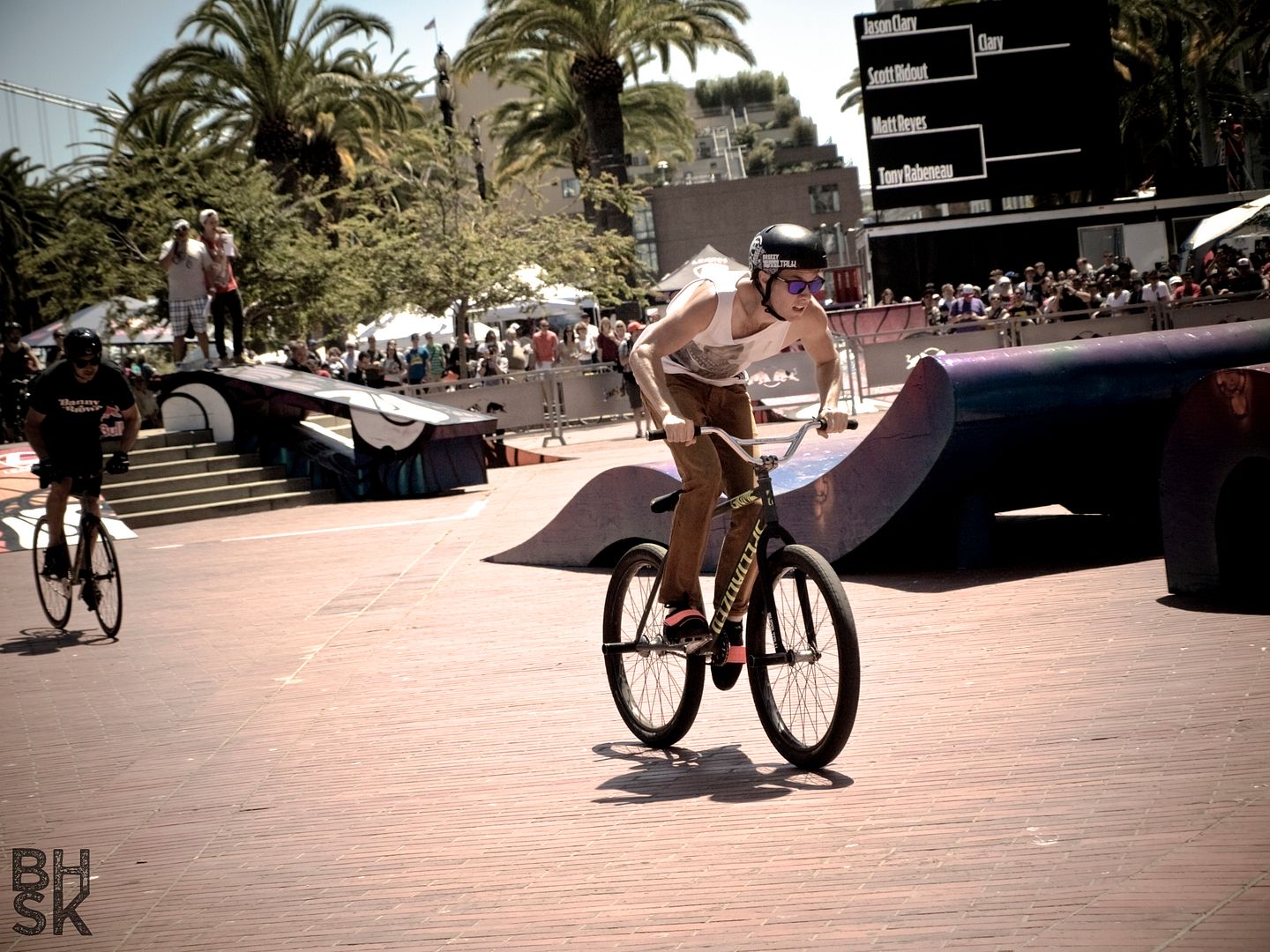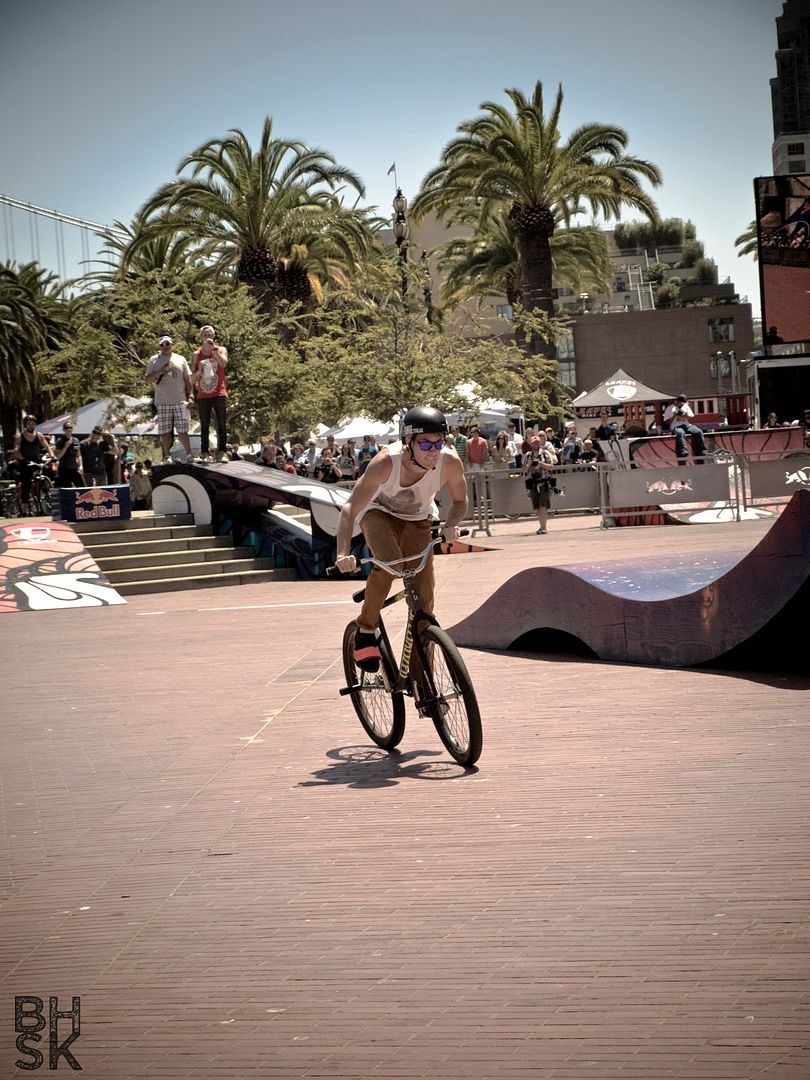 tony and matt reyes. little gearing goes a long way. matt even pulls a 3 during one of his runs. yes, WHILE RACING. my bad boss....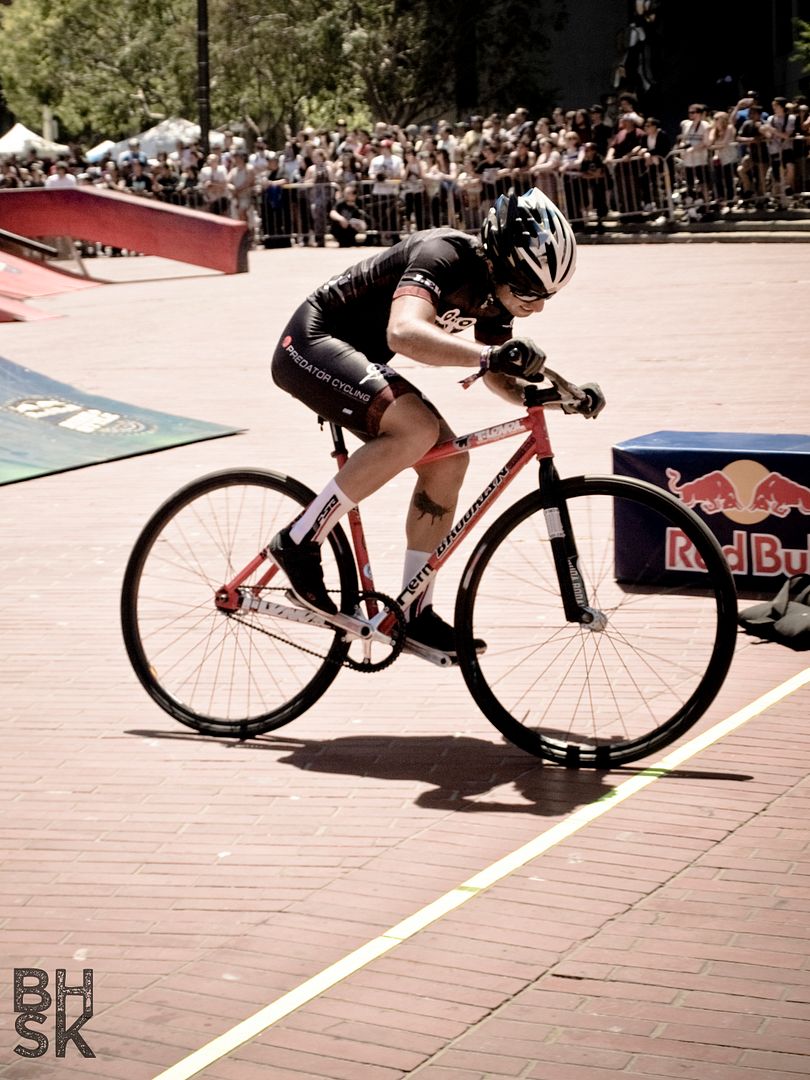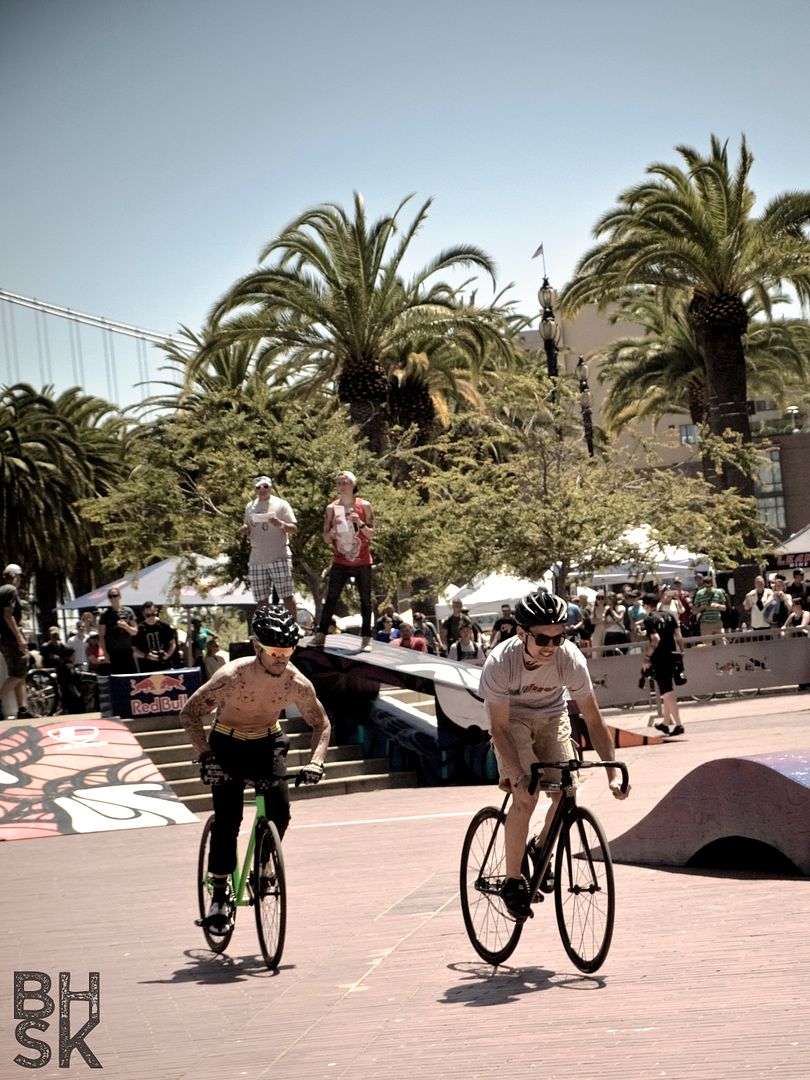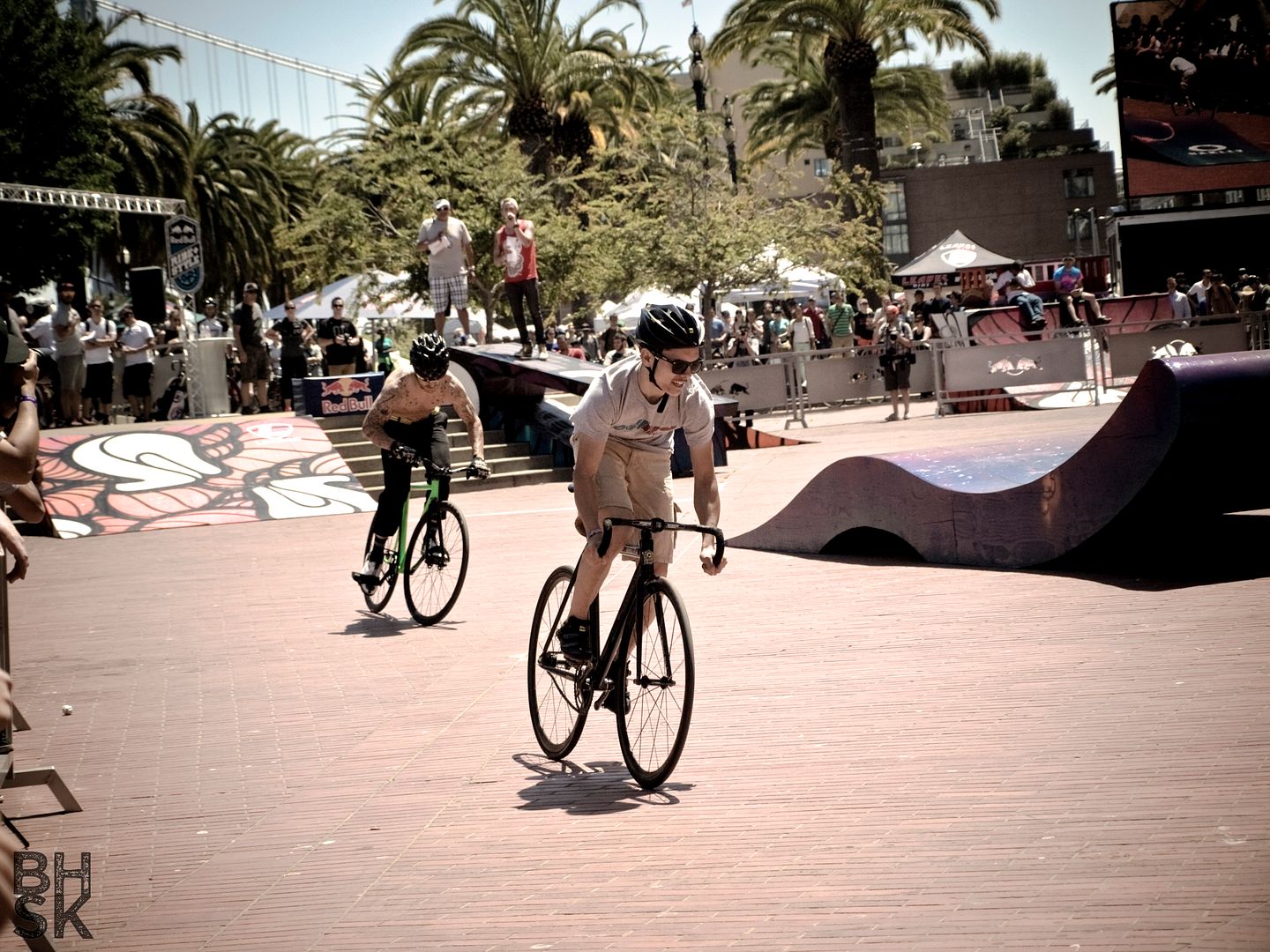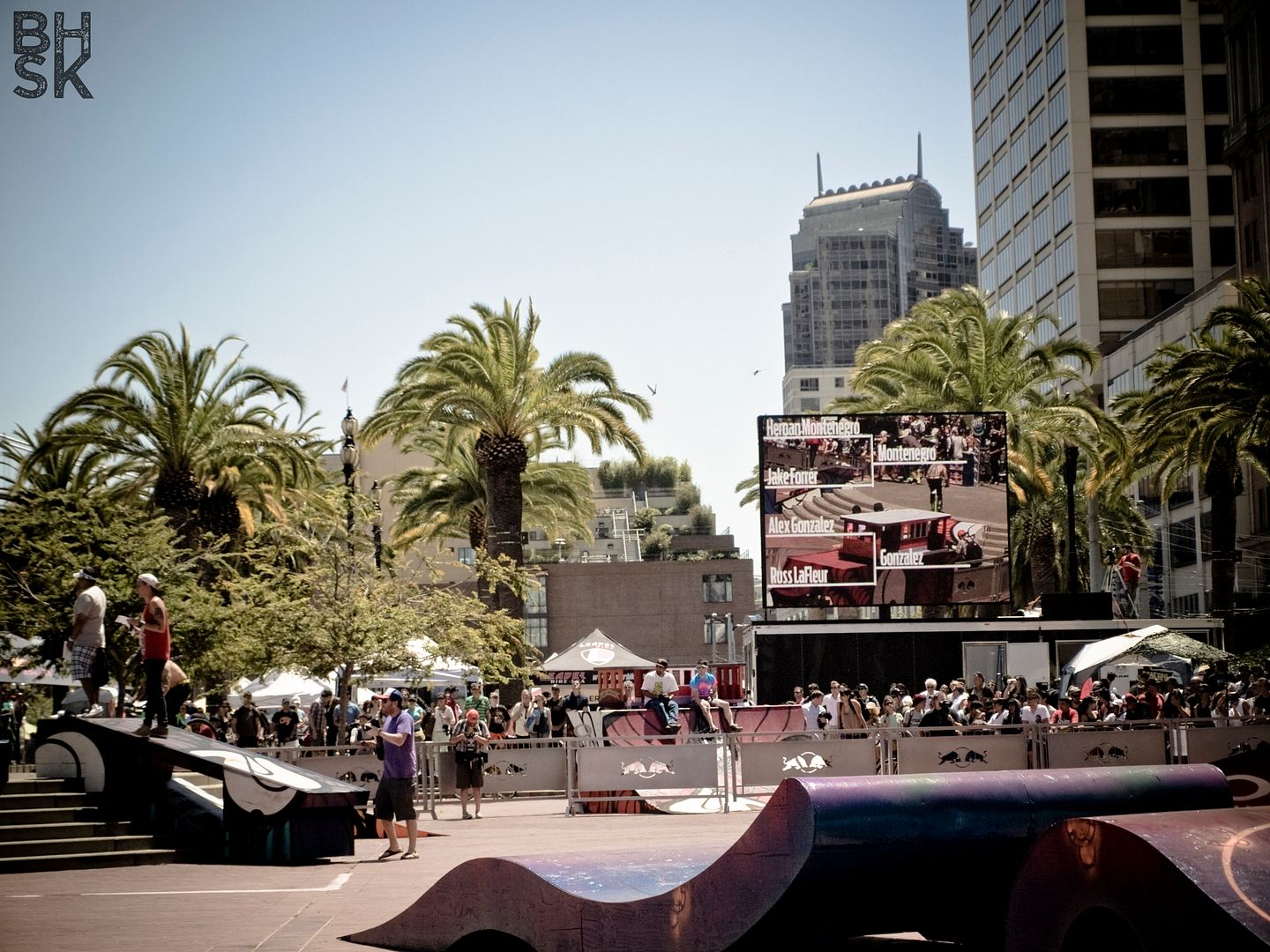 let's recap something. at this moment, my homie alex got into top 8 with names like walton brush and austin horse. this is some local kid from stockton. fuck, man. that's gnar.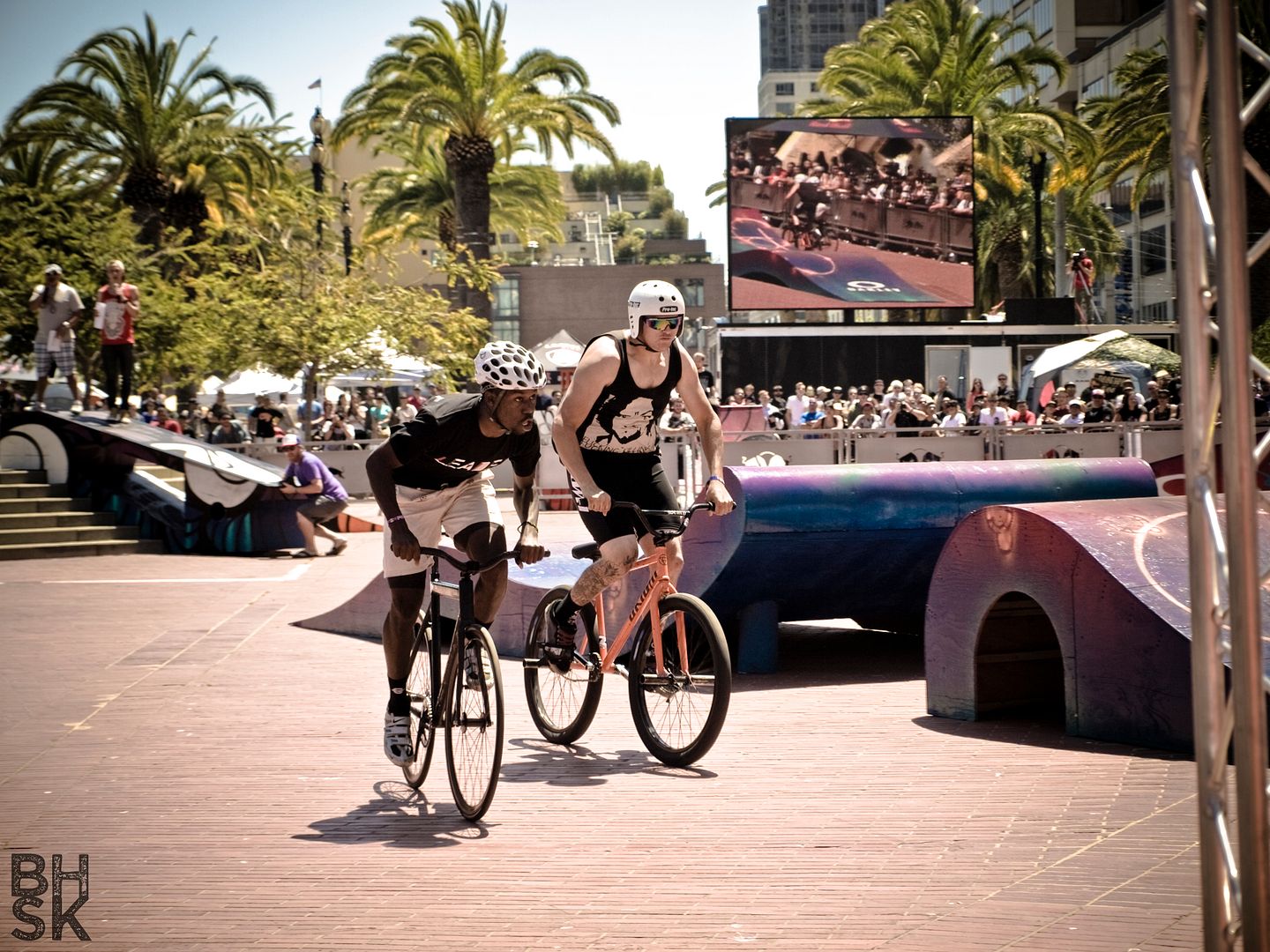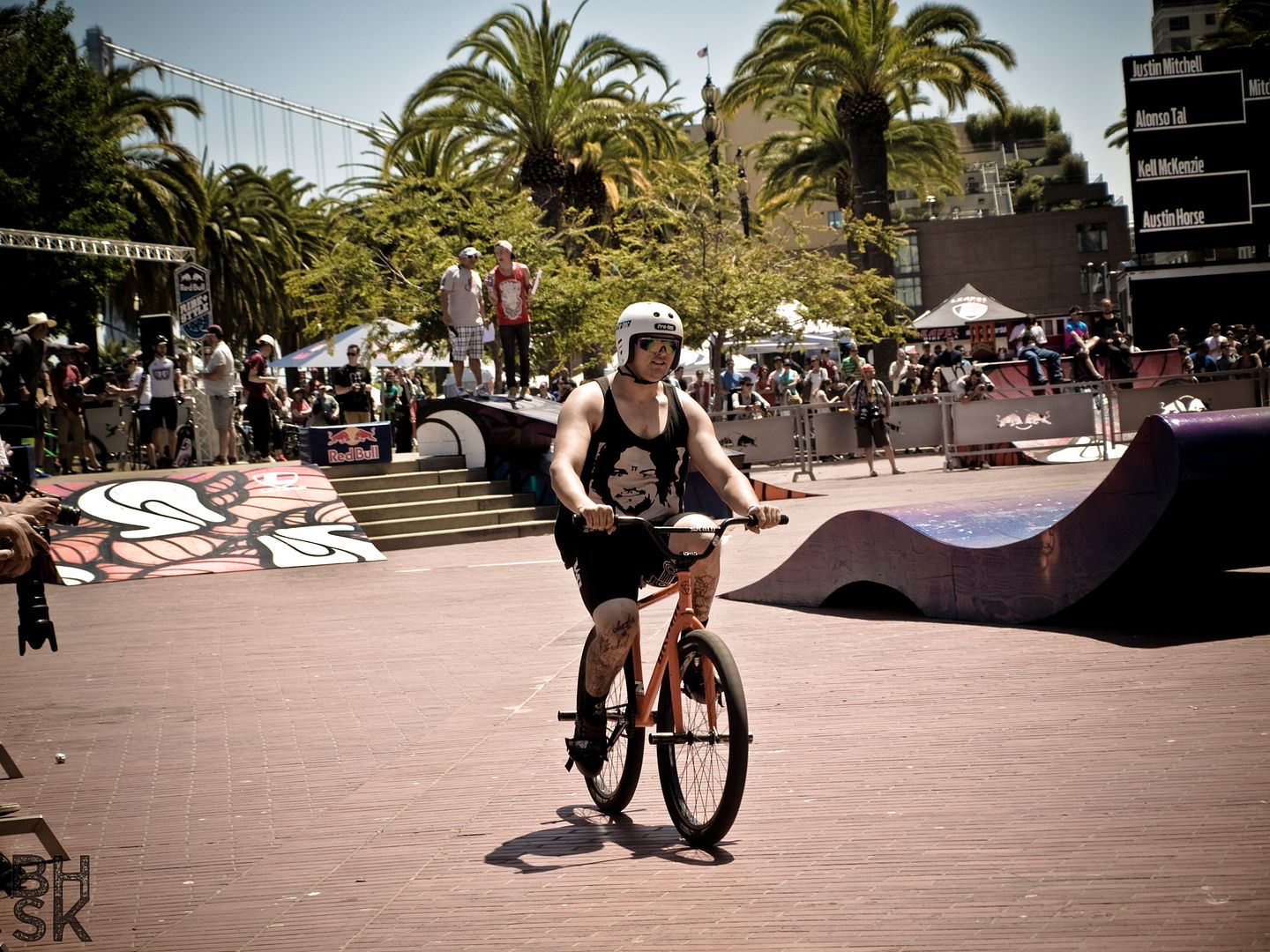 congo takes out alonso tal.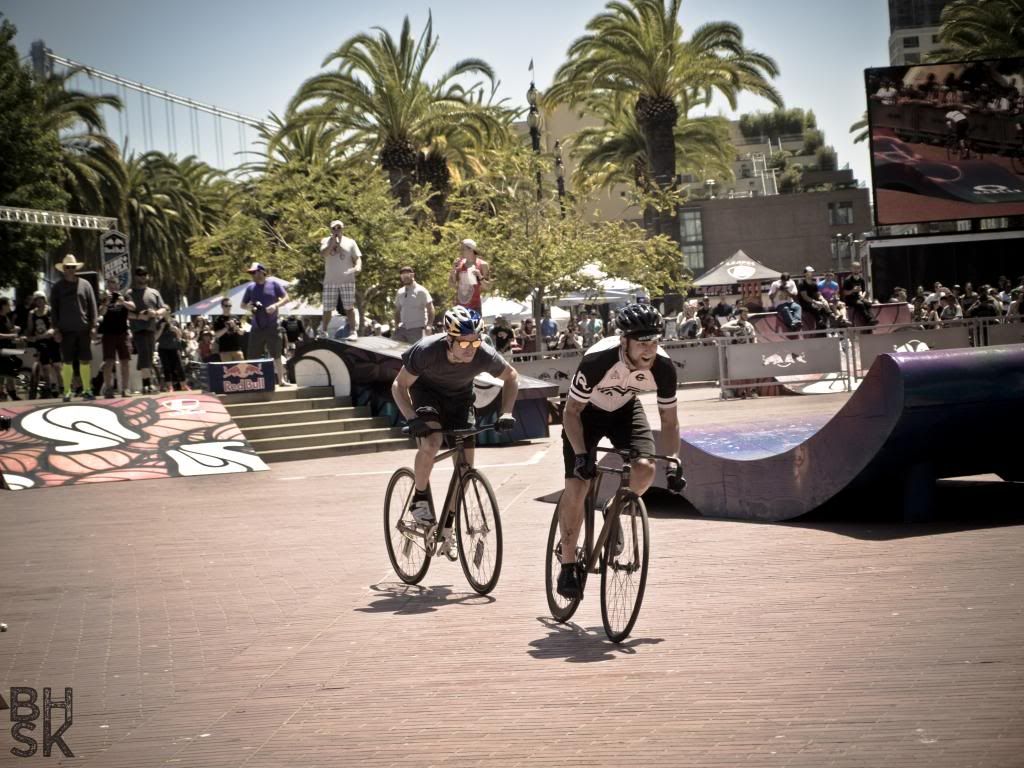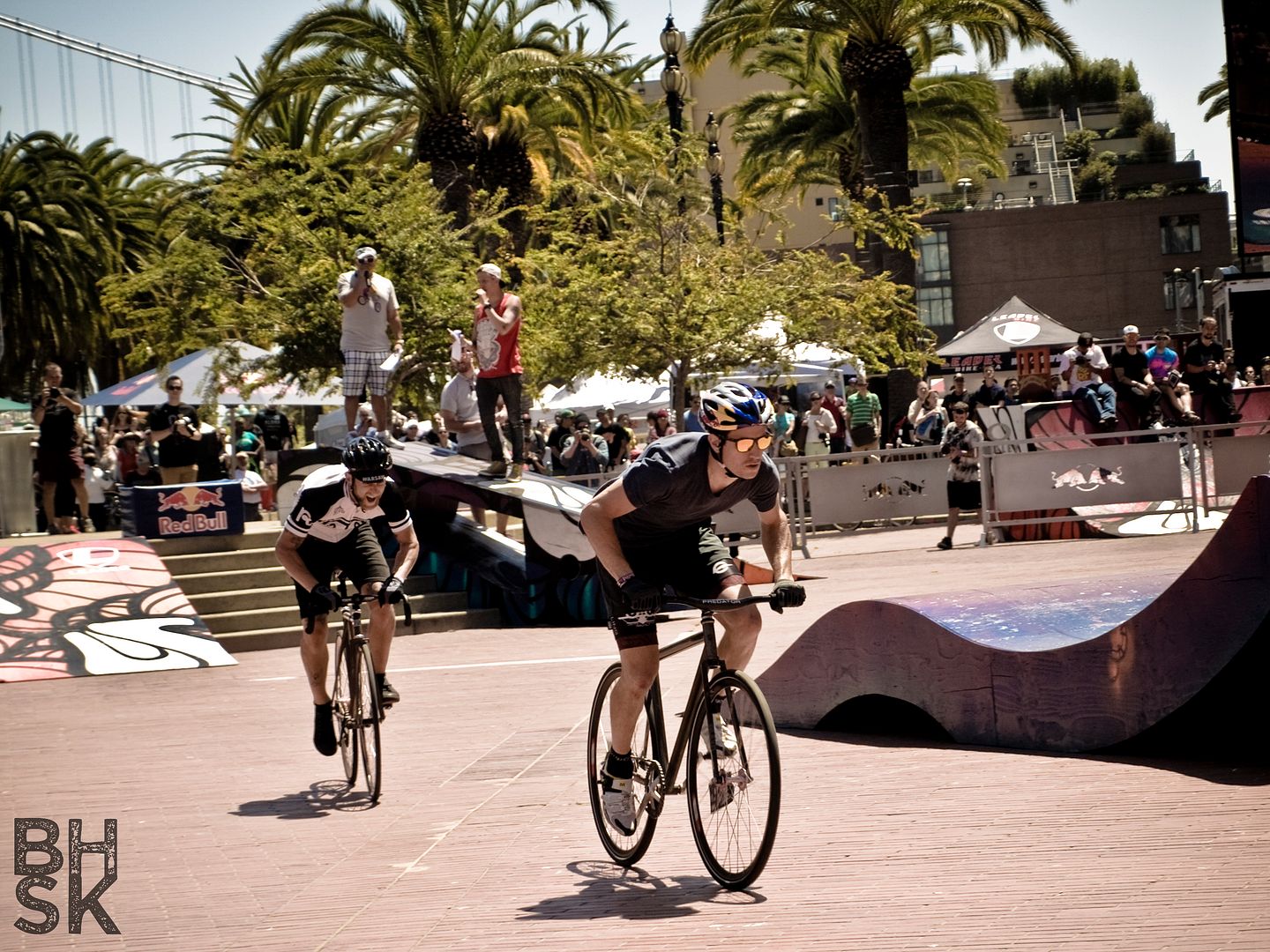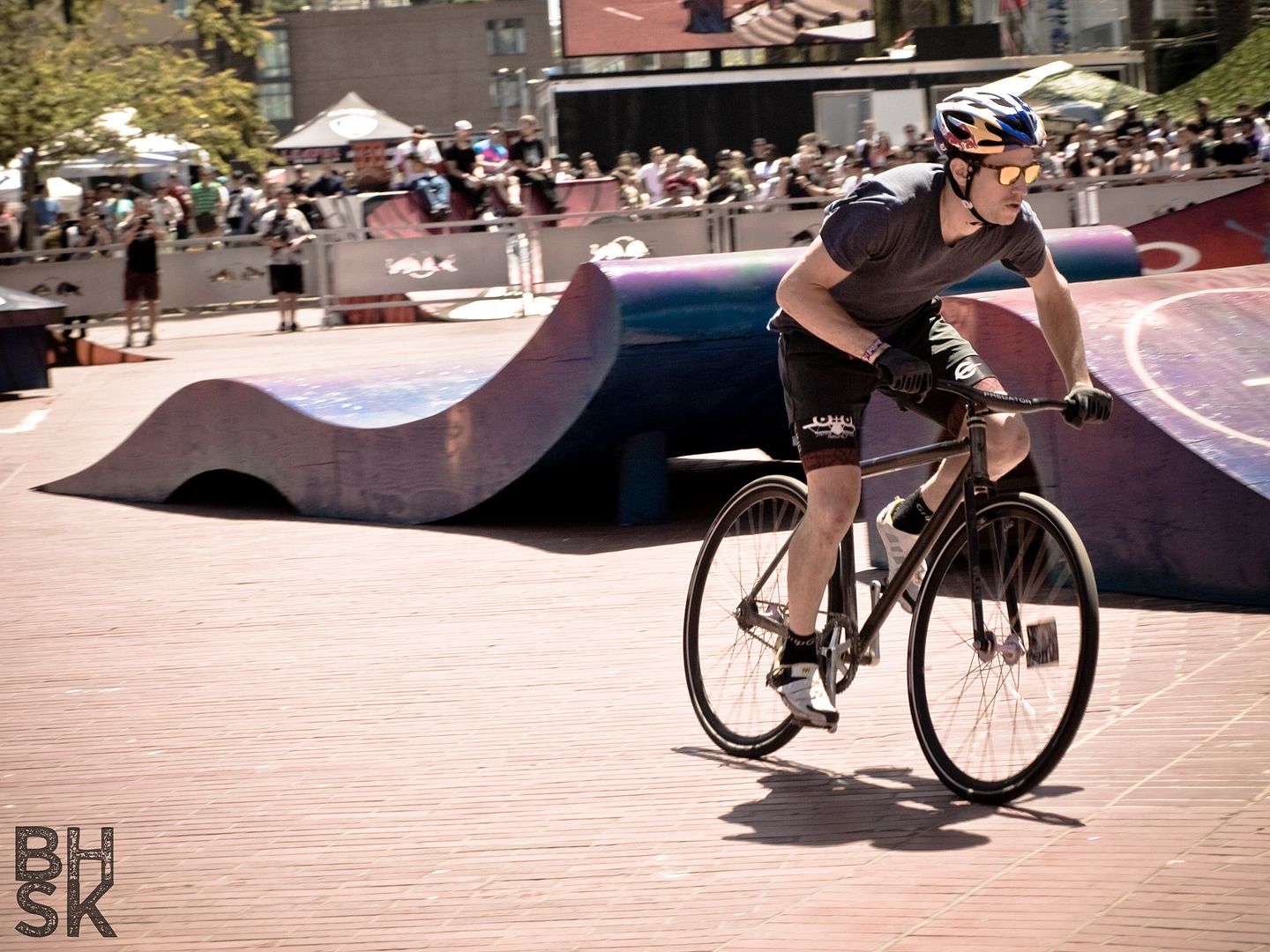 horse passes kell mckenzie on the last straight.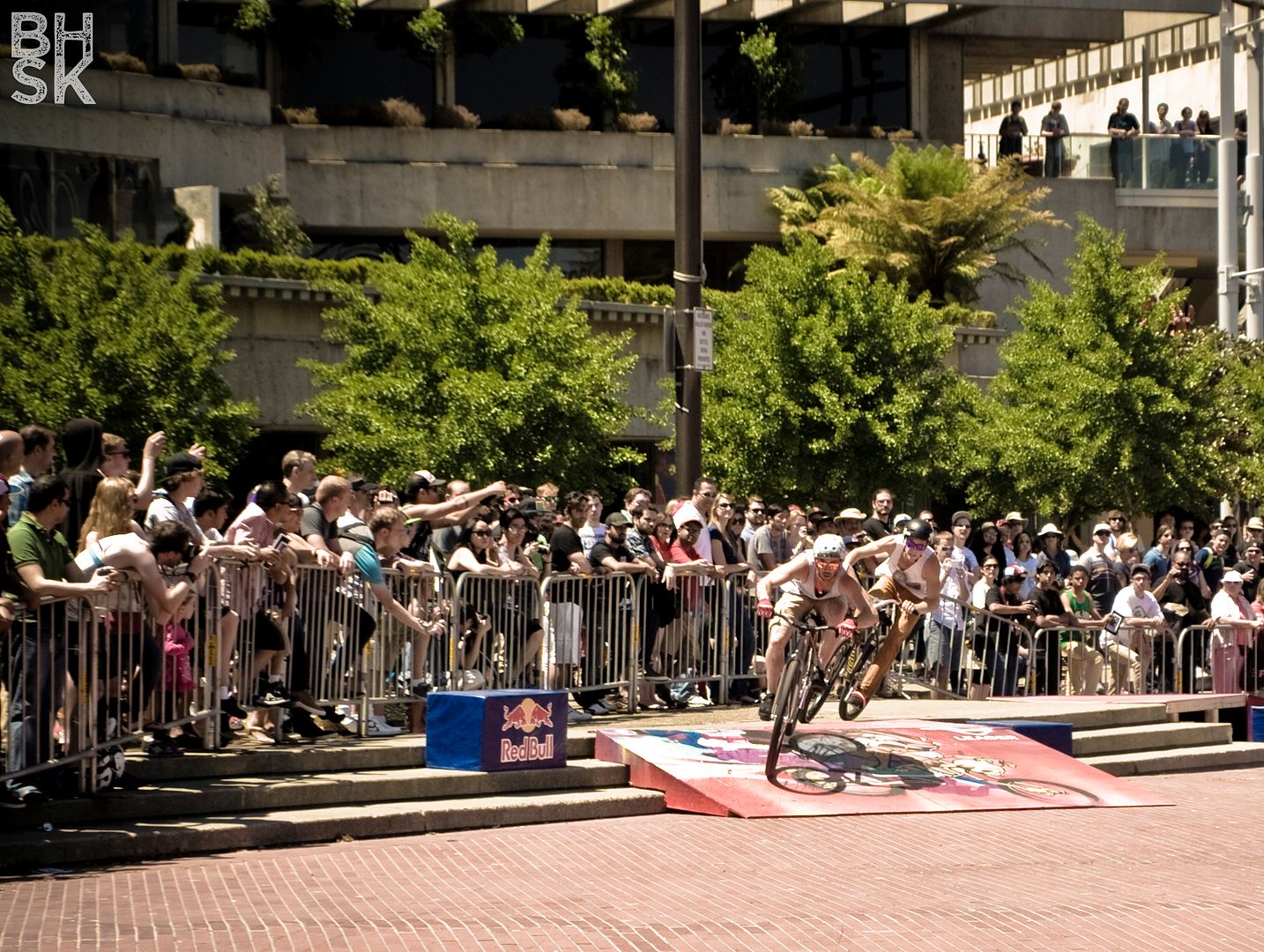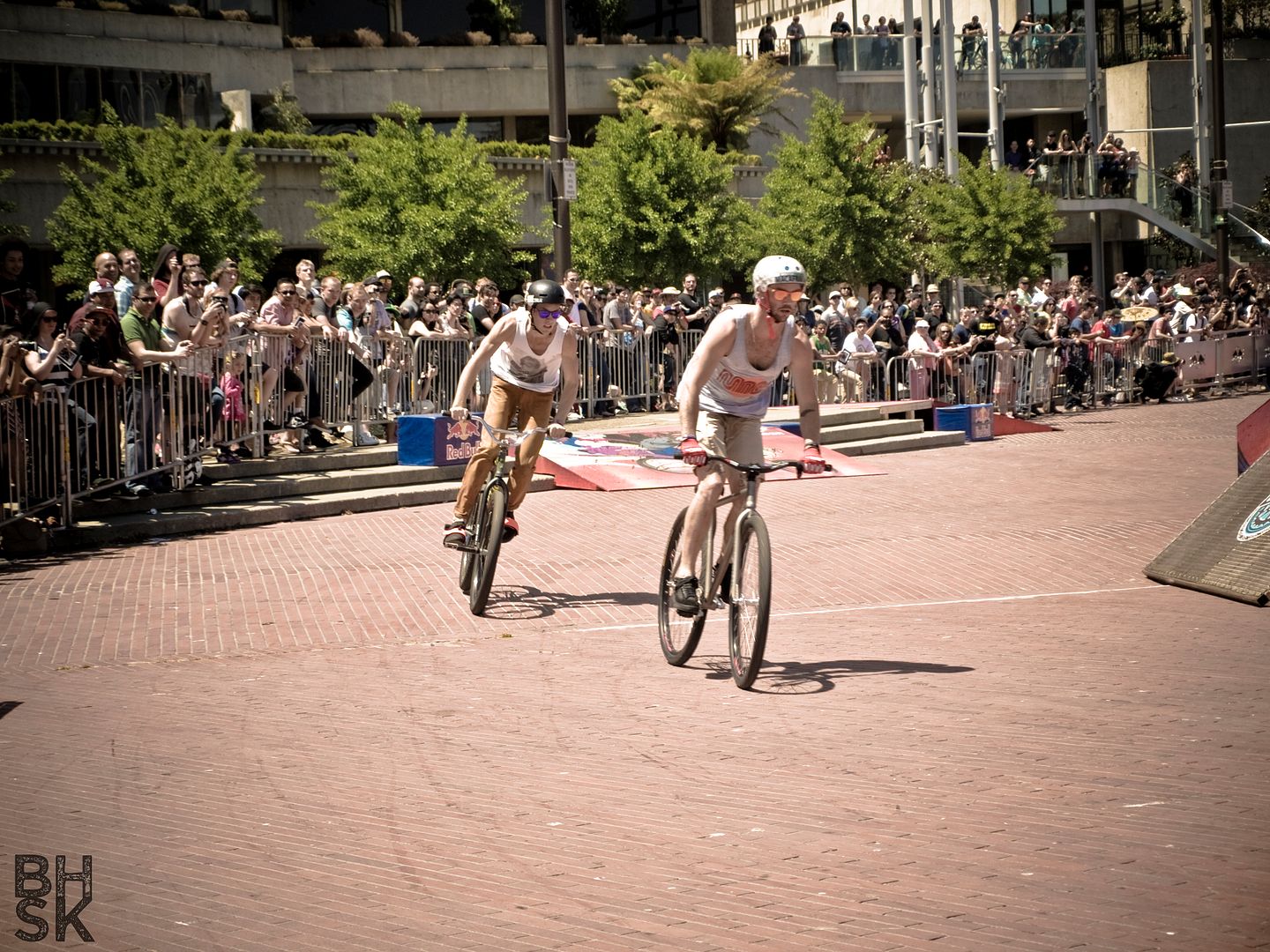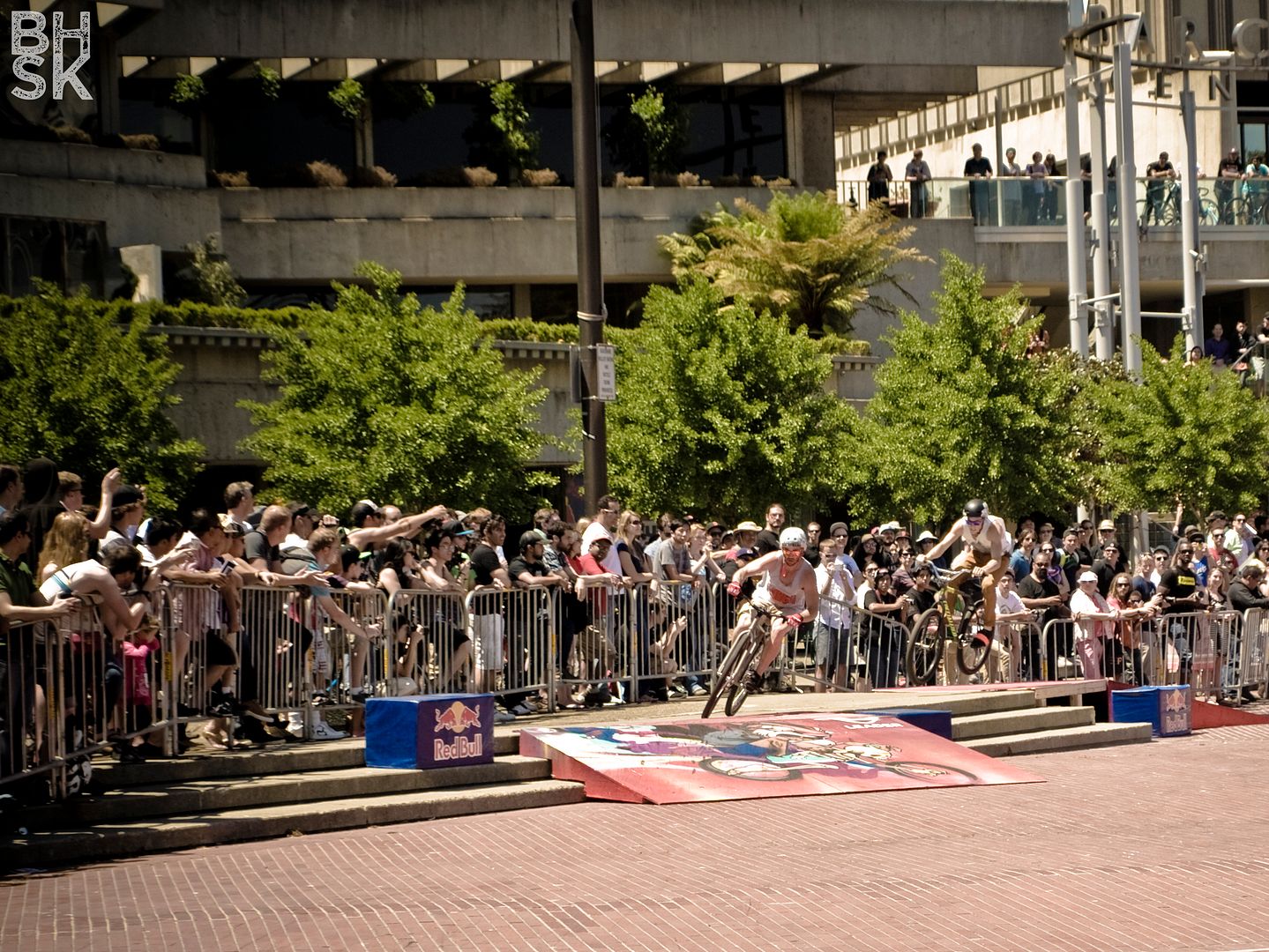 this was one of the craziest runs out there. matt had him on the corners but clary screamed out of the straights. it was so close that clary didn't pop a wheelie in the end.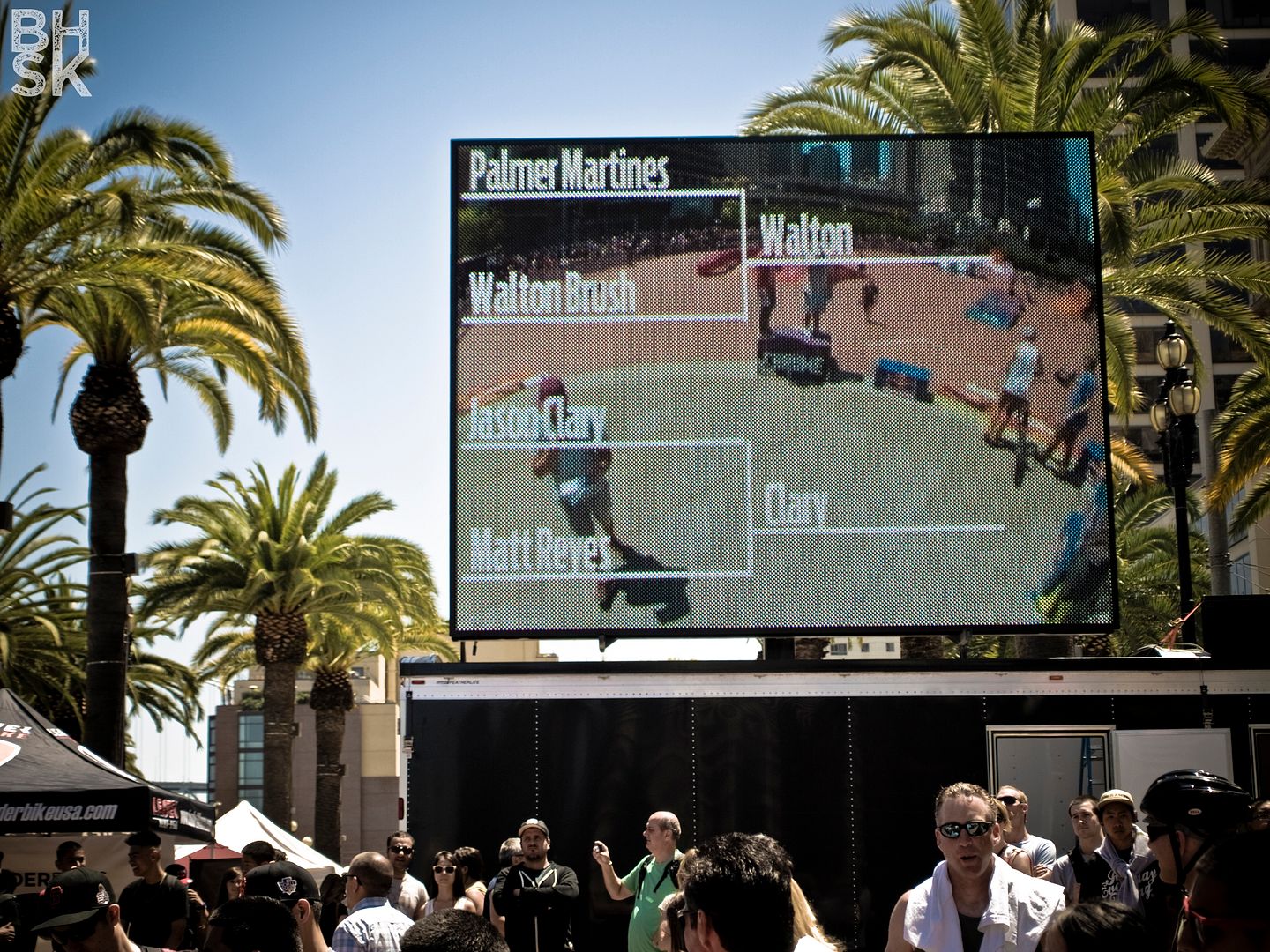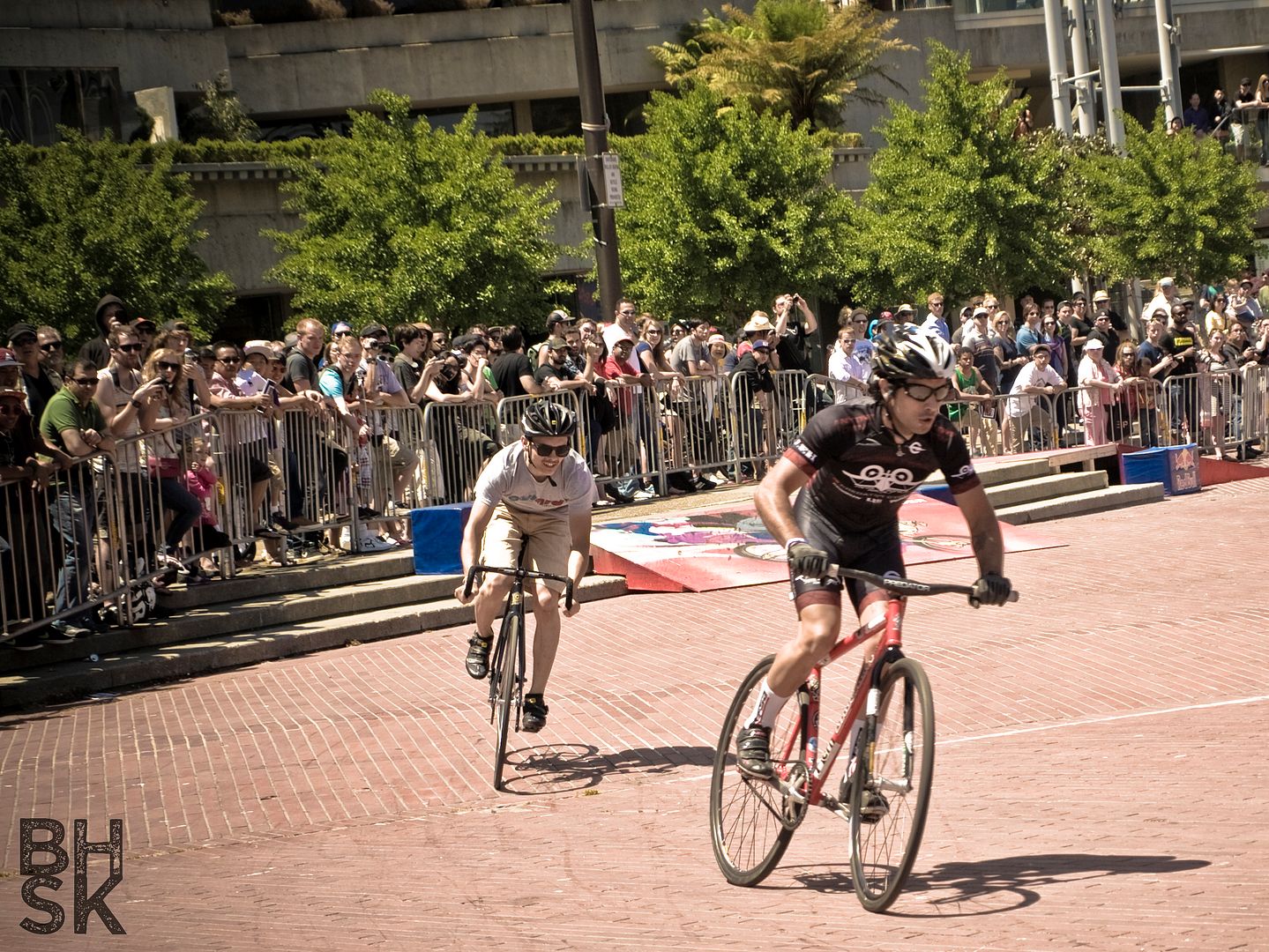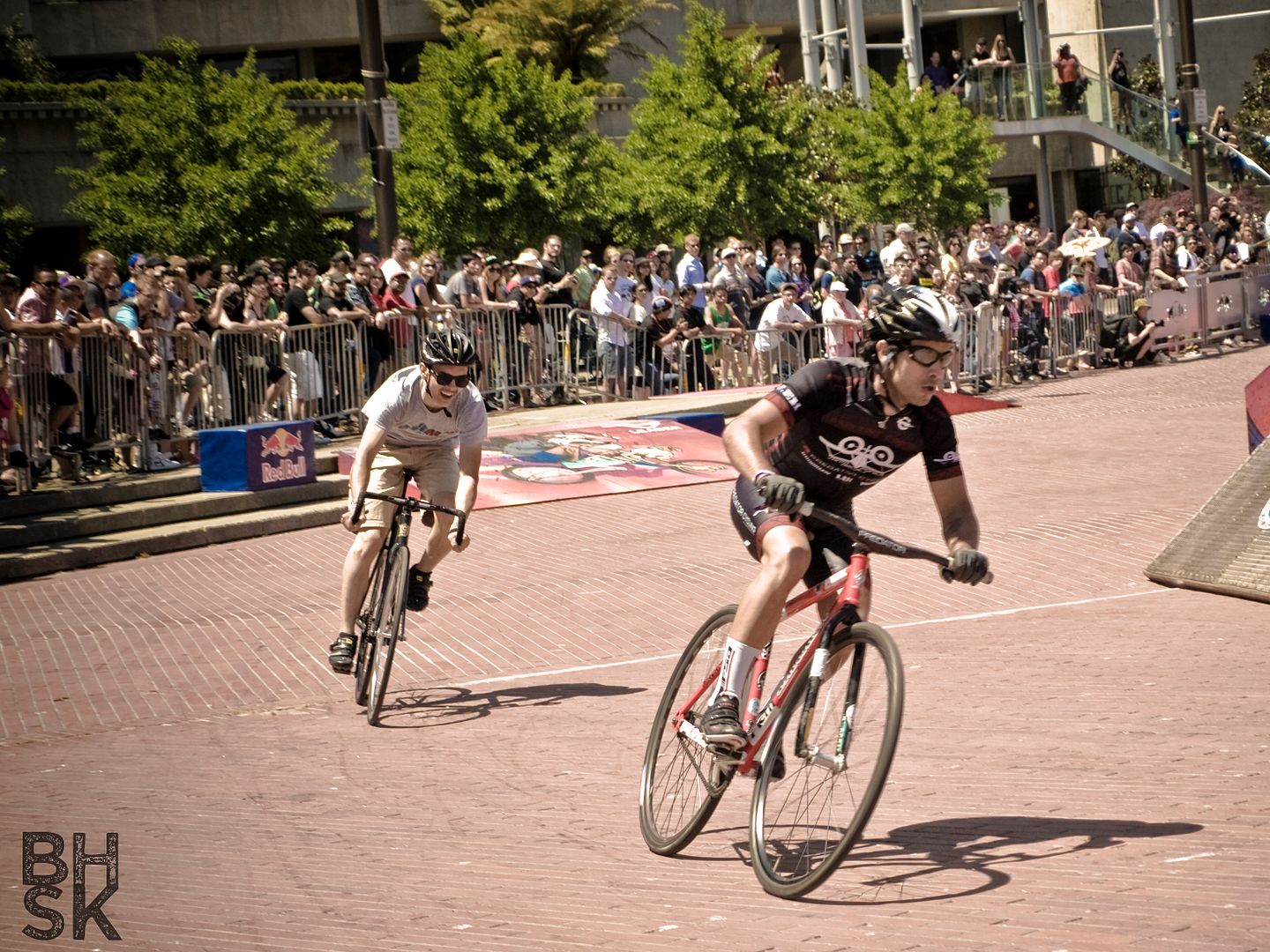 alex got taken out by hernan. top 8 though. nice.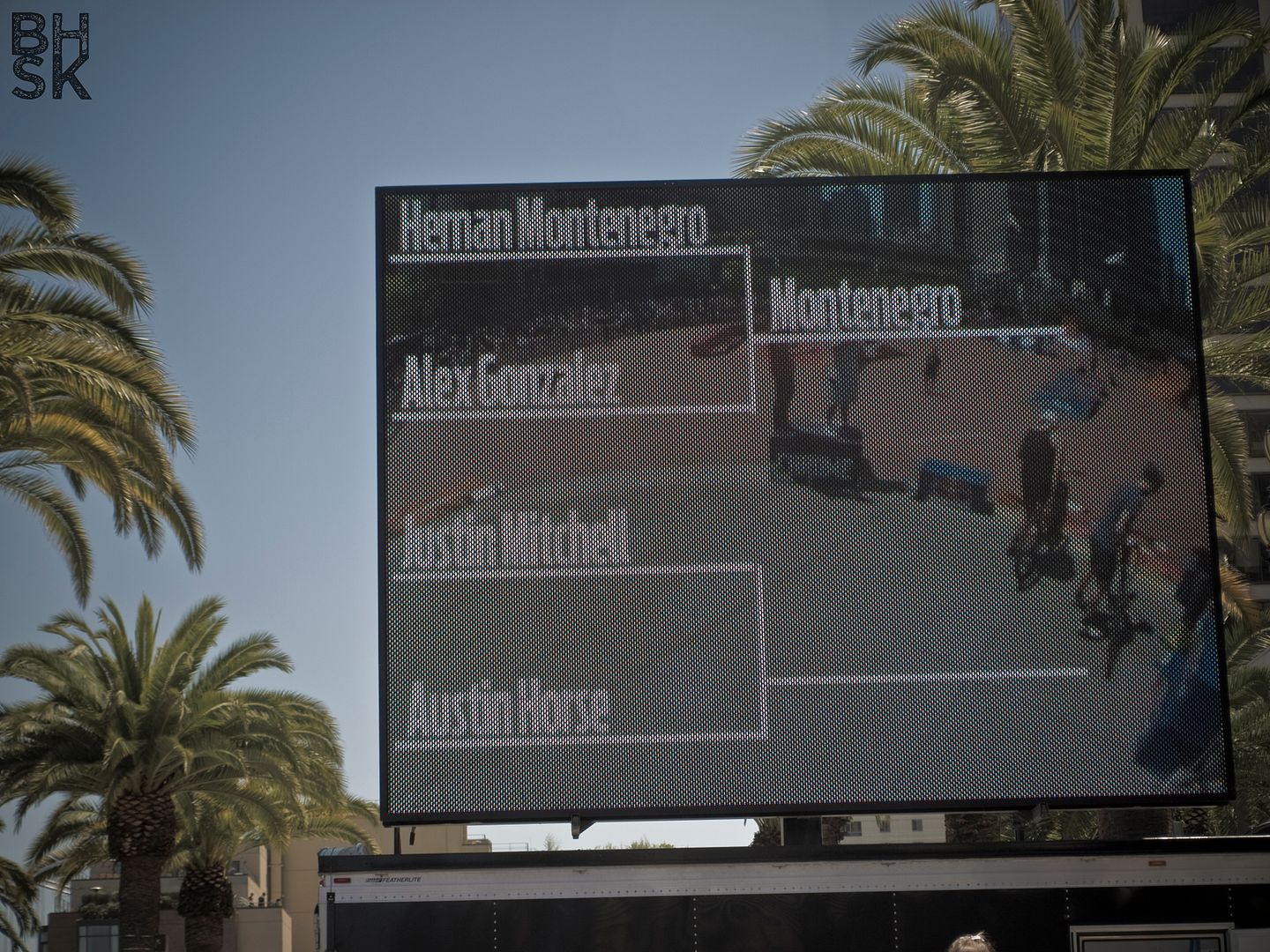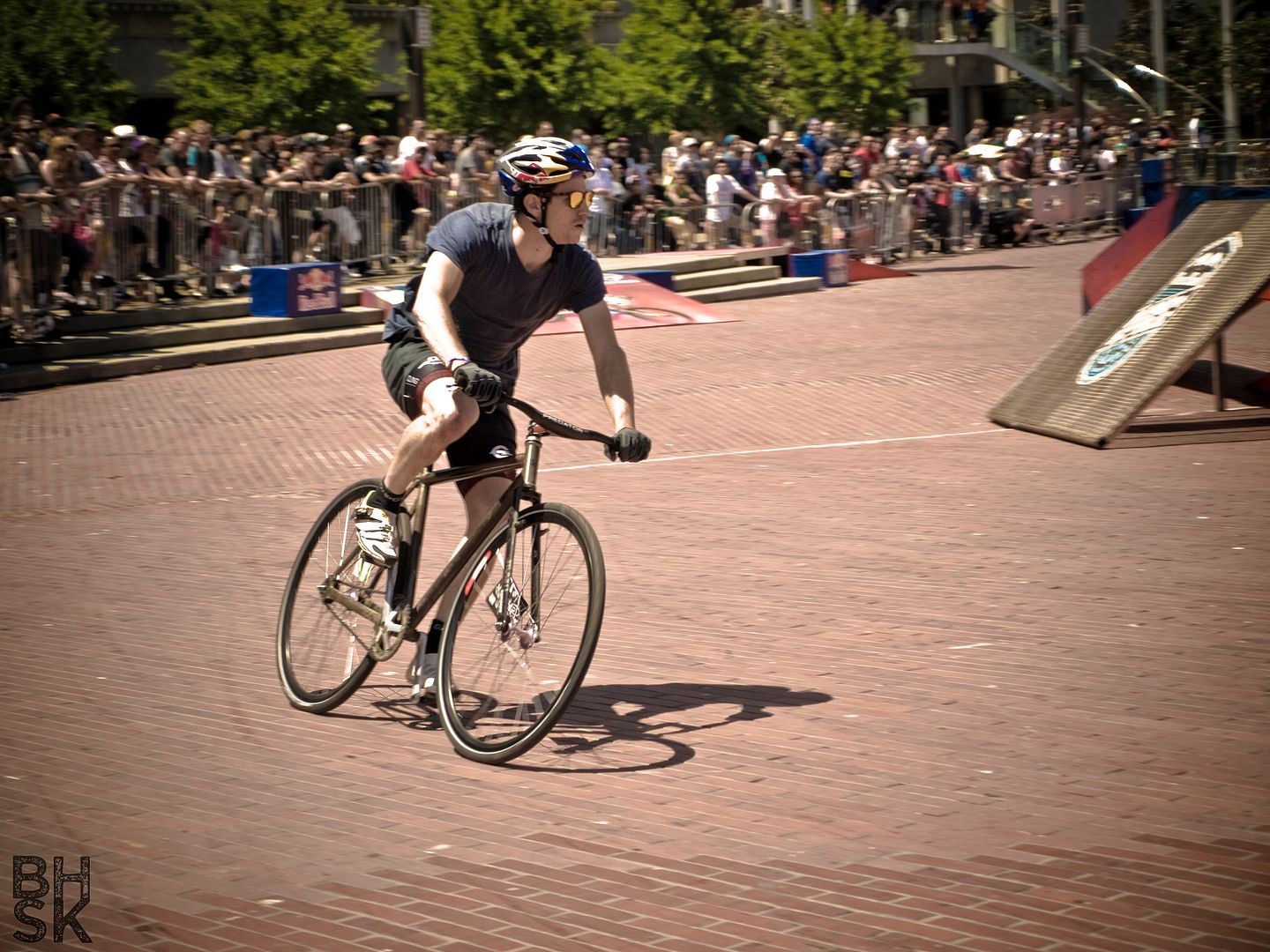 so why is there no congo? he started off with so much torque that his chain snapped. nuts.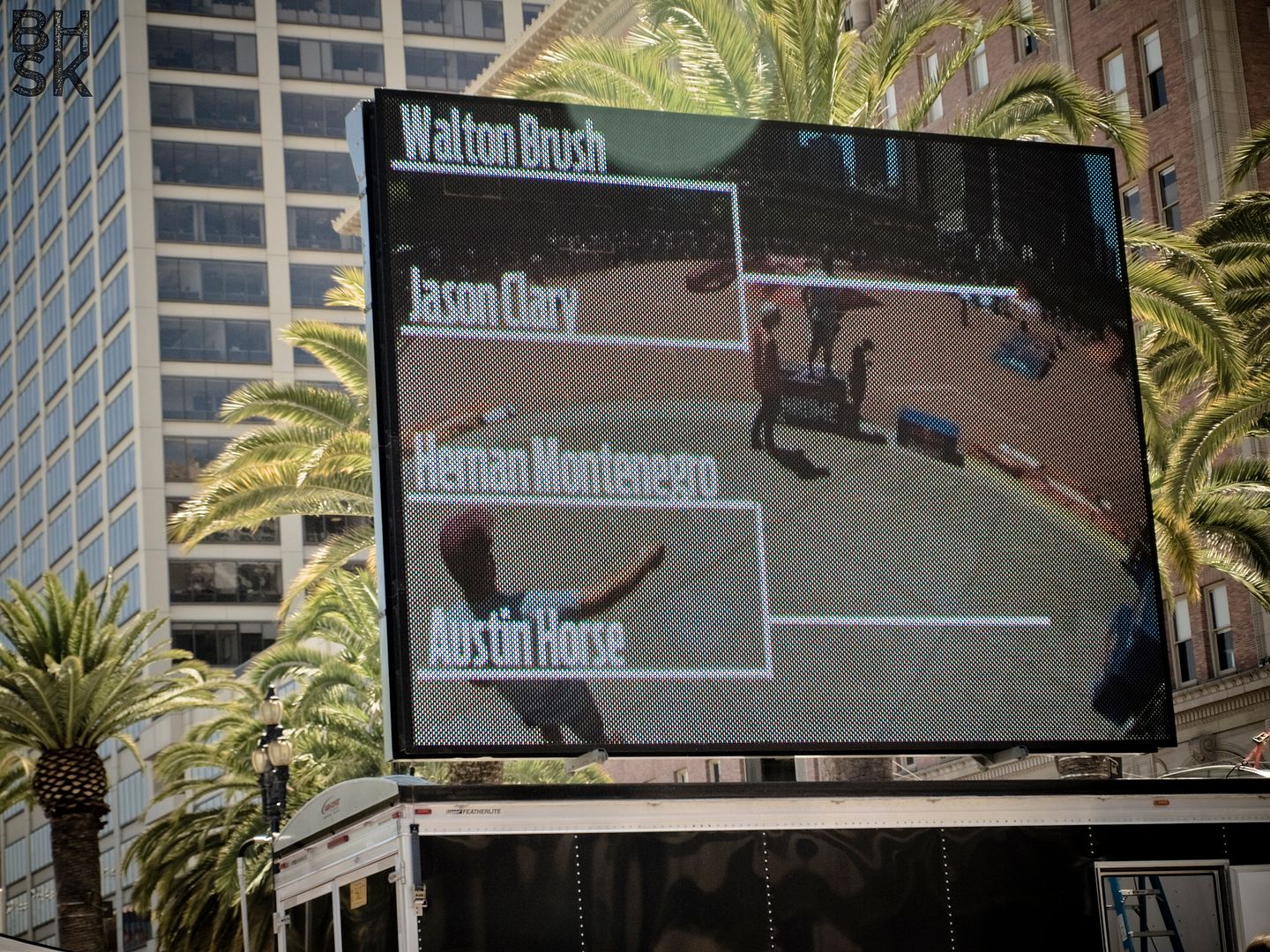 top 4.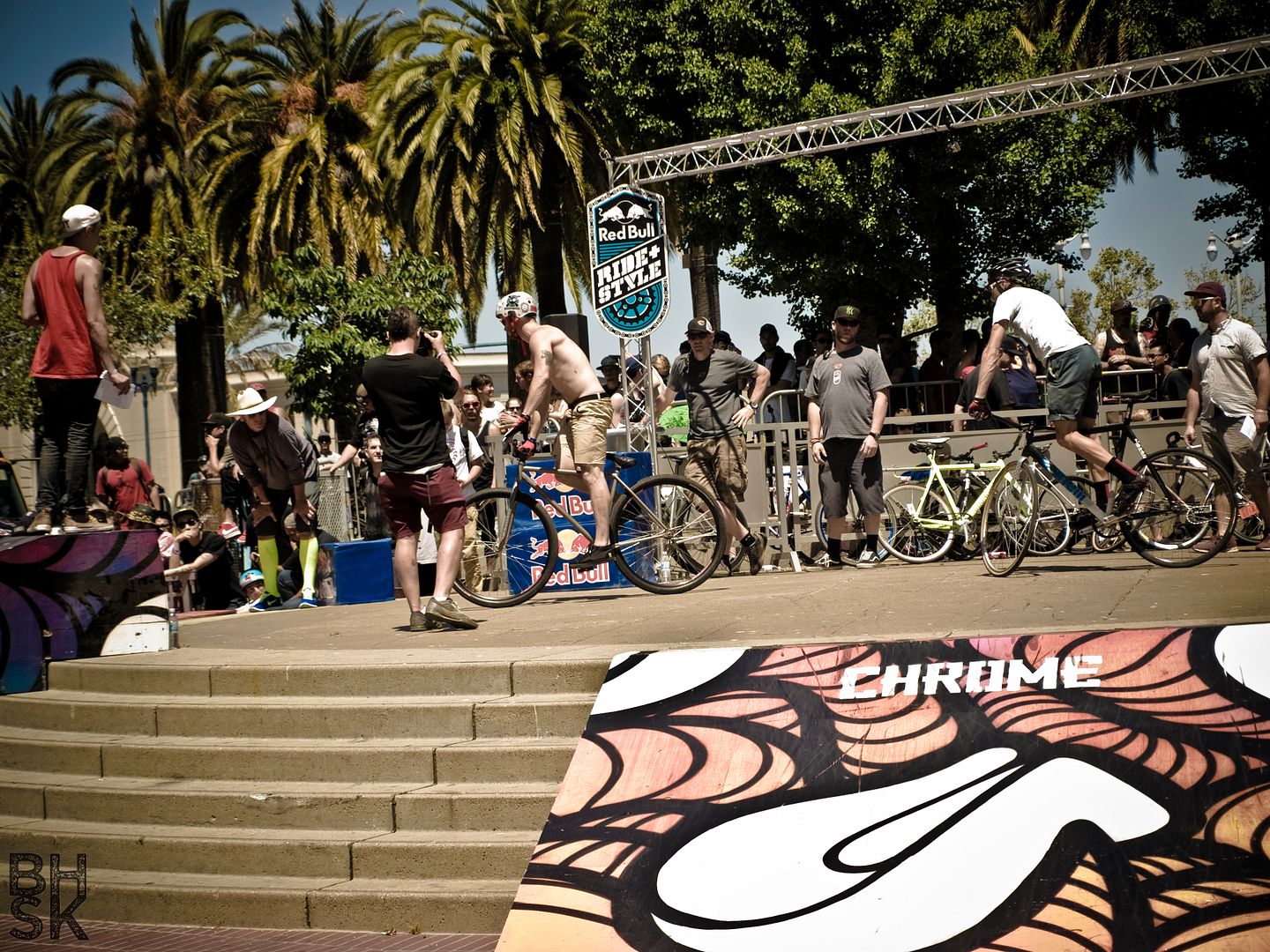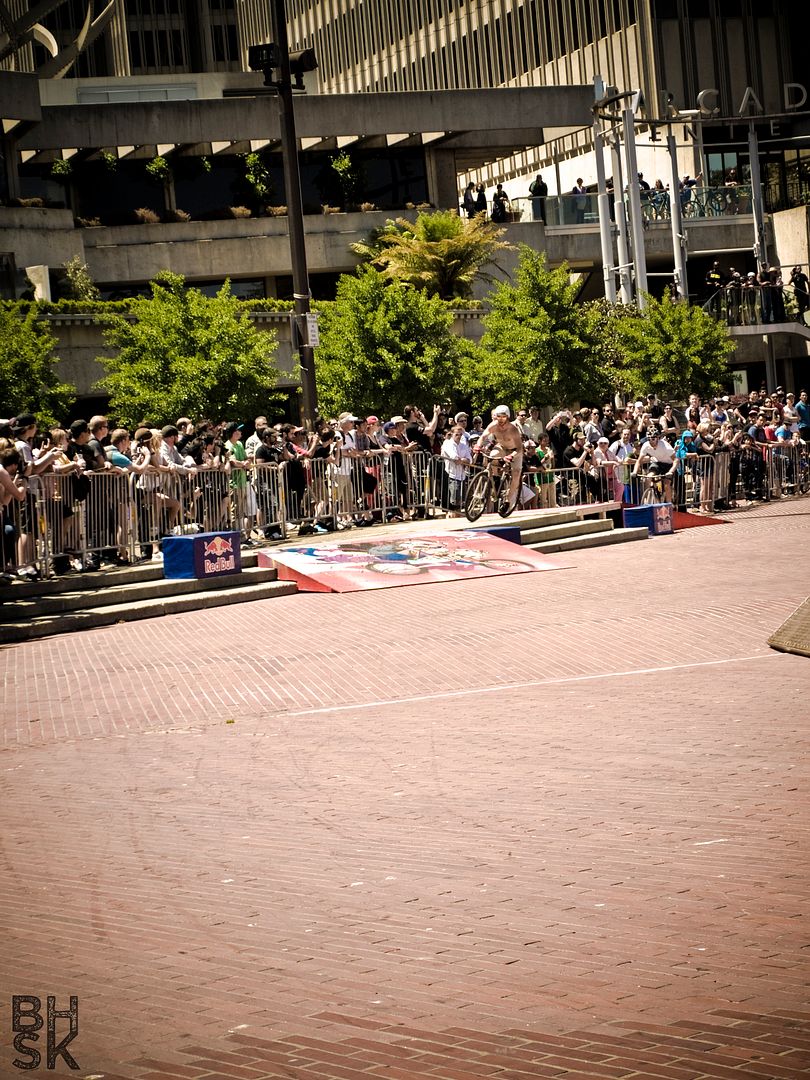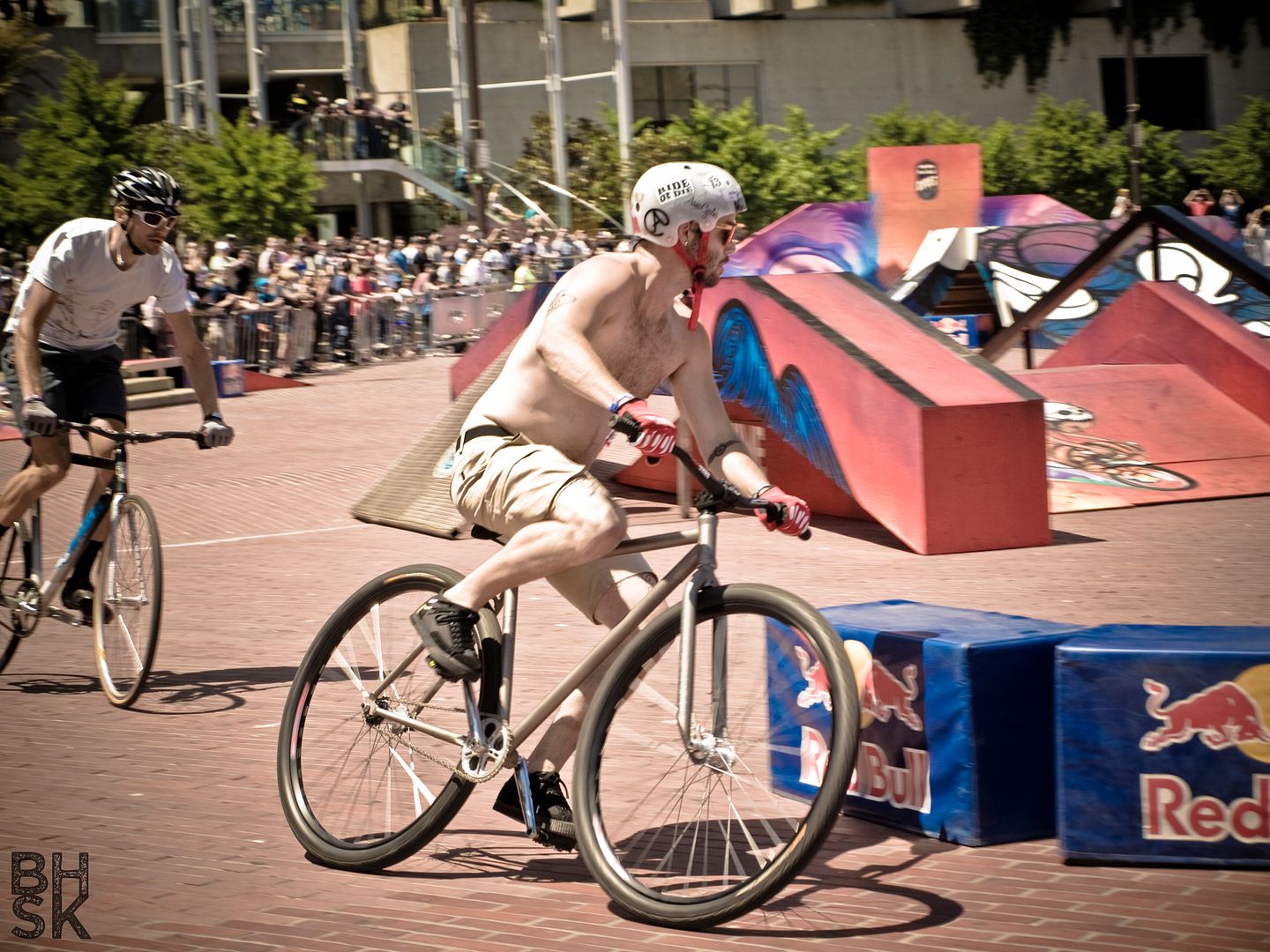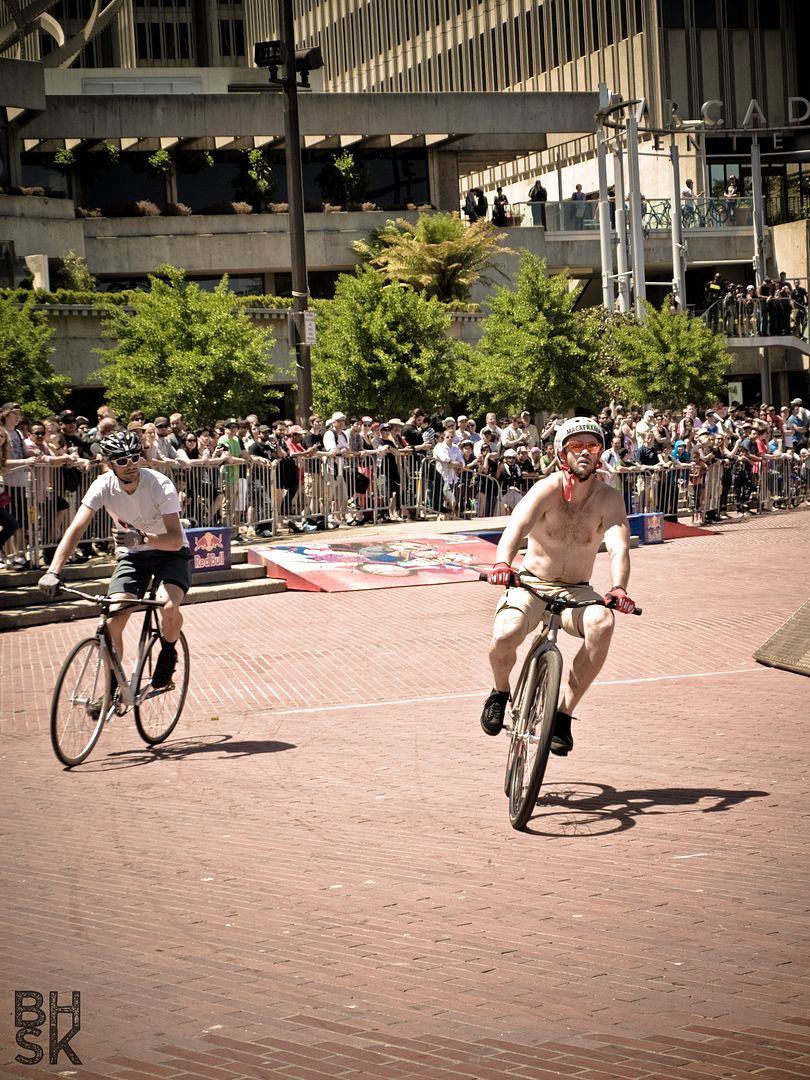 clary takes out walton. by this time clary really cant do his celebratory wheelies because it got wayyyyy close.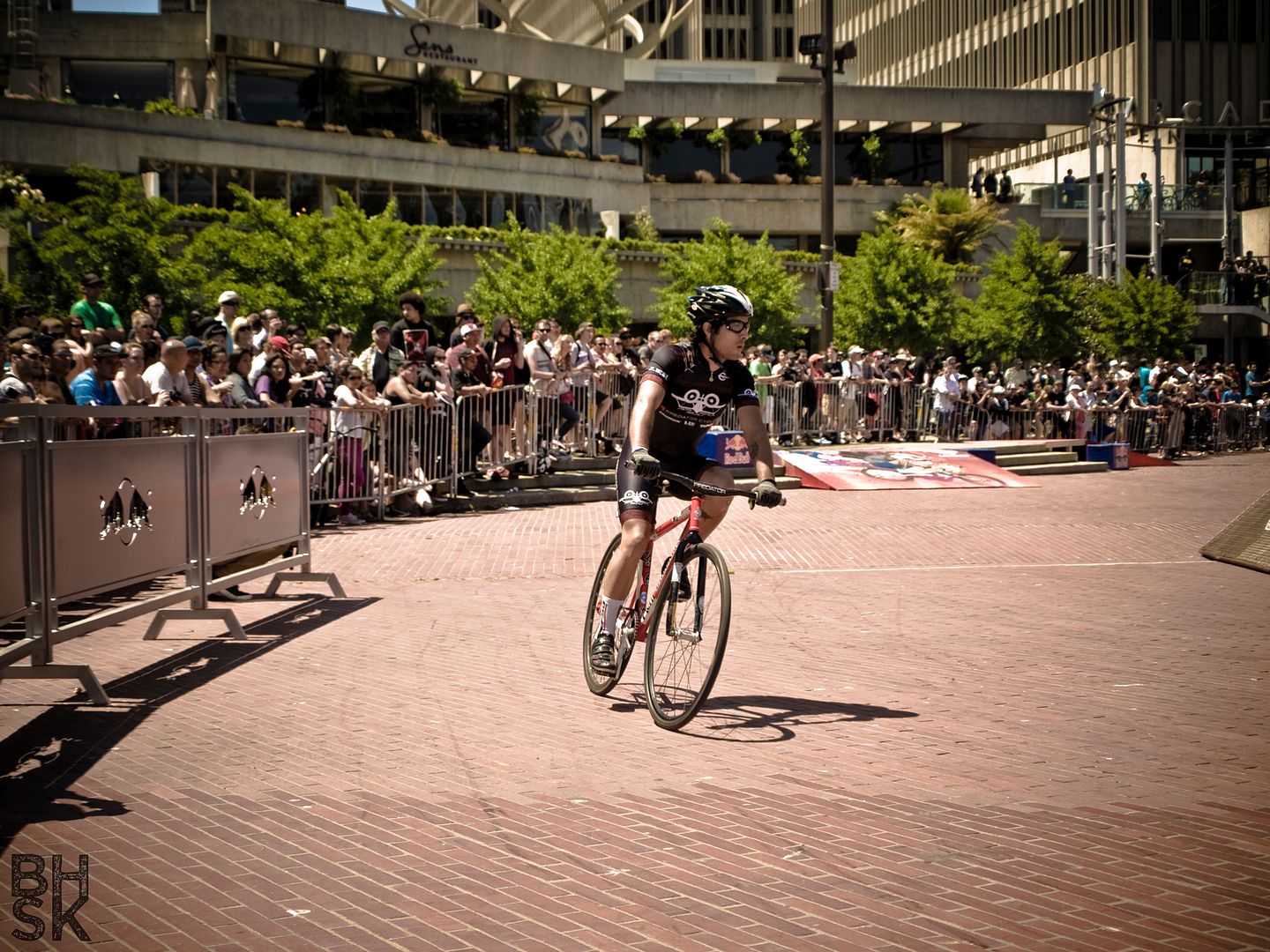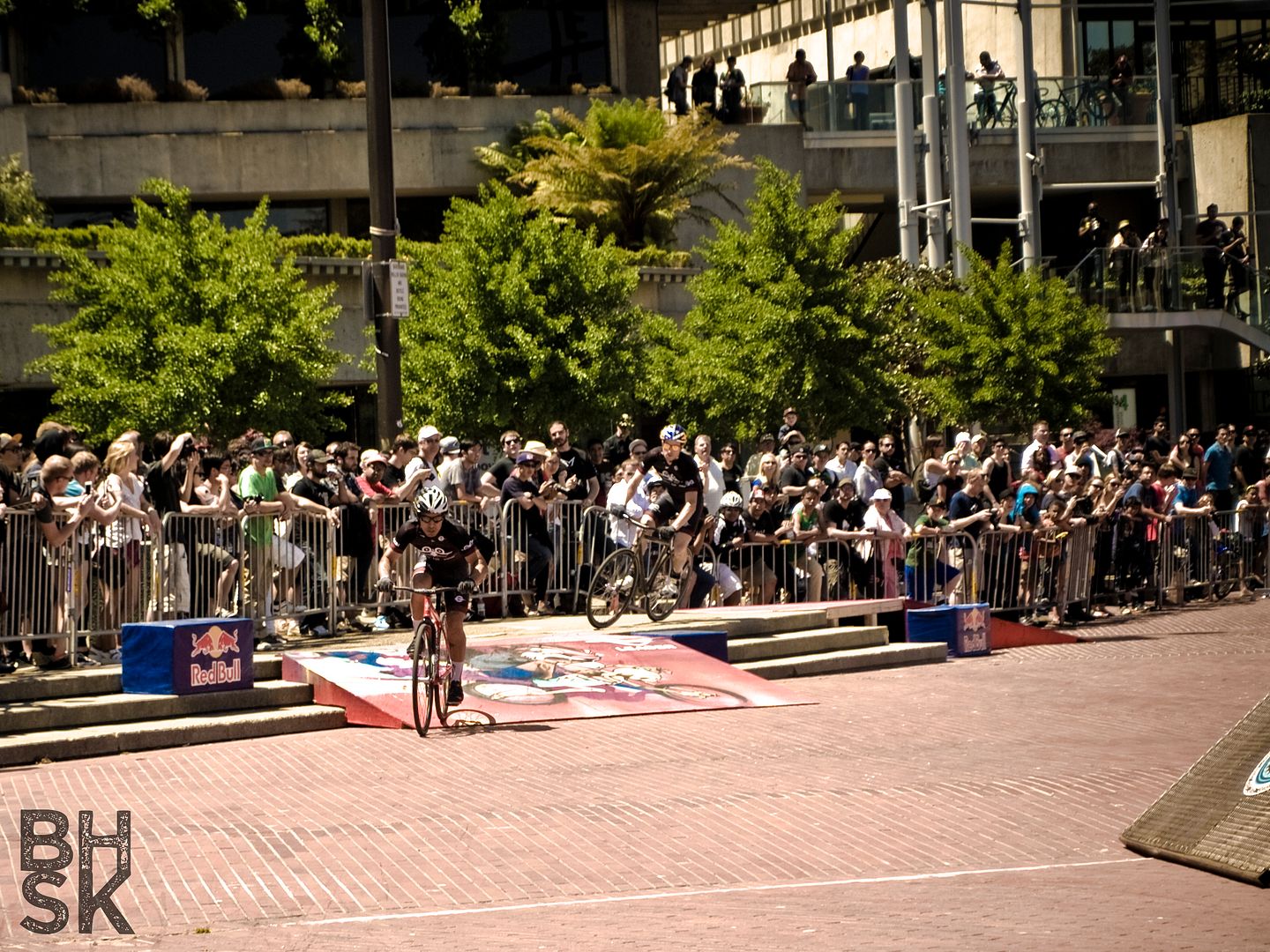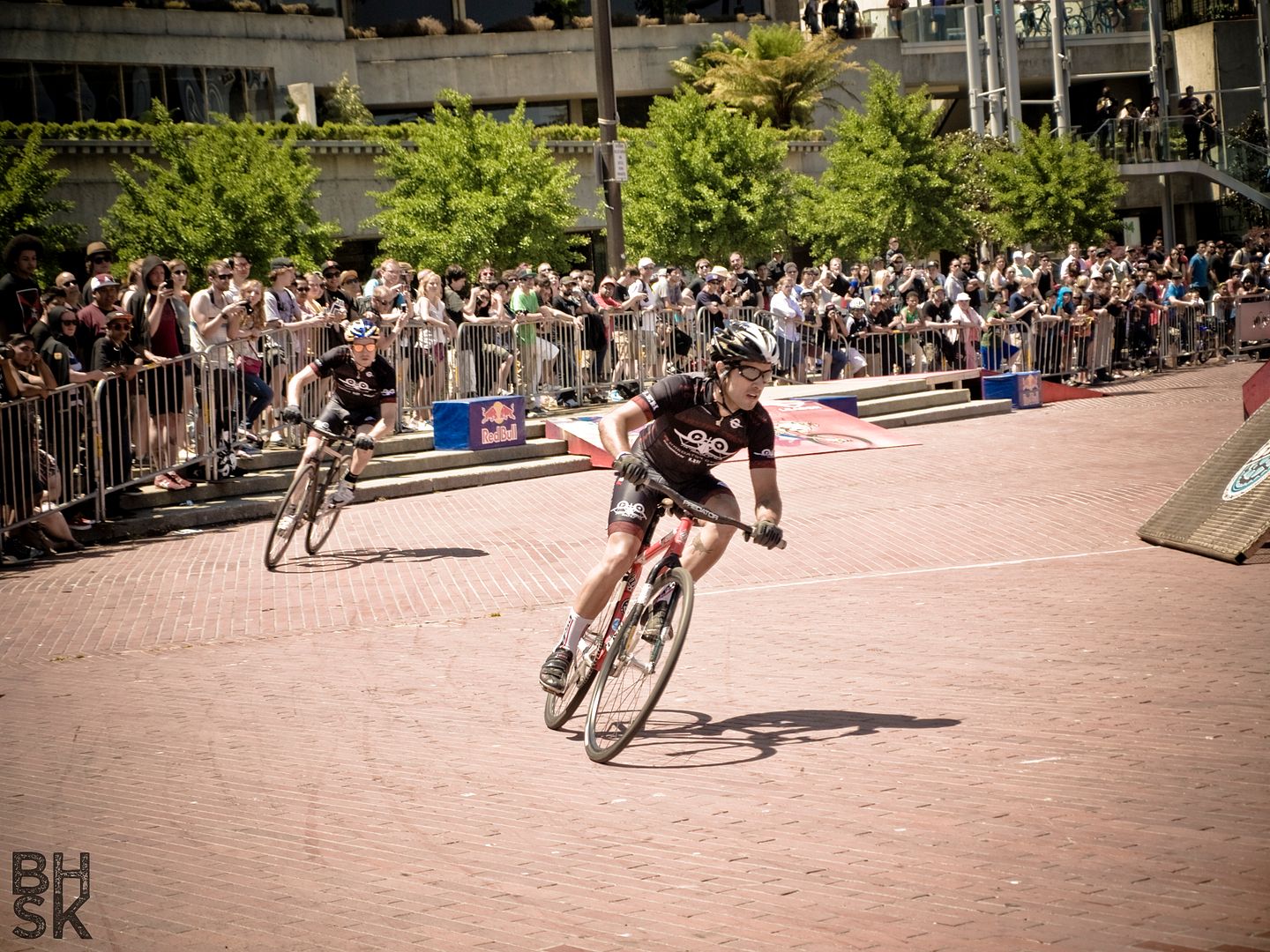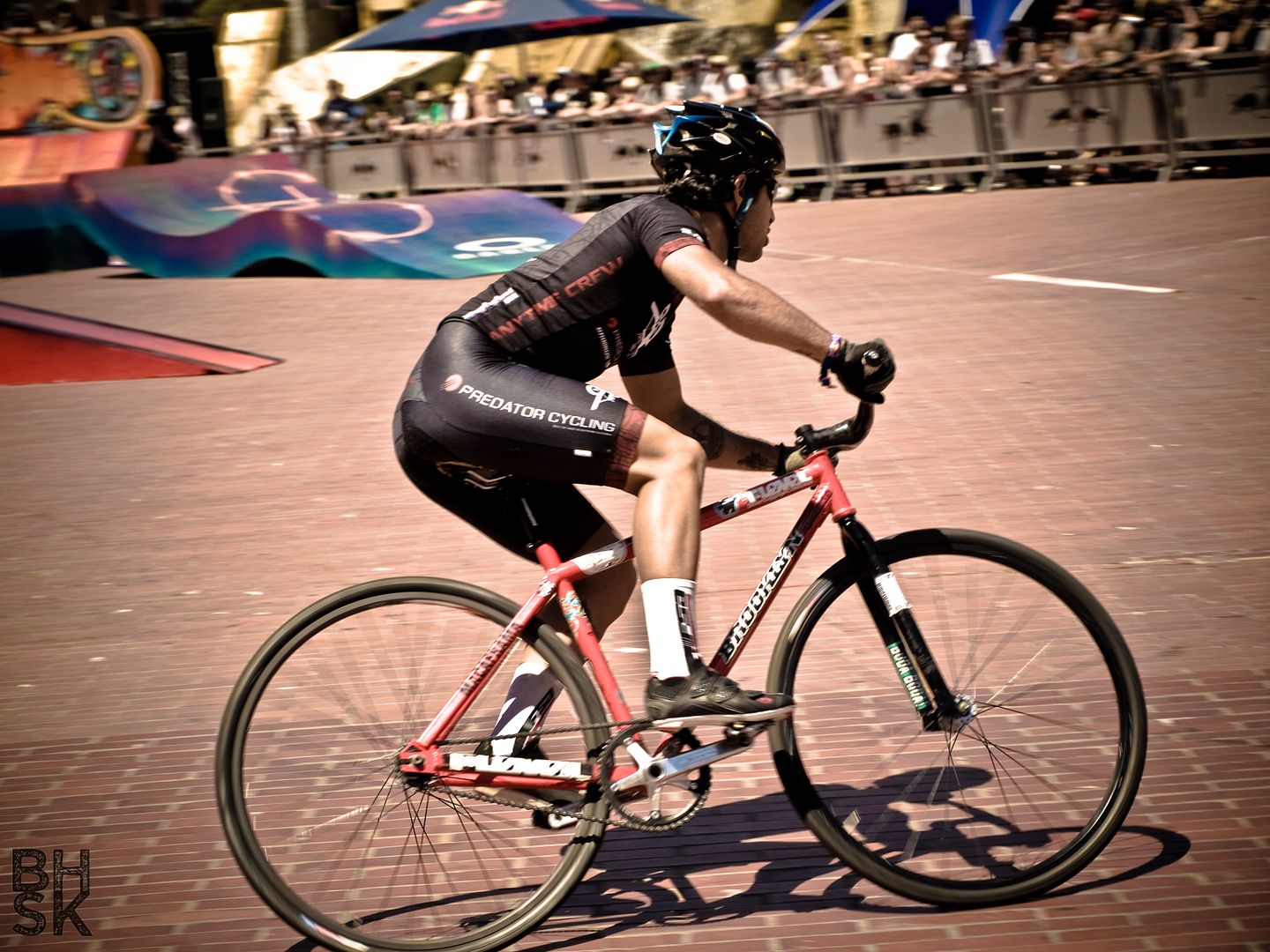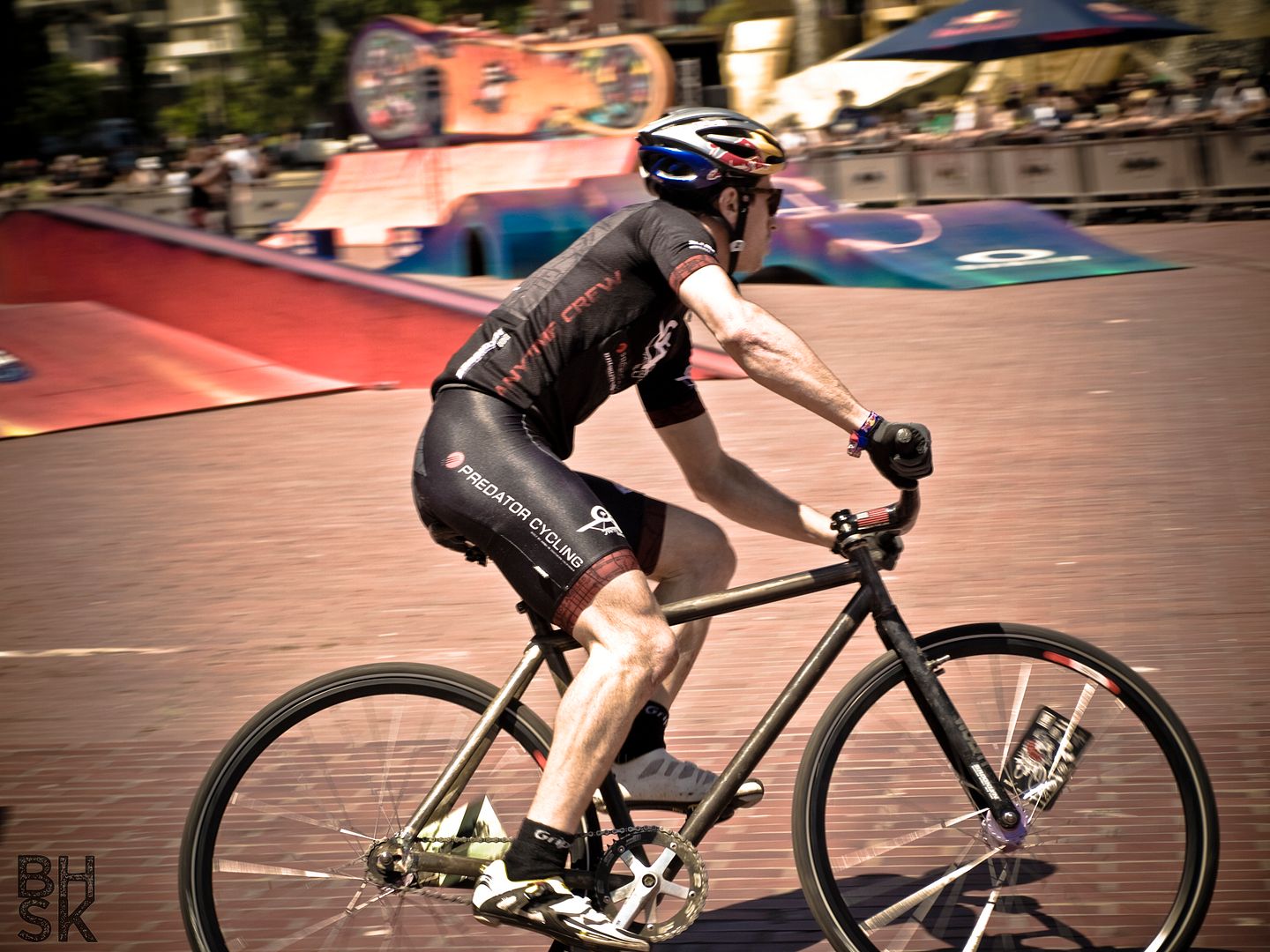 this one was probably one of the more entertaining ones for me. hernan and austin horse had almost identical setups. the bars were the same, the frames were the same, hell the fucking jerseys and shorts were the same. it was a trip!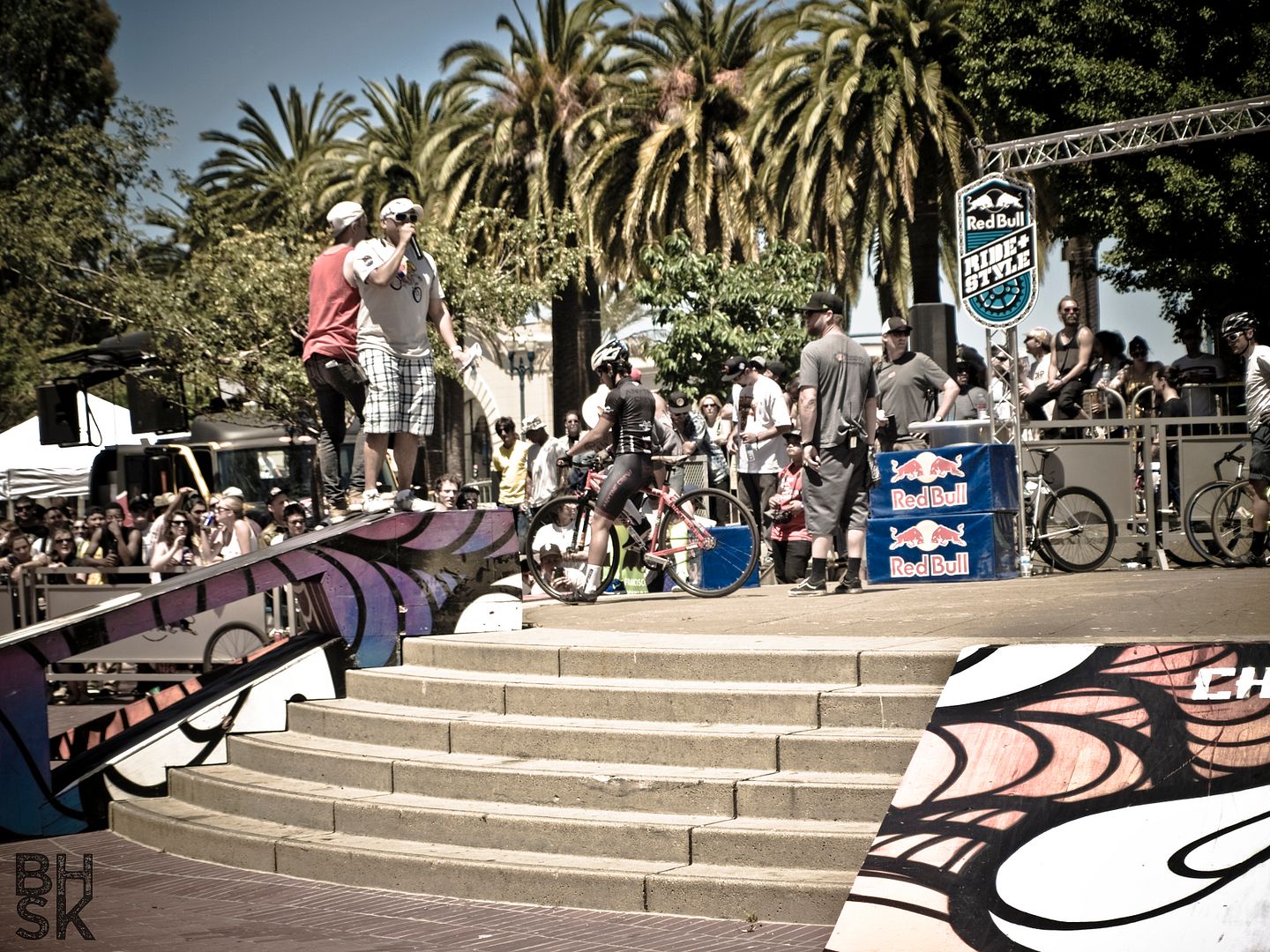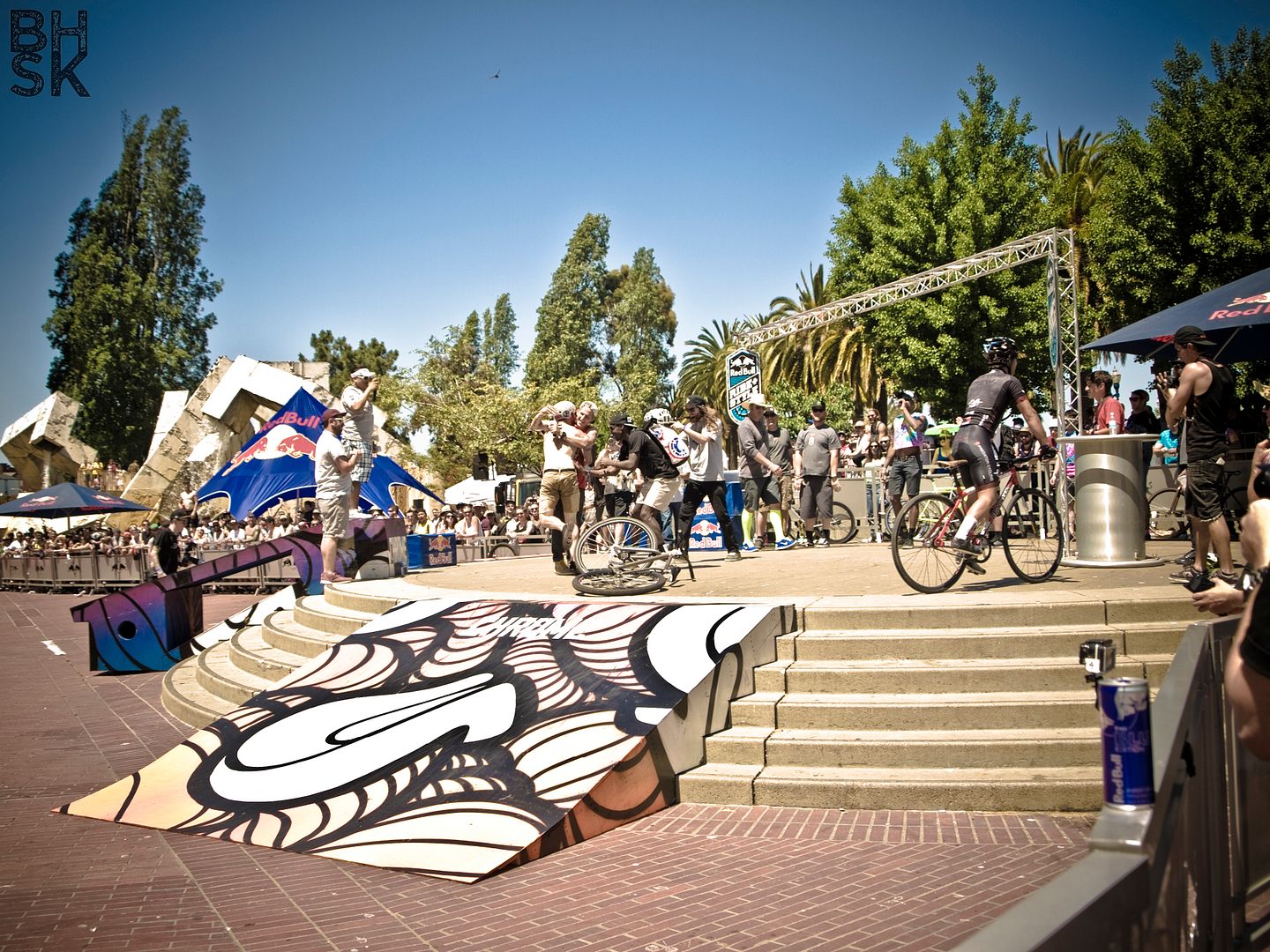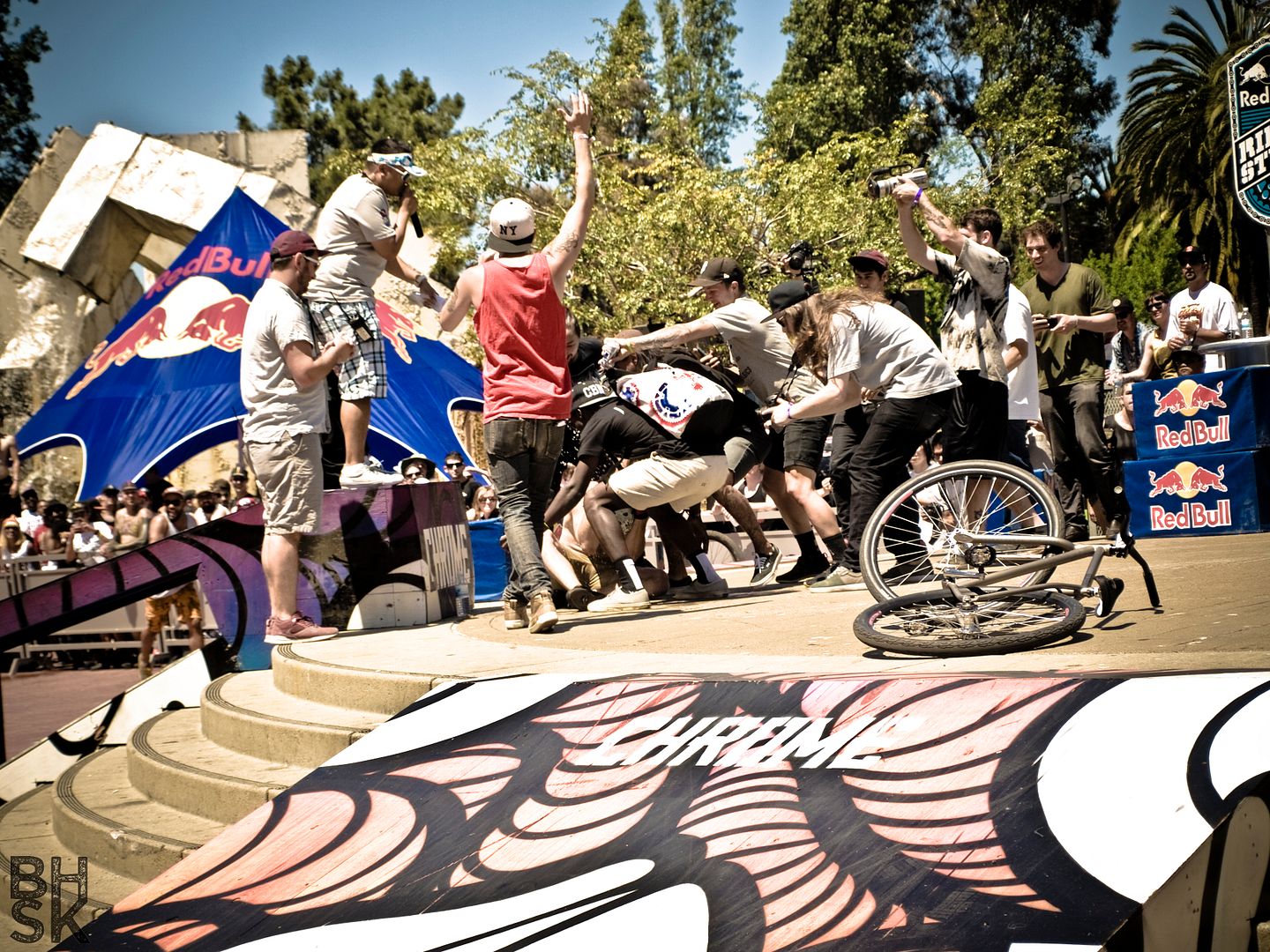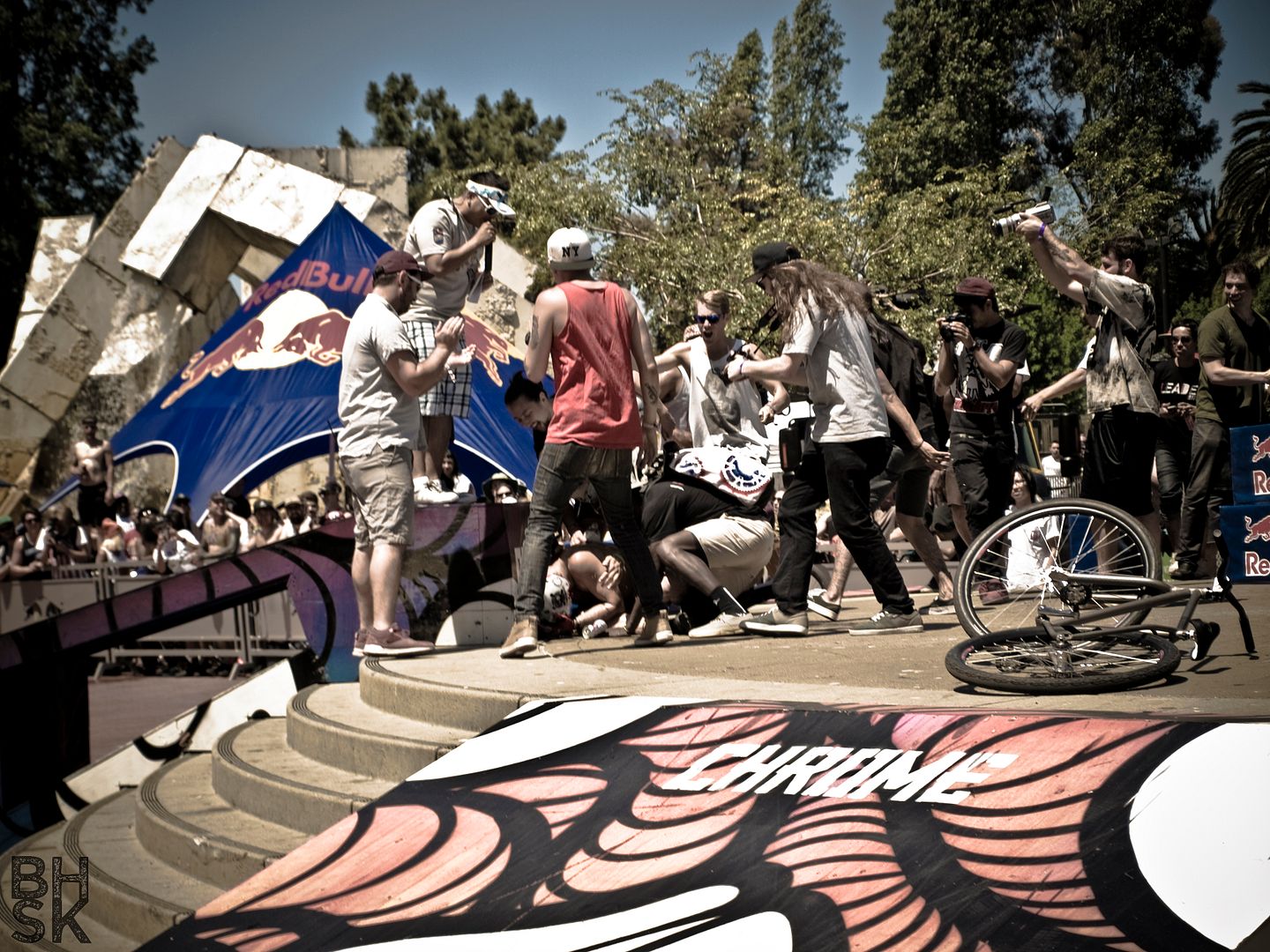 in the end jason clary edged out hernan montenegro for the win making this run at redbull the second gold finish- first being at the event's first outing.
jmik