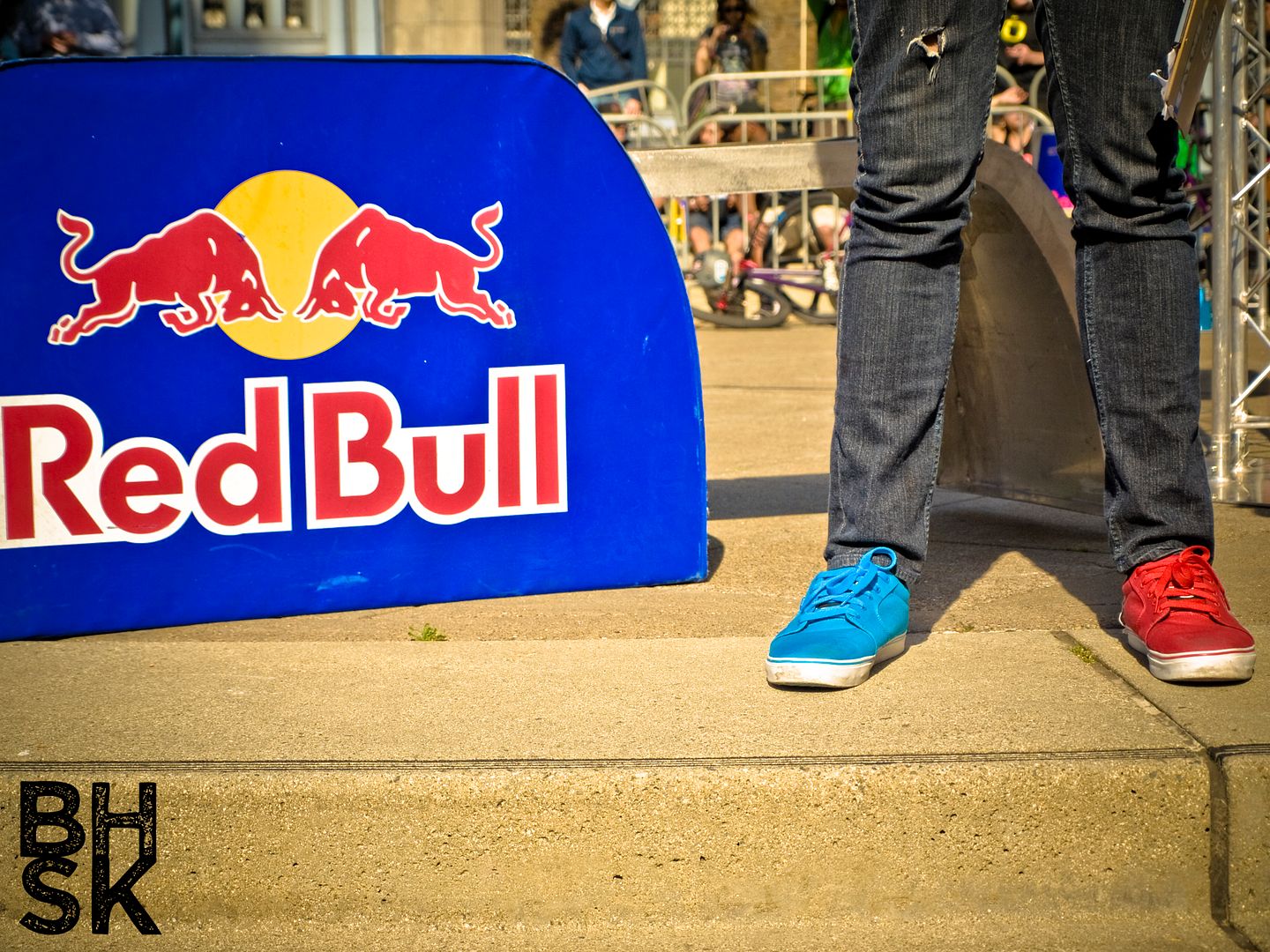 so patrick from pedal consumption got a little update on what's happening with redbull's iconic SF event. i'm lazy so i'm just gonna copy-paste what he's got to help spread the word.
"
On Saturday, May 4, Red Bull Ride + Style will return to San Francisco for the third time, reuniting the world's best fixed gear racers and freestylers together in Justin Herman Plaza. The event also brings together four of the world's top street artists through collaborative art on both the racecourse and the freestyle ramps.
In addition to the riders who will be invited back from both race and fixed freestyle categories, there will be an opportunity to qualify for the race in multiple locations:
State Bicycle Company: On April 7, a "survivor crit race" will be held in Gilbert at The Farm at Agritopia.
If necessary, there will also be a last-chance qualifier race in San Francisco to fill any remaining spots. For more information on the qualifiers, please visit HERE.
Riders automatically invited to Red Bull Ride + Style are the finalists from both race and freestyle portions of the 2012 event. The top 16 racers and top 10 freestyle competitors from last year's event will be invited.
Fixed Gear Freestyle: Pre-Qualified Riders (Top 10)
Josh Boothby, Joe McKeag, Matt Reyes, Michael Chacon, Justin "Congo" Mitchell, Matt Montoya, Ed "Wonka" LaForte, Jakob Santos, Miles Mathia, and Tyler Johnson.
Race: Pre-Qualified Riders (Top 16)
Addison Zawada, Walton Brush, Edgar Juarez, Jason Clary, Hernan Montenegro, Kell McKenzie, Austin Horse,Massan Fluker, Chas Christensen, Jerome Stretch, Steven Tortorelli, Justin "Congo" Mitchell, Kapri Gonzalez, Tony Rabeneau, Scott Piercefield, and David Trimble.
Partners for the 2013 event will be announced shortly, as well as the confirmed artists who will create the look for the ramps this year.
For more information, please follow @redbullSFO / #rideNstyle on Twitter and join the Facebook event page for updates.
Above photo credit: Justin Kosman / Red Bull Content Pool
"
rant after the jump?
okay i'm bursting at the seams right now so let me let this all out. i can confirm some international riders who are coming out. i think it's kind of known who is coming out to SF for this from overseas. i wish they would just give out that full list so i can get upset like i did last year.
WHY IS THE FAST BIKE STUFF IN ARIZONA. i get it, state bicycle is based out there... but the event is in california. i mean, i wouldn't mind if qualifiers were in LA, i wouldn't mind if qualifiers were in portland, but damn- arizona? do you know how many of the riders that want to qualify are in arizona? not a whole lot. i have nothing against arizona, but damn dude, you're gonna make the pedalhard crew and the LA dudes, and everyone else trek out to arizona to QUALIFY. not even race- QUALIFY.
alright, alright... maybe i'm being to harsh on this. i'm going to hold my judgement til the whole list of FGFS riders comes out. knowing who's coming off the bat, i should calm my tits and shut the fuck up about all my nitpicky issues. i'm excited for these homies coming out to US soil.
jmik