rewind to a few months back. i got an email asking if i wanted a media pass for SF bike expo by one of the event coordinators. now giving me a media pass was a mistake because i was grouped with the likes of decline mag, ESPN, urbanvelo- alot of LEGITIMATE publications. let it be known that BHSK is a one dude operation. i have no camera crew, no photography experience, no publishing deal, no sponsors (just family and friends who support), and well... i'm just a psychology student from chico state man... who happens to know some dudes. so first and formost i want to thank anthony from rideSFO who reached out to give me the opportunity.
i shouldve known beforehand to get myself a bigger memory card because i found myself taking way too many pictures than i could handle. plus i had to take them in RAW format (for you photo buffs) which sucked up all 2 gigs on my CF and 1 gig on my xD card. the expo was amazing and there were hella vendors in the swap meet as well as the main room. first off are the dudes that i met before hand as well as at the expo that really interested me
Shortyfatz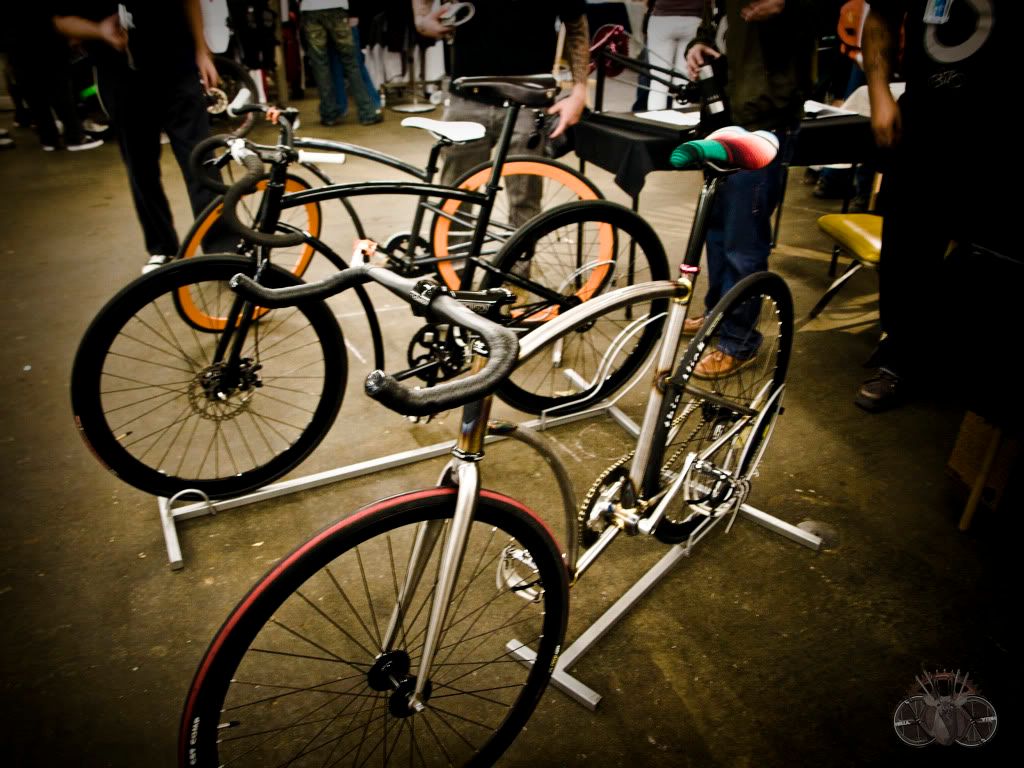 matt and sam are always really welcoming and they always remind me of home. sam picked me out of a crowd right away and we hit off a convo about how this event was vastly different from interbike. "at interbike, there's alot of industry people who will always say your stuff is good. here, you have the general public and real bike buffs who genuinely love our stuff" sam told me. unfortunately they didnt bring the street fighter with them, but still, ben's (a homie) bike really captures what shortyfatz is really about: raw, different, and has a custom lowrider look without compromising performance. i still cant wait to see the streetfighter guys!
Destroy cycles
"you are the first one to pick up our business cards without us shoving it down your throat" was the greeting i got from the dudes at destroy. these dudes have their heads on straight with this 26" fixed freestyle specific frame- it's even more wicked in person. there are some crop circle-esque gusset/lug thingys that really set this thing apart. oh, and youre gonna kill me for this, but it had some crazy ass 14mm non-slotted axle profile hub in the rear...which... i never got photos of. whoops....

DZR/Mission workshop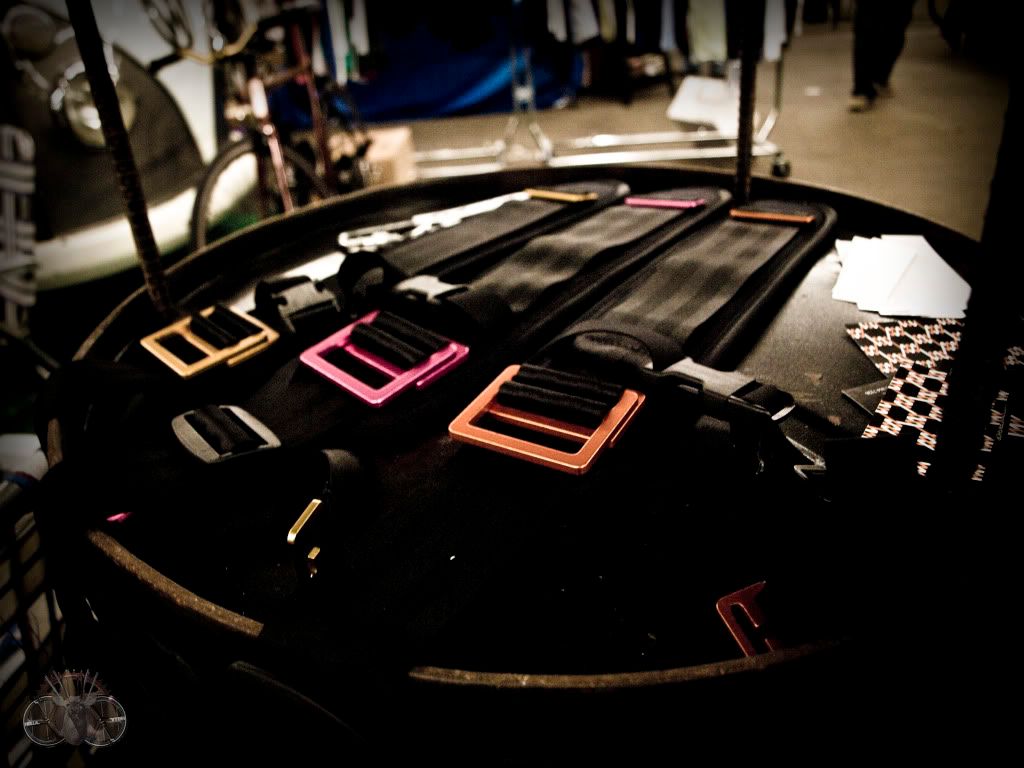 i was really excited to see my buddy souphorse from mission workshop, but i couldnt find the dude. it's unfortunate because i wanted to walk away with one of these straps- you may remember other colors from interbike (blue and orange). this time out they had pink, orange and GOLLLLLLLD. i had dzr pics, but they came out crappy, and everyone else probably beat out all the news about dzr sneaks. nothing new, honest.
Area cycles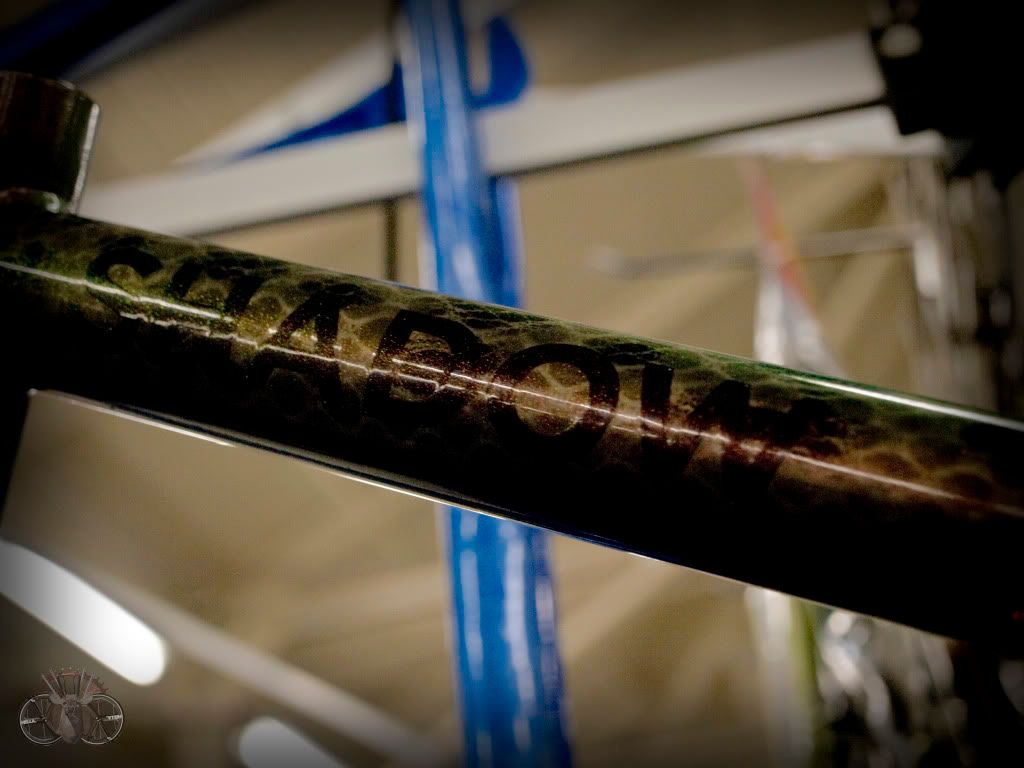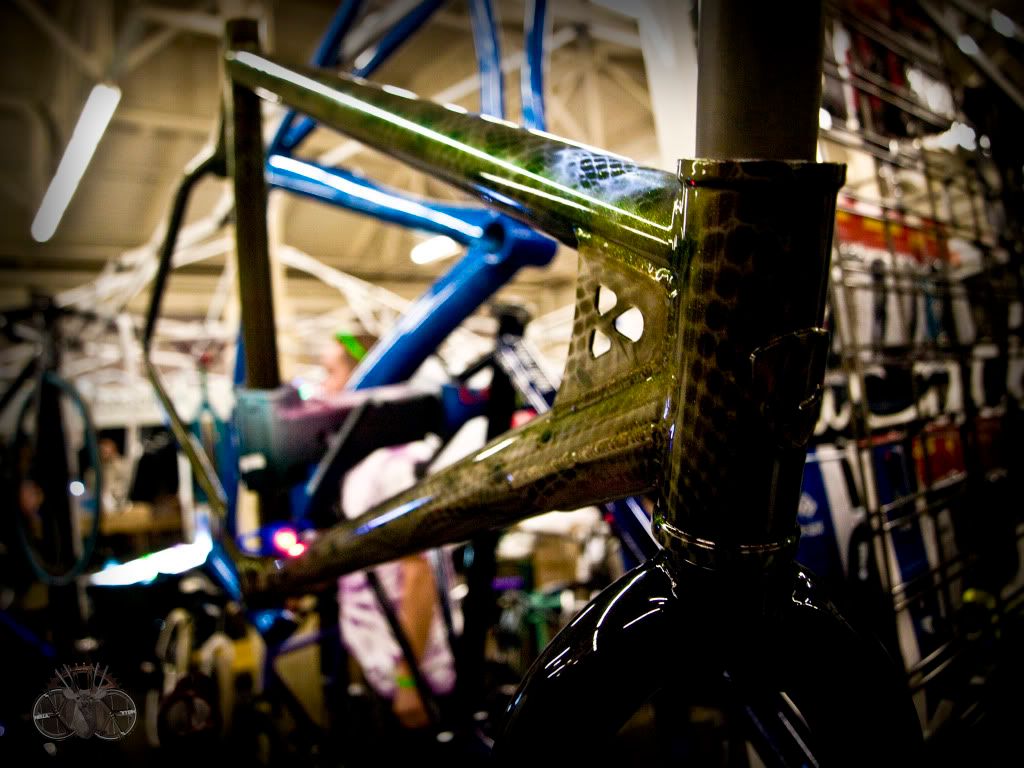 kenji at areacycles has been really good to me and my roomate- when they didnt have the right color and size for my roomate's mordecai, he ordered one and had it sent up here. in addition to the customer service, they have some pretty sick one off paint jobs by Josh Harris (who is hilarious) like this one done to a brand spanking new leader shadow...
Skullyboom
i have lots of stuff to say about skullyboom- i have a review of the SB1 coming up too. this thing packs sooooo much punch. and yes, those are life size black skullybooms. they just came out with the pink and green SB1's, which this picture does not show how bright they are. seriously, if youre looking for a legit christmas gift- this would be it. i love mine.
LDG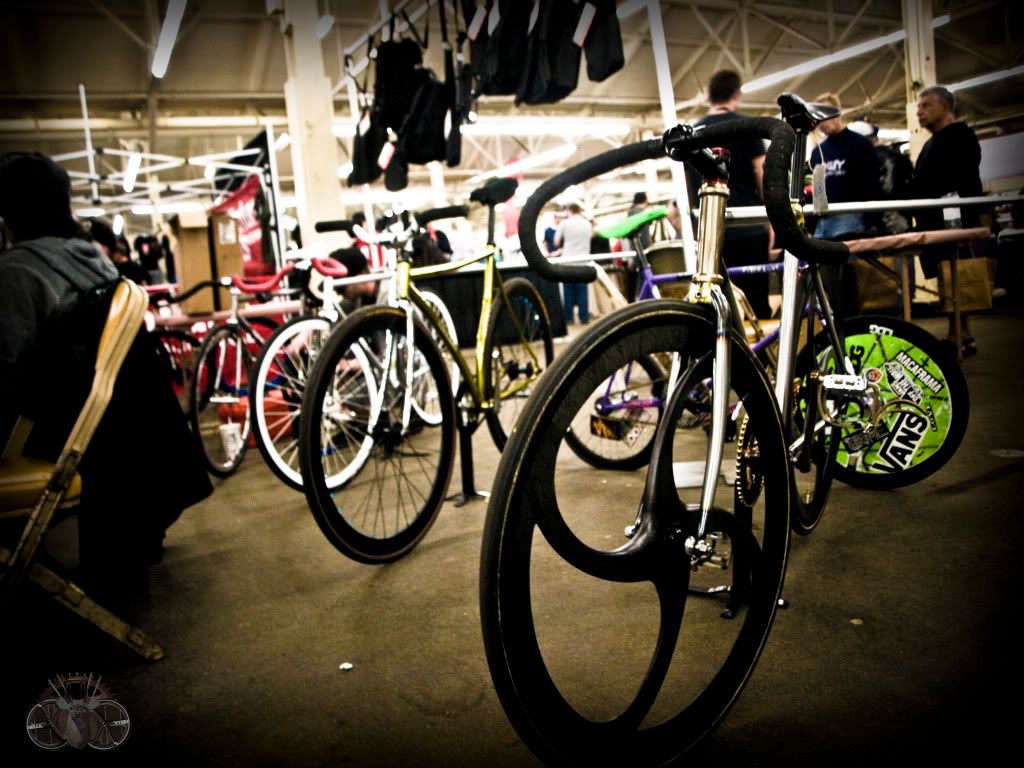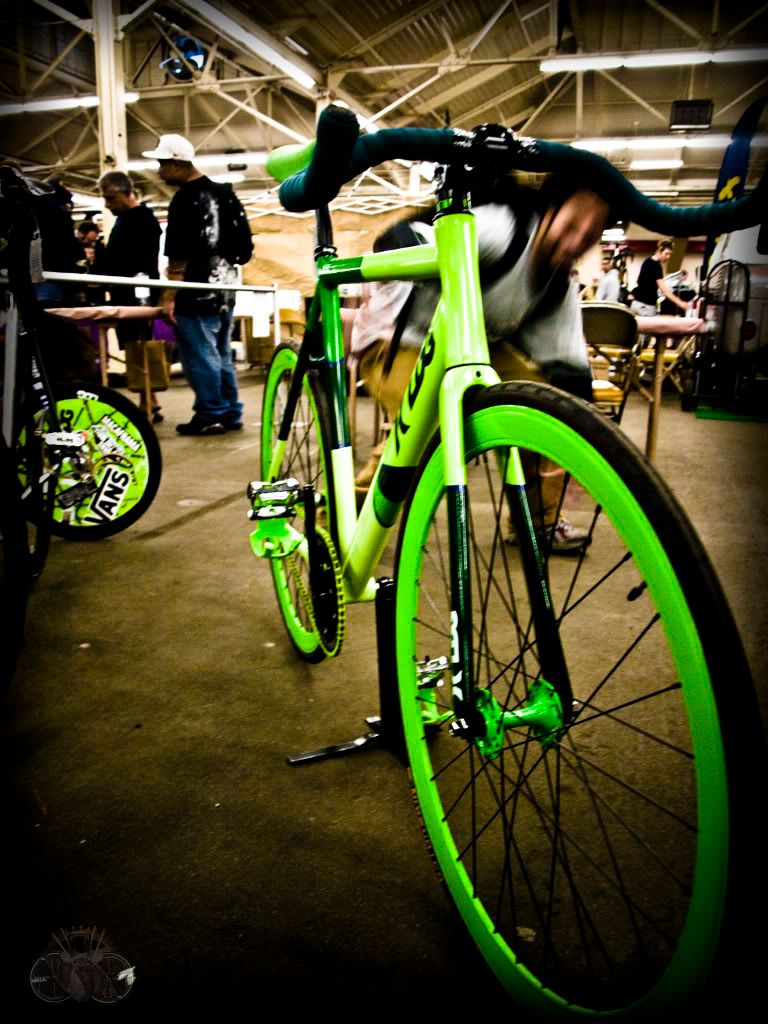 (check out that random dude trying to get in the pic..) livery design gruppe came up all the way from so cal and brought along ~@brad parker and corey san agustin (which i will apologize to before i get the the battle at the palace coverage- i only have one pic of corey...). they brought their mini, their lo pro track bike, their other track bike, their hurley track bike- just a mindfuck of track bikes and parts. honestly, LDG has the most beautiful fabrications out there. their lo pro "funny" bike has to be the coolest thing i've ever seen. in addition to all of this, they got some parts lined up including some legit cross bars, and their bolt on cog/hub combo. i'm really impressed with the stuff they're pushing out...
next up: AT showdown
jmik