for about 2 years now, i've been working with ted shred putting on these contests and races. when i moved to chico in 2008, i experienced my first competition and race and since then i've been working with ted, doing the art for all the fliers as well as gathering up most of the riders in the city. this year, i'm really trying to push the competition to a different level by trying to get riders from up and down northern california to come up to this quaint little town i currently call home. so with that being said, i'm pleased to announce the third annual chico fixed gear competition and alleycat race: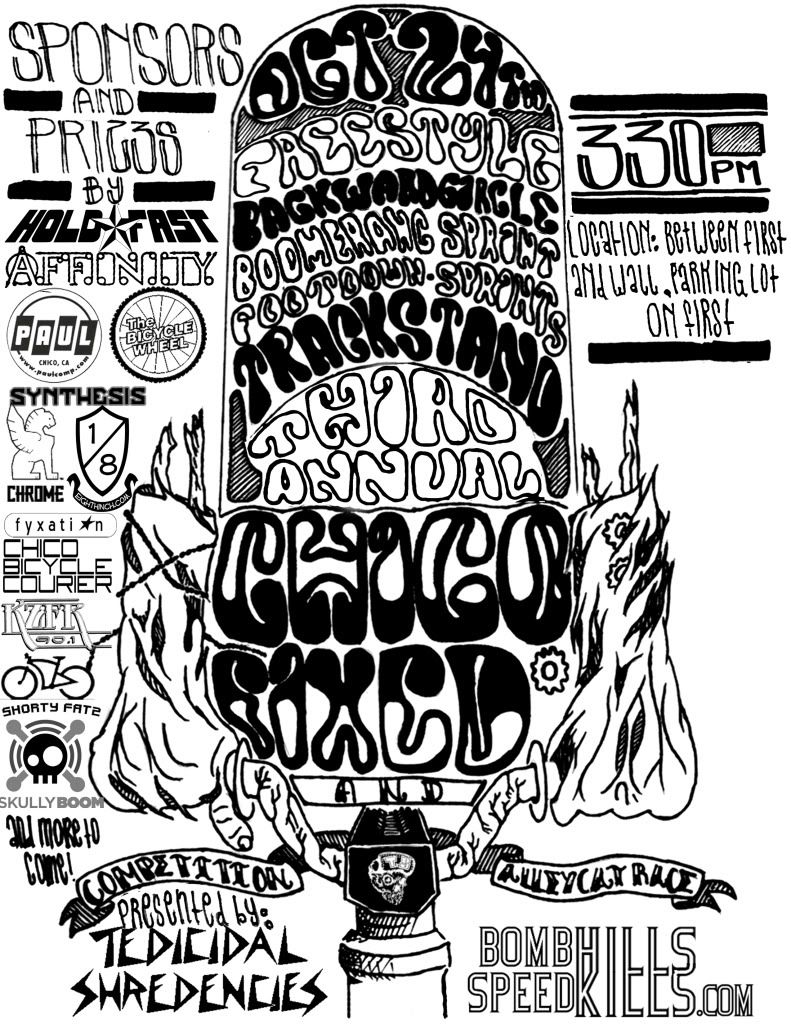 the events will include trackstands, backwards circles, a drag race, footdown*, long skid, freestyle, and an event ted and i did for last may's macashreda competition- the boomerang sprint. the boomerang sprint involves sprinting to a finish line, turning around (some people 180'ed, as in bunnyhopped it), and riding fakie all the way back to the starting line. i feel like it's a sign of the times- people are getting good at riding fakie. at the macashreda contest, local rider Eddie Olmos beat out Chris Fonseca in the last round!
the event will be sponsored and prizes will be provided from
chico bicycle courier
, the synthesis,
the bicycle wheel
,
affinity cycles
,
paul components
,
hold fast
,
eighthinch
,
chrome bags
,
fyxation tires
,
shortyfatz
,
skully boom
and KZFR. i'm currently working on obtaining more.
by the way, this happens rain or shine- chico's been giving us weird weather lately and we always brace for the worst.
oh and join the
facebook event page
, AND TELL EVERYONE!
jmik