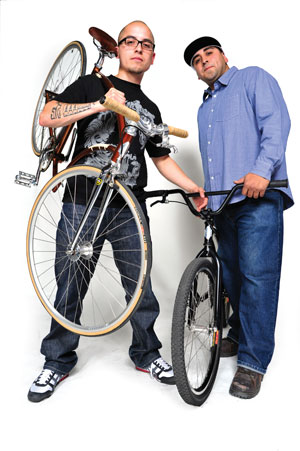 (via
metroactive
)
i've got nothing but love for shortyfatz. when they just came out with the 8 series, i blogged about it. sure, i was skeptical like any other dude should be but i liked the style of a lowrider inspired fixed gear being from san jose (heavily populated by latinos- i see you!). if youre unfamiliar with their deisgns, check out the website under my links section. sam and matt make one of the most unique frames out there and they also make one of the most modern looking lowriders you will ever see. plus, with their friendship with phil wood & co, everything just makes sense. san jose made frames, with san jose made components- the best, at that. and if you ever meet them, they're the friendliest guys i know. 
"
'It's a winged character holding the words 'Shorty Fatz San Jose.'


'We were going to put 'USA' on there for 'Made in the USA' but we
decided to put 'San Jose' there instead, because let's just let people
know where we're from. Let's represent San Jose.'"
¡VIVA LA FATA!

jmik