when i first came across RYD, i thought is was a cookie cutter frame much like the kilo tt/khs flite100 or the fuji track/se lager/dawes sst. i still think it's a cookie cutter frame- there's one riding around town here and i got a closer look at it once. anyway, red your dead (my grammar sense want to correct that "your" part) was responsible for bike grom sean coats (that one kid that rides a GOrilla like it's no one's business). seems like they have a new frame coming that's more fgfs oriented called the havoc: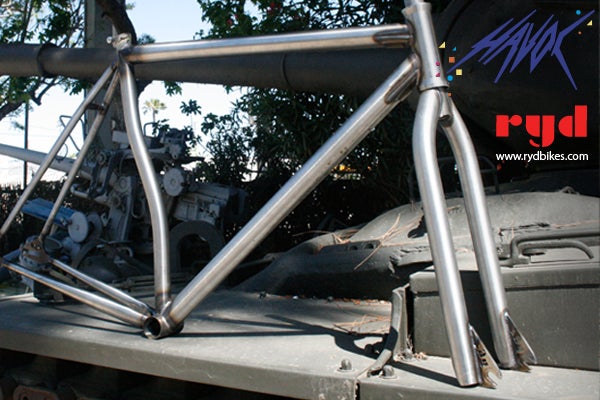 (via
RYD
)
"
*Reinforced 4130 Chro-Mo throughout.

*Double Gusset plated top tube.

*2" dropouts

*Barspins 700c

*Fully-Integrated Head Tube

*Full RYD Warranty

*7lbs complete
"
im thinking... i believe the state of fixed freestyle is at the point where we know what we want from a frame and a setup that we dont need to experiment with geometries or tire size or ratios etc. with this, there will be an assortment of fixed freestyle frames in the future. though i cant imagine a fixed freestyle based company with a bunch of different geometies and setups like bmx companies... maybe im thinking about this too much. at $309 for a US preorder, fork AND frame AND warranty. i think this is a pretty good setup (but i dont think sean coats will be getting off his GOrilla anytime soon).
jmik