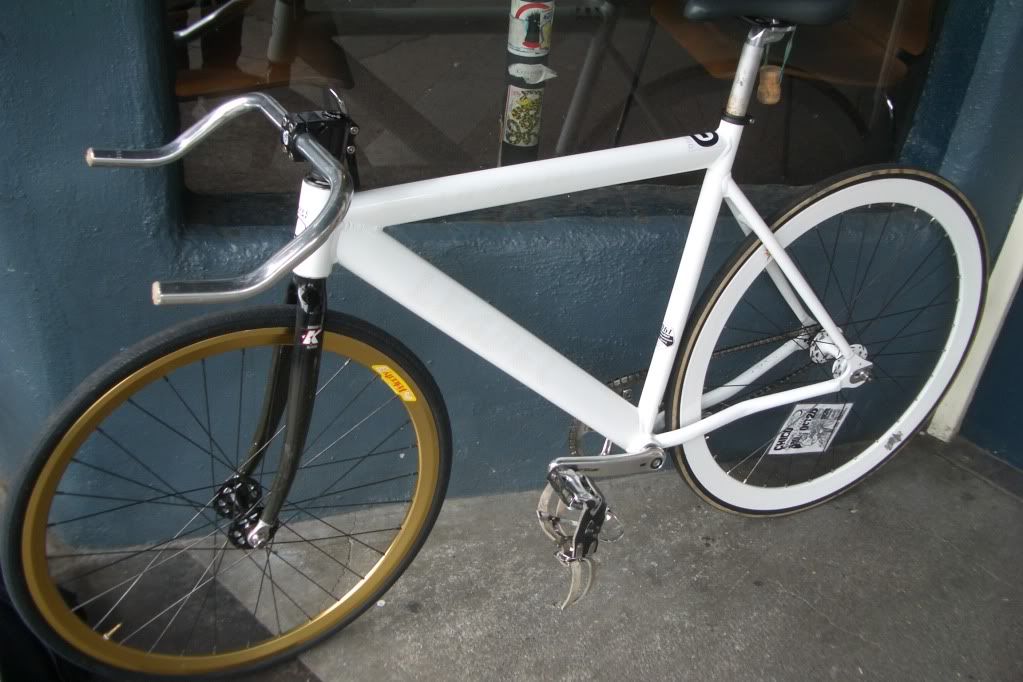 2009 leader 53cm 721 TR
kinethis carbon fork
velocity 650c front
velocity 700c b43 rear
fsa zero stack headset
dura-ace cog and lockring
fsa vero cranks
gusset halflink chain
wellgo track pedals
allcity 4 gate /w allcity doubles
soma urban pursuit bullhorns
kalin rust bucket seatpost
odyssey aitken seat
this is my (and my cousin's) leader 721. basically we got all the parts he had lying around as well at the stuff that was on my se lager and slapped them on here. this thing is ridiculously light at a square 18 pounds and 15 oz. that's all b43 weight. we really want to get rid of that b43 for weight reasons. the reason for the title is the ongoing debate over function and fashion- today i had a conversation with a dude at my local coffeeshop about the functionality of my spare parts bike.
the thing is, this bike is conflicted. short stem, heavy duty wheels: more fixed freestyle; carbon fork, alu frame: more track bike-y. if i had my way this thing would run carbon clinchers. this bike is way to flashy in my honest opinion. let's just leave it at it's a very conflicted bike.
oh, and it's for sale. please, get me off this bike. it's too light for me.
shoot me an email for details!
jmik